As 2019 draws to a close, we are taking a look back at the stories of the year, as told through the medium of FE Week's cartoons.
Sir Gerry Berragan, boss of the Institute for Apprenticeships, and prime minister Boris Johnson, racked up the most appearances, with six and five respectively.
Other sector figures to have been immortalised in cartoon form this year by the talented Bill Houston include former skills minister Anne Milton, shadow education secretary Angela Rayner and Ofsted chief inspector Amanda Spielman.
Read on to recap on the year in FE Week cartoons.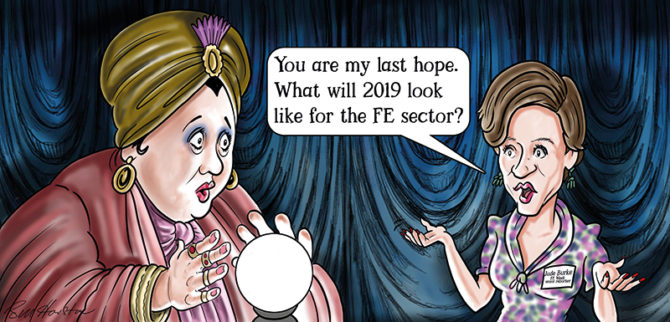 Edition 266 – January 11: Former FE Week senior reporter Jude Burke provided some mystic guidance for the year ahead in FE.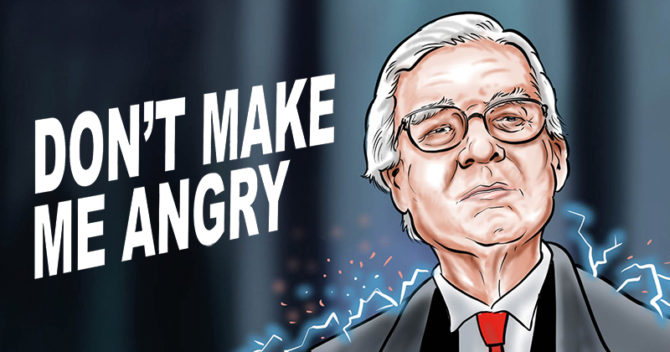 Edition 267 – January 18: The Department for Education wrote to schools ignoring the Baker Clause by not offering careers advice and preventing FE providers from talking to students about technical education.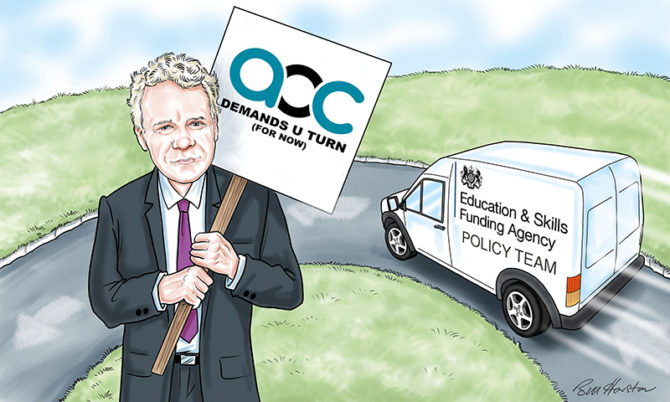 Edition 268 – January 25: The Education and Skills Funding Agency U-turned on plans to bar 16- to 19-year-olds who passed GCSE maths and English from following level one study programmes. Julian Gravatt, deputy chief executive of the Association of Colleges, said it was a "good move".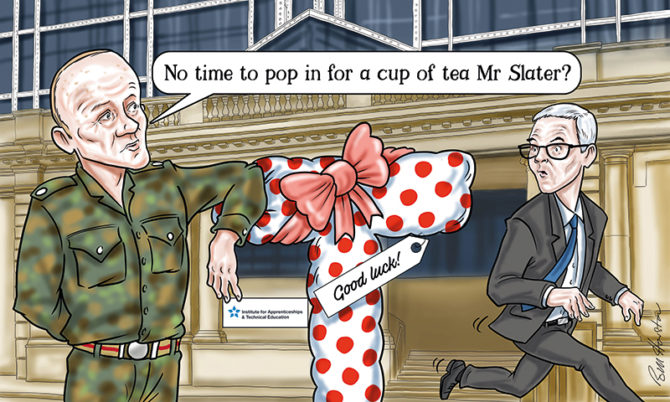 Edition 269 – February 1: Develop, one of only two independent training providers which were set to deliver the first three T-levels from 2020, warned it might have to pull out after being frozen out of infrastructure funding by the DfE.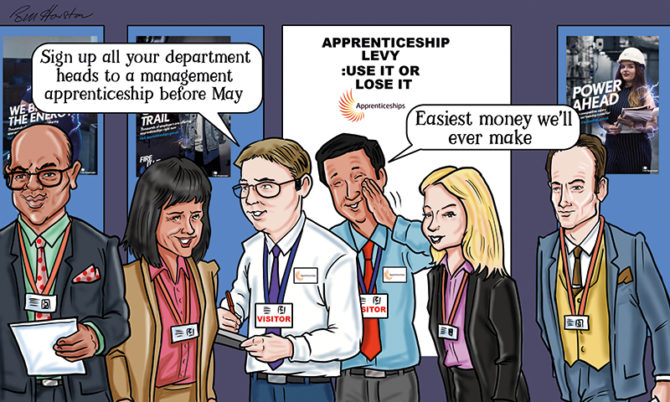 Edition 270 – February 8: A tender was launched by the Department for Education for suppliers to research whether apprenticeship delivery is being adjusted to account for apprentices' prior learning, a sign that funding over-claims could be clamped down on.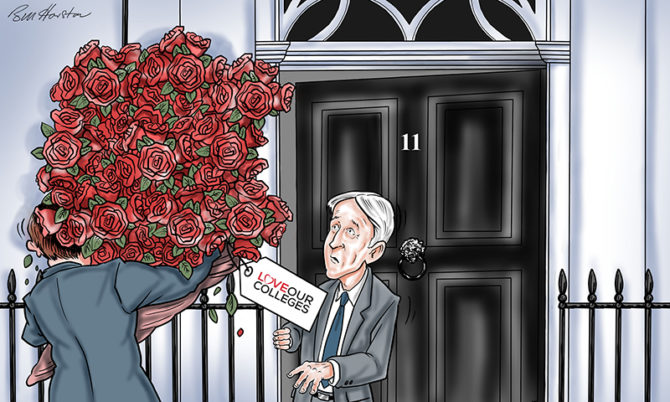 Edition 271 – February 15: College leaders applied pressure on the chancellor for a raise on Valentine's Day. FE unions joined the Association of Colleges in paying a visit to the Treasury to hand-deliver a card to raise the profile of the Love Our Colleges campaign.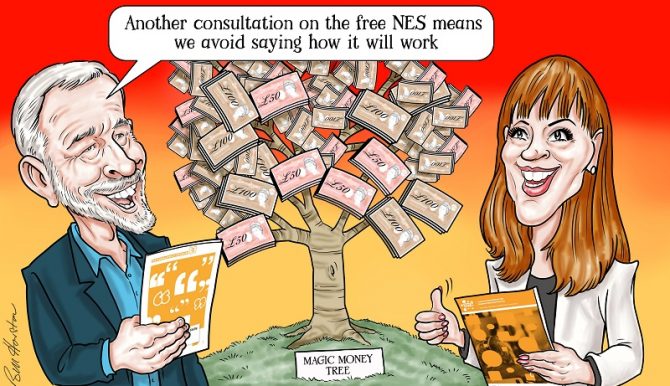 Edition 272 – March 1: Labour launched its second National Education Service consultation in the space of a year to explore how to move to a system "empowered" by "local accountability".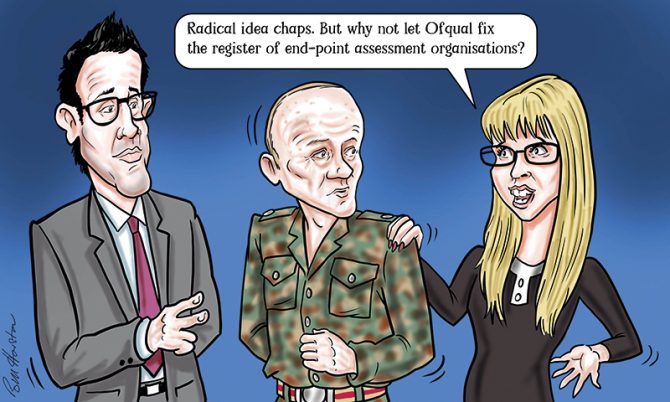 Edition 273 – March 8: The government was "strengthening" the approvals process for its register of end-point assessment organisations to make conditions more vigorous to ensure there will not be "any rogues slipping through the system".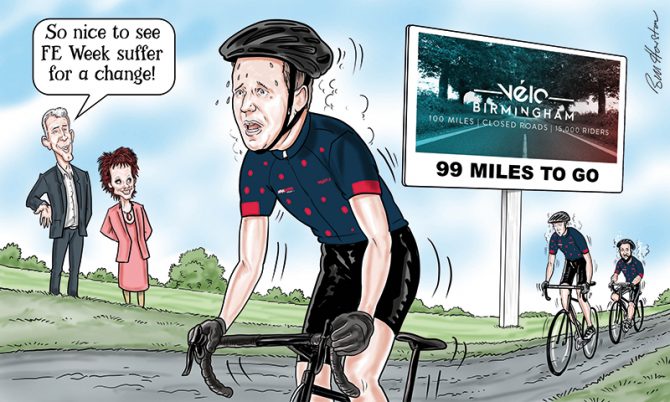 Edition 274 – March 15: FE Week's editor Nick Linford and managing director Shane Mann joined a team from South and City College Birmingham to cycle the 100-mile Velo Birmingham and Midlands and raise funds for the charity Cure Leukaemia.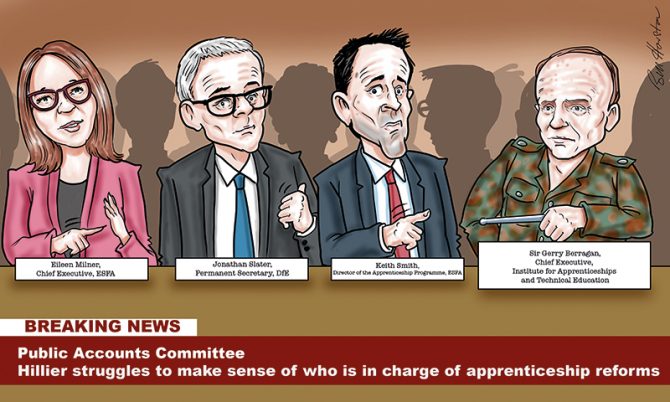 Edition 275 – March 22: The Public Accounts Committee grilled officials about "the value" of the apprenticeships programme and the effectiveness of its "oversight".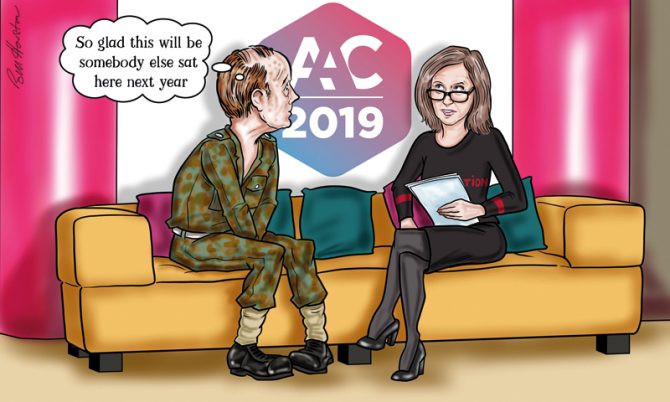 Edition 276 – March 29: Headhunters claimed the chief executive of the Institute for Apprenticeships and Technical Education would step down when his contract is up. A job advert was posted on the Civil Service Jobs website earlier in the month.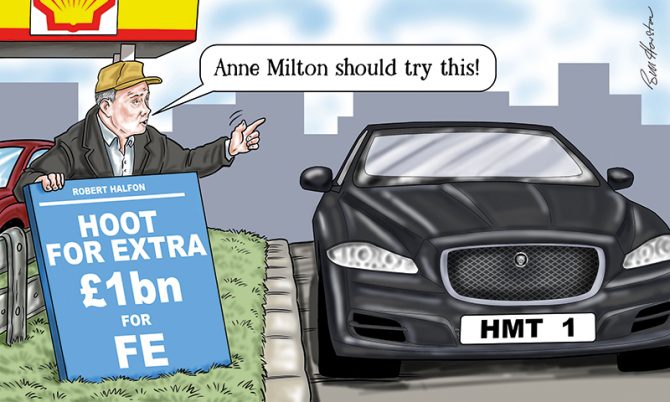 Edition 277 – April 5: The skills minister and the chair of the education select committee, Robert Halfon, clashed after Anne Milton refused to say how much extra FE funding she requested from the Treasury.
Edition 278 – April 26: An end-point assessment organisation was facing a potential fine of £50,000 after "technical issues" affected its delivery of apprenticeship assessments. The notice of intention to impose a monetary penalty on the Chartered Institute of Legal Executives was the first such fine floated by Ofqual.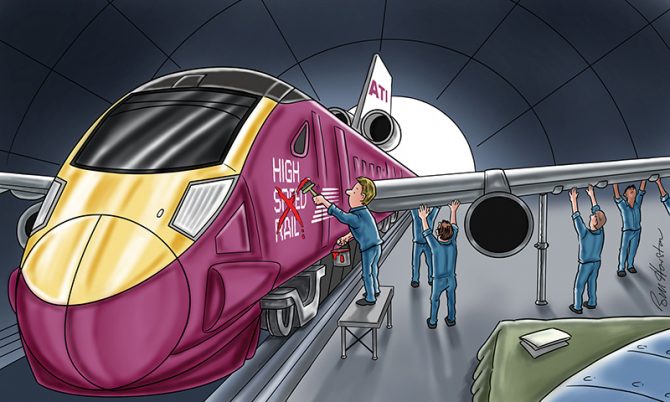 Edition 279 – May 3: The government had to promise a last-minute gift of £4.55 million to avoid the National College for High Speed Rail being unable to sign off last year's accounts. The college then announced plans to ditch "high speed" from their name.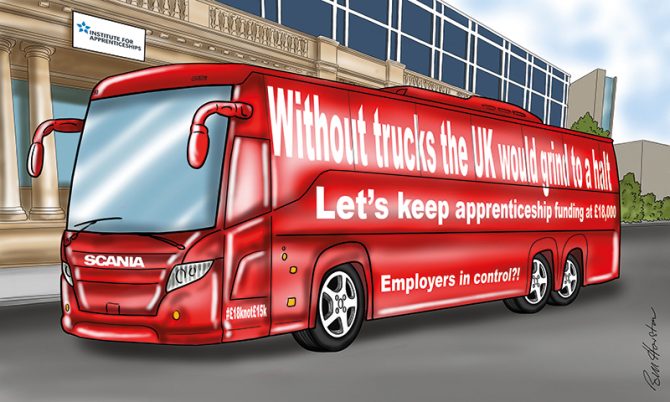 Edition 280 – May 10: A leading manufacturer of heavy trucks and buses warned that cutting the funding band by £3,000 for an apprenticeship that it helped to develop threatens its industry's long-term skills strategy. Scania (Great Britain) Limited, the parent company of which has nearly 50,000 employees globally, addressed an open letter to Damian Hinds, Anne Milton and Robert Halfon.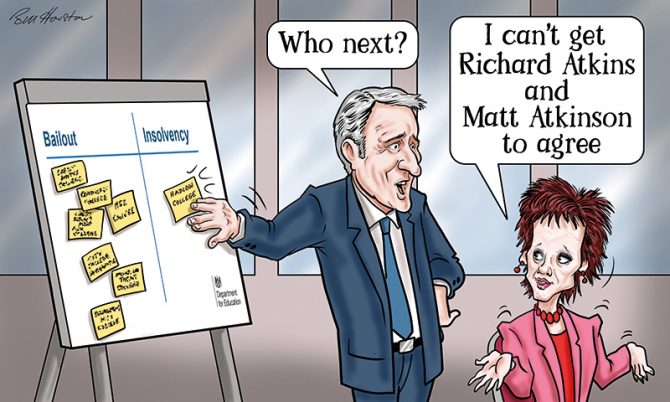 Edition 281 – May 17: The ongoing financial scandal which engulfed Hadlow College led to it becoming the first to be taken through the new college insolvency regime.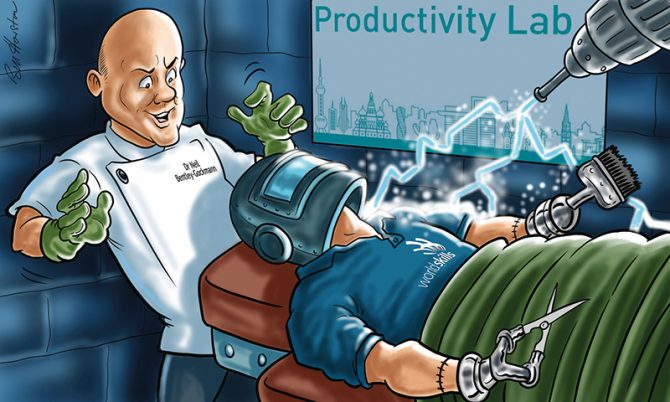 Edition 282 – May 24: Chief executive of WorldSkills UK, Dr Neil Bentley-Gockmann, discussed how the competition has been a springboard for some countries to reform and develop their skills training.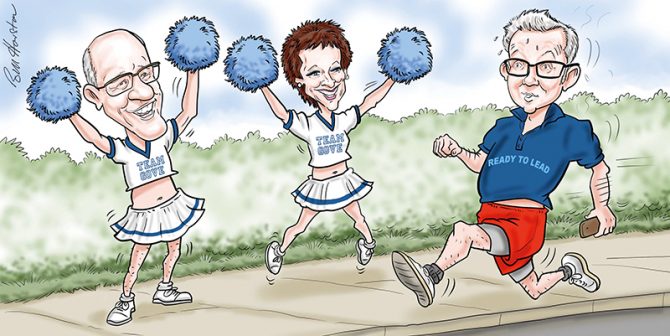 Edition 283 – June 7: Skills minister Anne Milton and schools minister Nick Gibb backed Conservative leadership contender Michael Gove to be the next prime minister.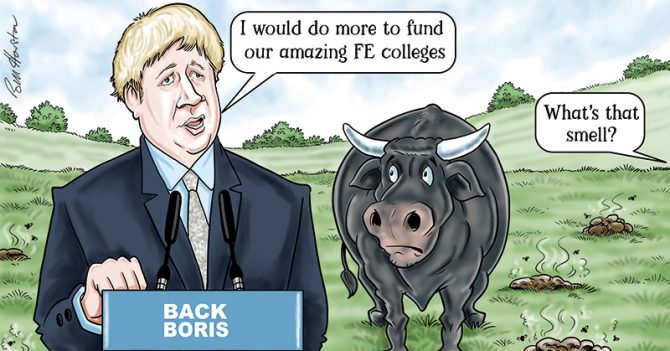 Edition 284 – June 14: Conservative leadership favourite Boris Johnson said he would "do more to fund our amazing FE colleges" if he won the race to be the country's next prime minister.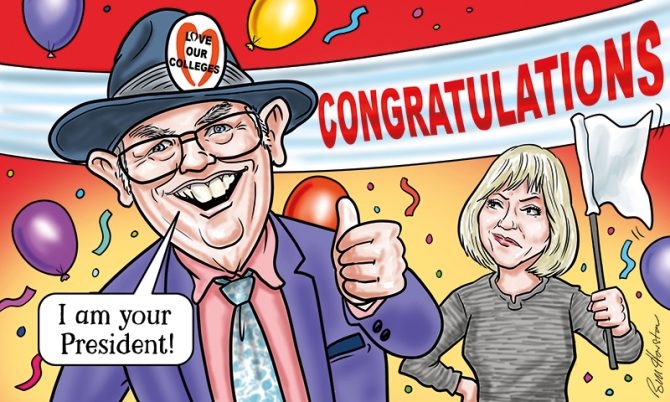 Edition 285 – June 21: Steve Frampton continued as president of the Association of Colleges for a second year, after his only challenger pulled out at the last moment. Trafford College Group principal Lesley Davies withdrew on the last day of voting due to "personal reasons".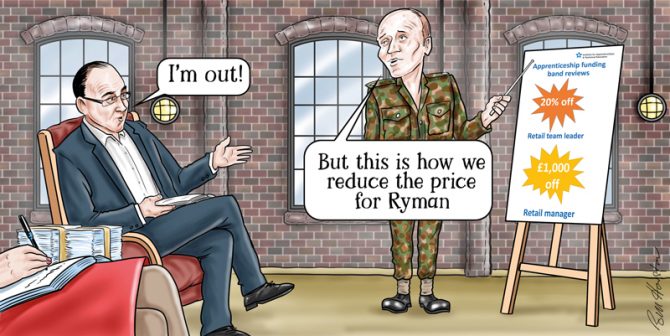 Edition 287 – July 5: The chair of major high-street employer Ryman, ex-Dragon's Den star Theo Paphitis,  accused the Institute of Apprenticeships and Technical Education of "damaging" apprenticeship quality.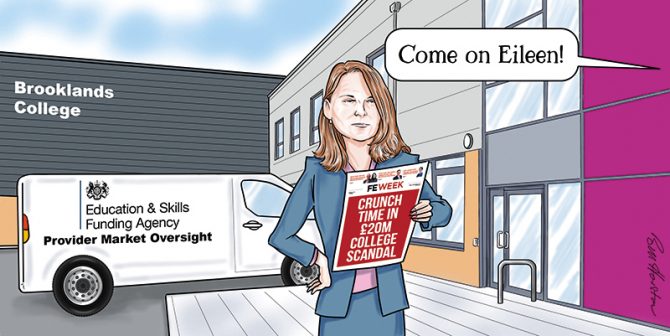 Edition 289 – September 13: A college's future was in doubt after officials demanded it paid up to £20 million back to the government following investigations into a major subcontracting scandal. Brooklands College was told to pay the funding clawback owing to its dealings with mysterious training firm SCL Security Ltd.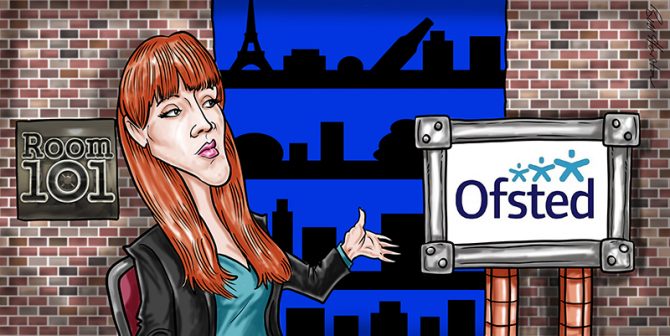 Edition 290 – September 20: Angela Rayner, the shadow education secretary, repeatedly refused to rule out scrapping Ofsted and said Labour was "looking at all options" for an overhaul of the school and college accountability system.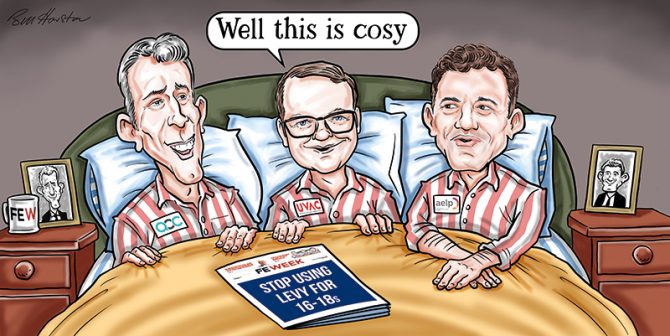 Edition 291 – September 27: The University Vocational Awards Council,  the Association of Employment and Learning Providers and the Association of Colleges united to call on the government to fund 16 to 18-year old apprentices through general taxation.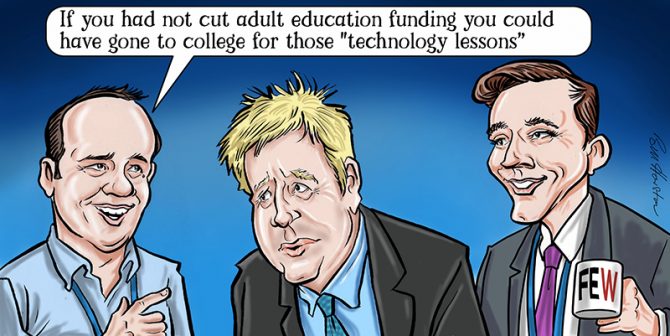 Edition 292 – October 4: FE Week editor Nick Linford and managing director Shane Mann jokingly offered Boris Johnson some advice at the Conservative conference.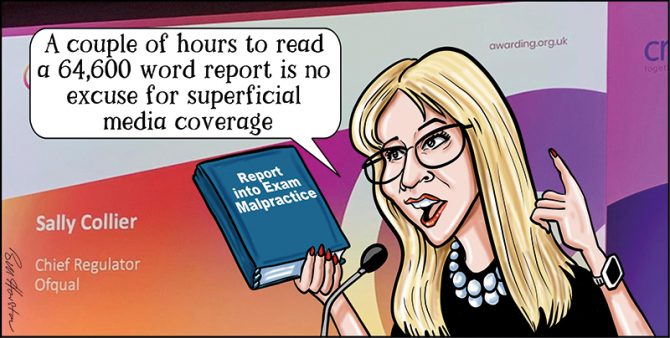 Edition 293 – October 11: Addressing the first day of the Federation of Awarding Bodies' annual conference, Ofqual's chief regulator Sally Collier criticised the "rather superficial media coverage" of a recommendation by the independent commission on exam malpractice around banning watches in exams.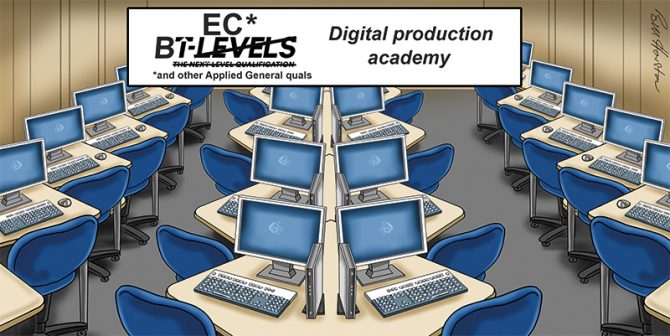 Edition 294 – October 18: Colleges will have to keep on running T-levels for at least 20 years if they want to avoid handing back millions in capital funding.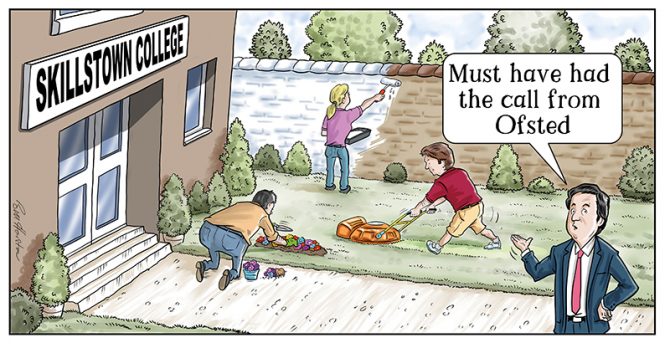 Edition 296 – November 8: Ofsted praised the environment in new inspection reports. Language was one of the most significant changes to reports since the framework was rolled out in September. A spokesperson explained that the new style was intended to give a better "flavour" of what it was like for students at the provider.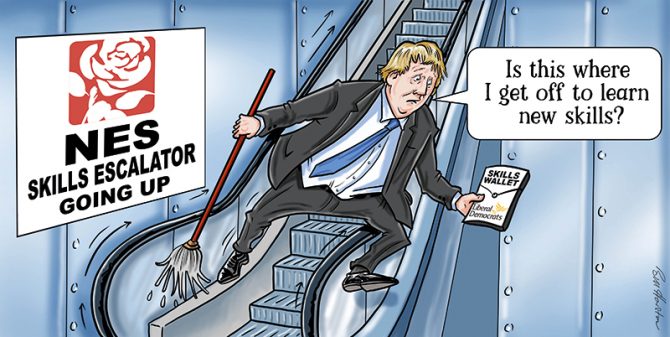 Edition 297 – November 15: Political parties promised billions ahead of the general election. Tories pledged £1.8bn capital funding to colleges, questions were raised over Labour's lifelong learning 'education escalator' and the Lib Dems offered £10k skills wallets for adults.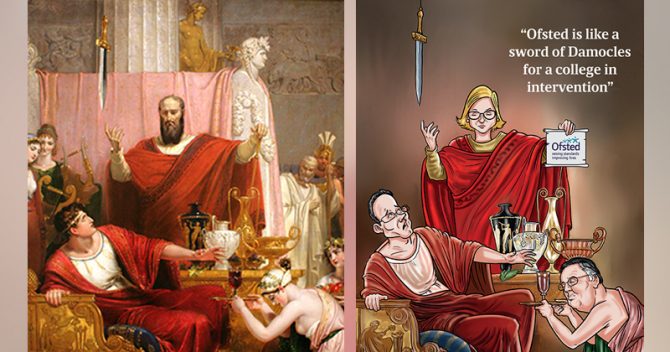 Edition 298 – November 22: Ofsted was criticised by an experienced turnaround principal for inspecting colleges just before mergers at the Association for Colleges' annual conference. He compared Ofsted to "a sword of Damocles for a college in intervention".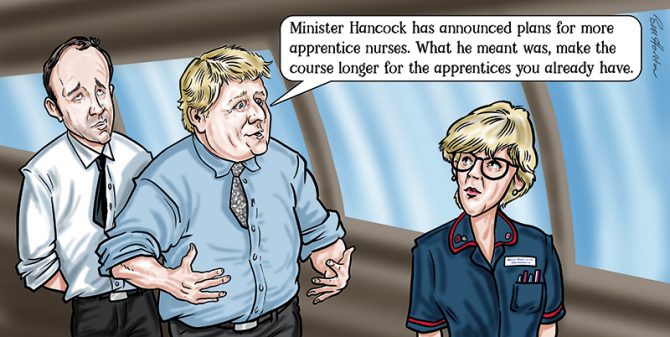 Edition 299 – November 29: FE Week editor Nick Linford questioned the Conservative election pledge for 50,000 more nurses, saying it sounded similar to a previous manifesto target for 3m more apprenticeships.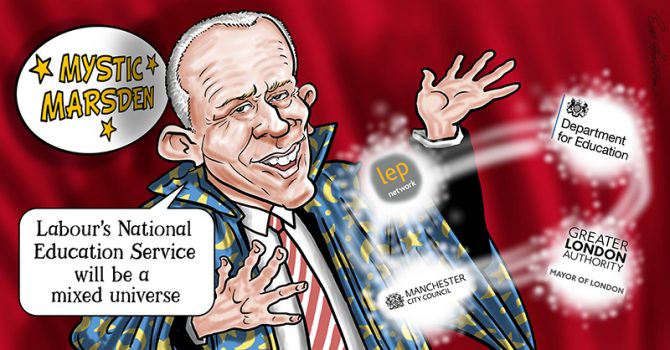 Edition 300 – December 6: Shadow skills minister Gordon Marsden said Labour would not prevent independent providers from accessing public funding if the party won the general election, even though its manifesto pledged to "reverse the privatisation" of FE. He added "it will be a mixed universe of these various bodies".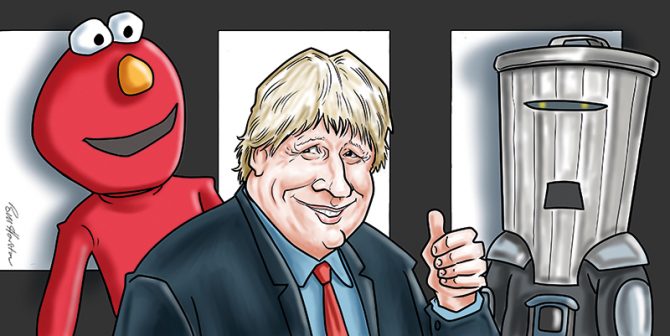 Edition 301 – December 13: Gordon Marsden and Anne Milton were two high profile FE casualties as the Conservatives secured a 76 seat majority in a dramatic general election. The Conservative party and prime minister Boris Johnson now have a number of new FE promises to fulfil, including a £3bn National Skills Fund.