As 2018 draws to a close we take a look back at the story of the year, as told through the medium of FE Week's cartoons.
Skills minister Anne Milton and her boss, education secretary Damian Hinds – the stars of the final cartoon of the year – between them racked up the most appearances, with seven and five respectively.
Other sector figures to have been immortalised in cartoon form this year by the talented Bill Houston include Sir Gerry Berragan, boss of the Institute for Apprenticeships, Ofsted chief inspector Amanda Spielman and prime minister Theresa May.
Read on to recap on the year in FE Week cartoons.
---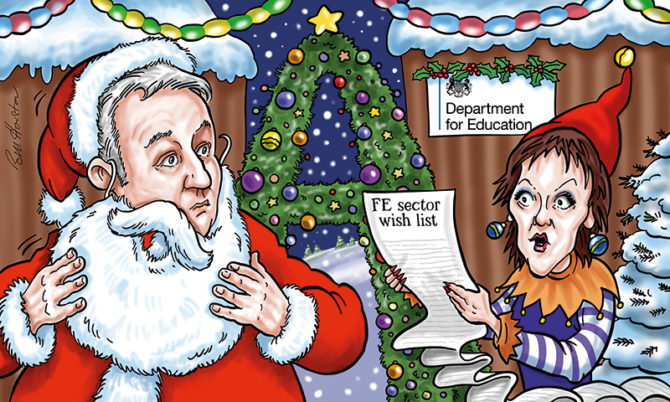 Issue 265 – December 14:  Ministerial musings – technical training must match the best academic options
Skills minister Anne Milton celebrates some of the achievements of 2018, and looks forward to developments in technical education in the coming year.
---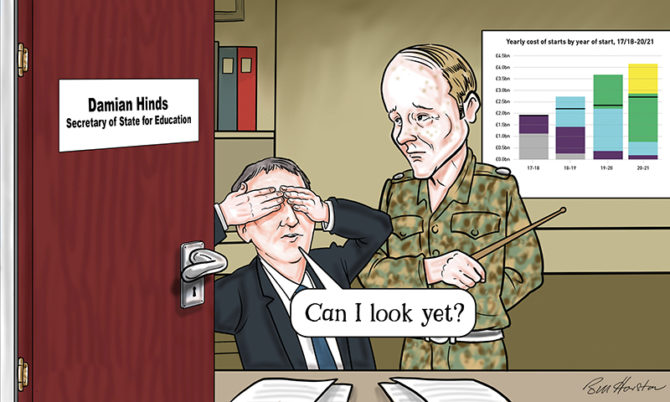 Issue 264 – December 7: Damian Hinds reacts to concerns that spend on apprenticeships is soaring
Education secretary Damian Hinds didn't deny the apprenticeships budget was heading for an overspend, following reports there would be a £500 million shortfall this year.
---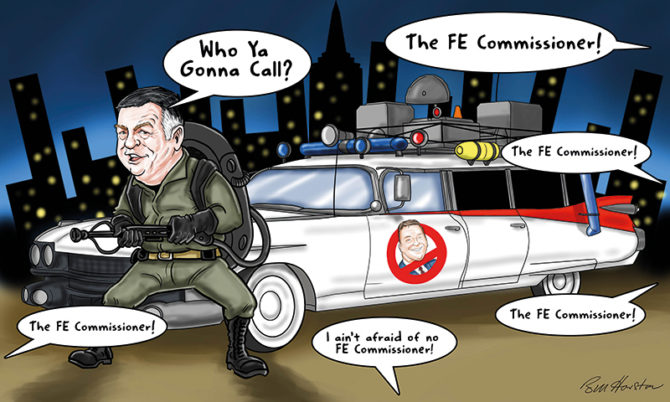 Issue 263 – November 30: FE commissioner – check with me before appointing a principal
Richard Atkins urged college governors to speak to him before appointing a principal, as part of a wide-ranging interview covering interventions, insolvency and why cash is king.
---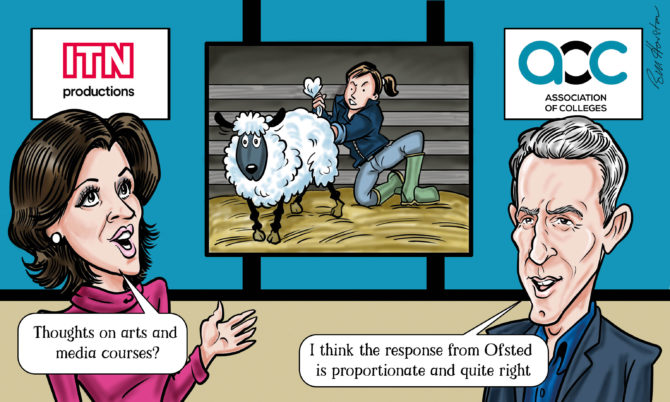 Issue 262 – November 23: Hughes accepts Ofsted's concerns over courses with poor job prospects
Association of Colleges boss David Hughes said Ofsted chief inspector Amanda Spielman was "quite right",  after she raised concerns over large numbers of learners recruited to level two courses with poor job prospects.
---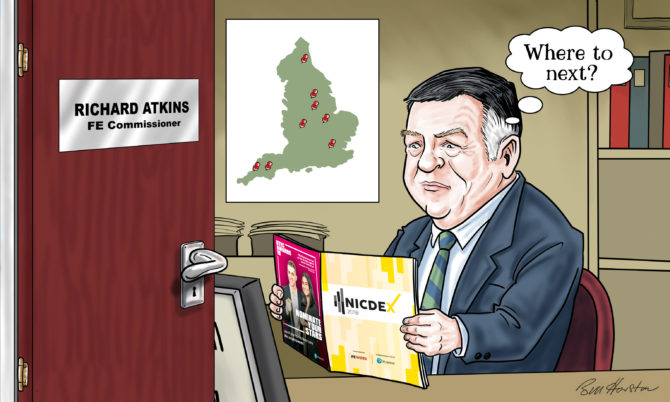 Issue 261 – November 16: What is behind the spate of resignations of college leaders?
Eight high-profile college leaders have stepped down at short notice in just two months. In the same week that this year's NICDEX college rankings were published, we looked at what could be behind the exodus.
---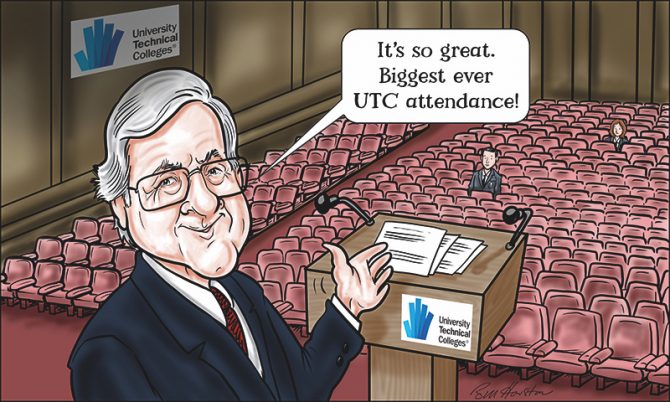 Issue 260 – November 9: Contradictory claims over UTC learner numbers from Baker Dearing Trust
The Baker Dearing Trust claimed that the number of 14-year-olds studying at university technical colleges had gone up, but also admitted that the average per institution had gone down.
---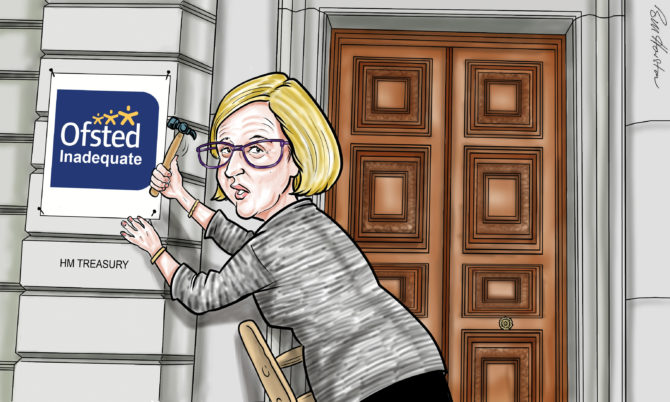 Issue 259 – November 2: Ofsted boss backs calls for more 16-to-18 cash to combat falling standards
Ofsted chief inspector Amanda Spielman wrote to the Public Accounts Committee setting out her "strong view" that 16 to 18 funding should be increased – and that the impact of funding pressures was being seen in inspection outcomes.
---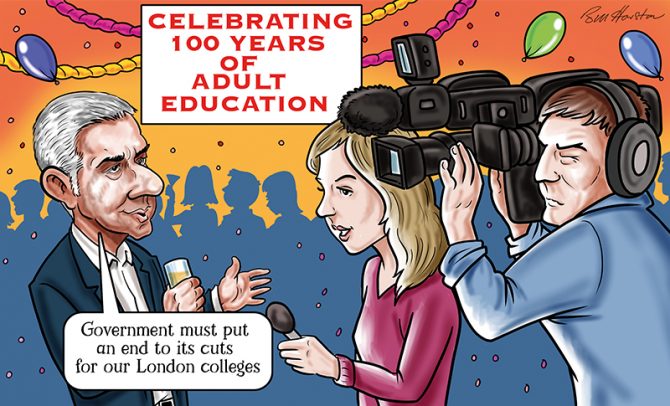 Issue 258 – October 19: Mayor of London plans party to celebrate AEB devolution
The Greater London Authority is planning a party to "celebrate the wider history of adult education in London" and "set out its vision for the future" when it takes control of its devolved adult education budget in 2019.
---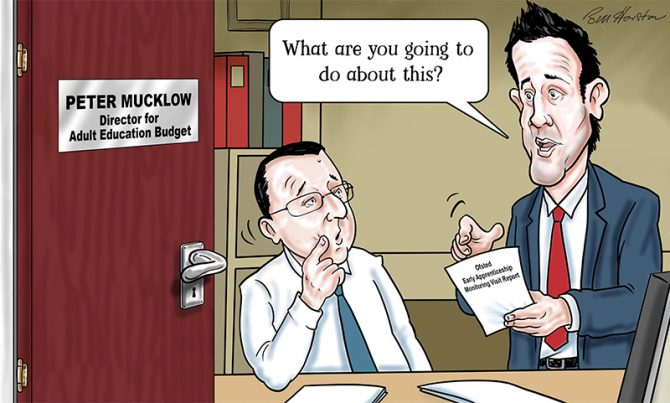 Issue 257 – October 12: ESFA WON'T ban new apprenticeship providers with poor AEB provision found in monitoring visits
The ESFA finally cleared up confusion over whether providers found to be making 'insufficient progress' in adult education provision – but not in any other area under review – in an early monitoring visit would be barred from taking on new apprentices.
---
Issue 256 – October 5: Degree apprenticeships a 'concern', says skills minister
Education committee chair Robert Halfon said that degree apprenticeships are his "two favourite words", but his successor Anne Milton warned of the risk of crowding out those at lower levels – particularly those who wouldn't otherwise have the opportunity.
---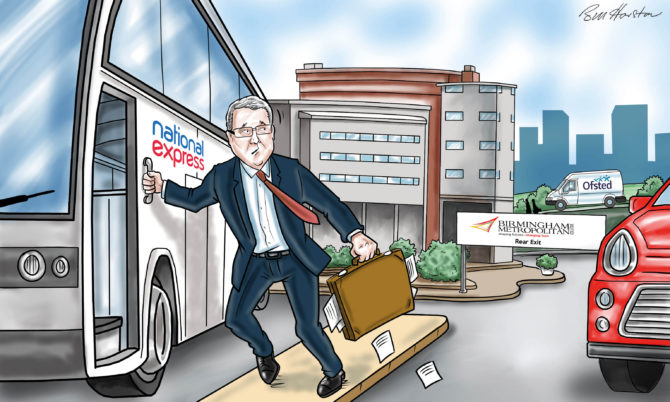 Issue 255 – September 28: Principal at mega college in debt to the DfE steps down
Andrew Cleaves, one of the most highly-paid principals in the country, stepped down with immediate effect from Birmingham Metropolitan College, which owed millions in bailout cash to the government.
---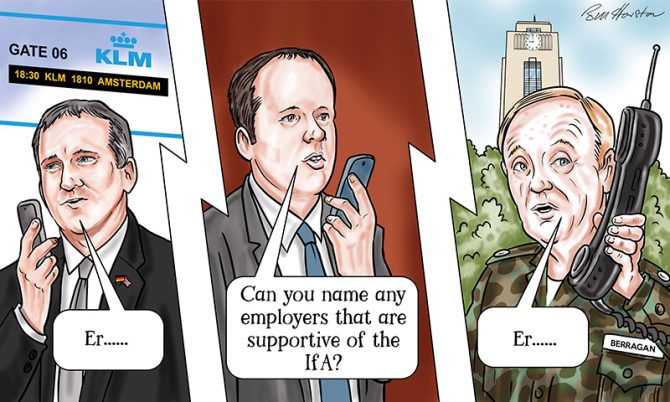 Issue 254 – September 21: Hinds quick to show IfA support but fails to name employers in agreement
Education secretary Damian Hinds failed to name any employers that support the Institute for Apprenticeships – despite being asked five times by FE Week editor Nick Linford – just weeks after the IfA itself similarly failed to name any names.
---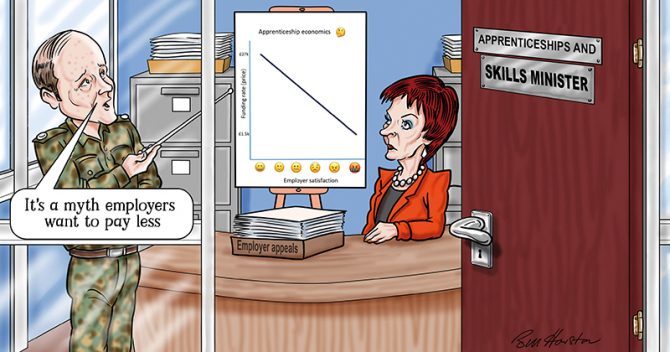 Issue 253 – September 14: Major cuts to apprenticeship funding bands to be confirmed 'shortly'
Employer groups behind a number of the most popular apprenticeships were up in arms against proposals to cut the amount of levy cash that could be spent on them, in the Institute for Apprenticeships' first funding band review.
---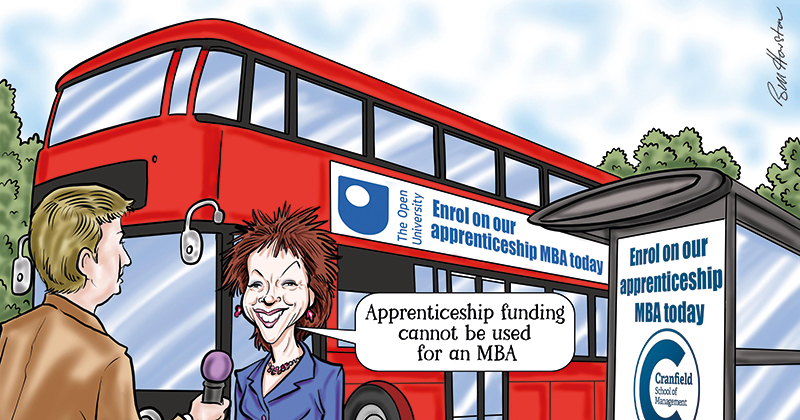 Issue 252 – July 13 – Huge concern over surge in higher level management apprenticeships
Skills minister Anne Milton denied that apprenticeships cash could be spent on MBAs – despite evidence to the contrary – and her shadow counterpart Gordon Marsden demanded the government "urgently look deeper" at the huge rise in higher level apprenticeships.
---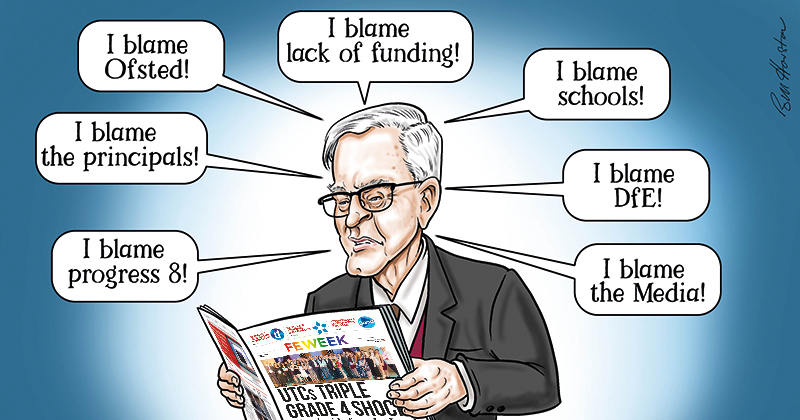 Issue 251 – July 6 – Three 'inadequate' UTCs in a week as Lord Baker blames Ofsted
Lord Baker, architect of university technical colleges, said Ofsted doesn't take into account UTCs' "excellent" destinations, as three of the 14 to 19 technical institutions were rated 'inadequate' in the space of a week.
---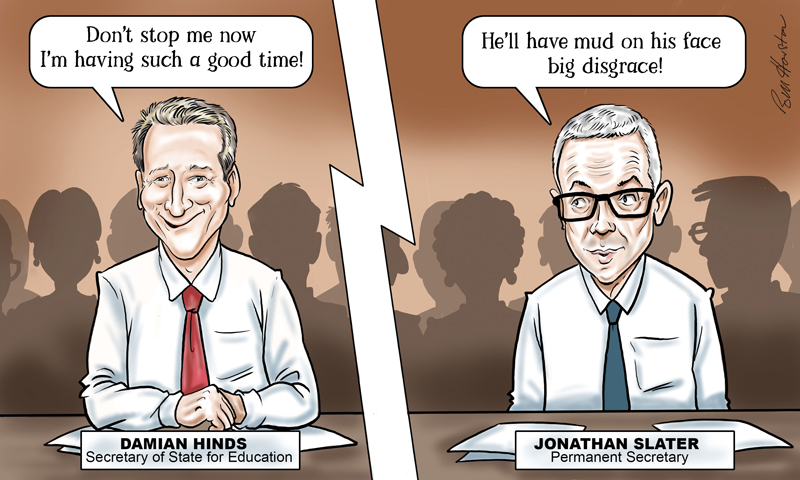 Issue 250 – June 29 – Damian Hinds defends T-levels timetable to Education Committee
Education secretary Damian Hinds and the DfE's permanent secretary both appeared before separate select committees – the former to defend his decision to plough ahead with the tight T-levels timetable, and the latter to explain why he wanted a year's delay
---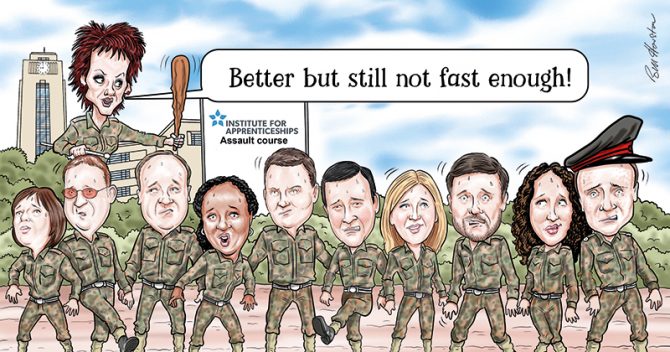 Issue 249 – June 22: Skills minister: IfA better but it's still not fast enough
The Institute for Apprenticeships has picked up the pace on standards approval, but it's still not fast or better enough according to skills minister Anne Milton – who told FE Week she always has her "big stick" with her when she meets with its leaders.
---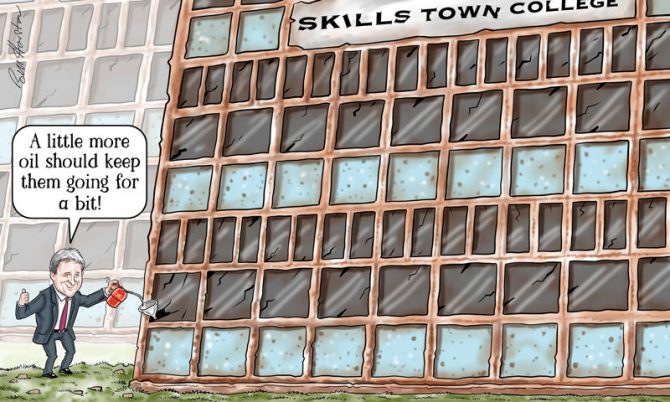 Issue 248 – June 15: Atkins: Struggling colleges will still need stopgap funds
After a series of high-profile multi-million pound bailouts in recent months, the FE commissioner said colleges will struggle once the restructuring facility and exceptional financial support are withdrawn – and there will always be a need for some funding to oil the wheels.
---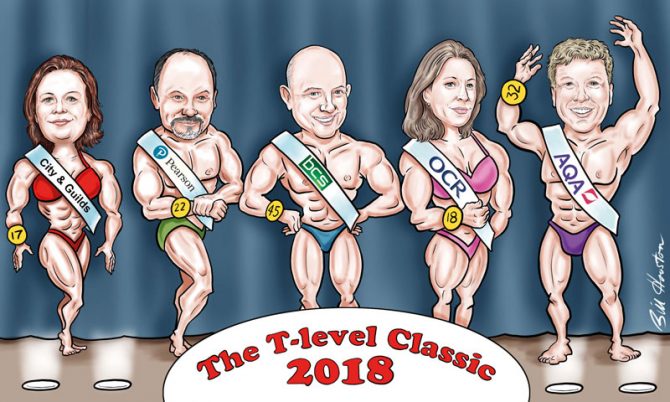 Issue 247 – June 8: Big five awarding giants compete for T-levels
As the controversial tender process for the first three T-levels got underway, FE Week looked at which awarding bodies might bid for the exclusive licences.
---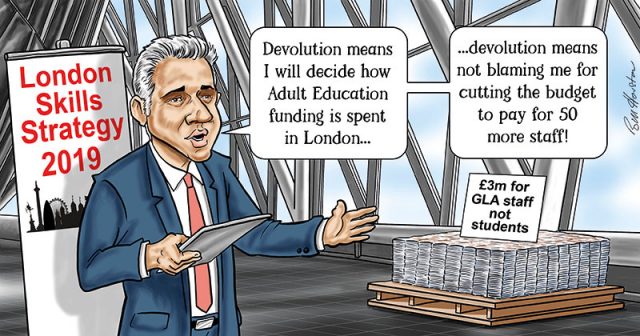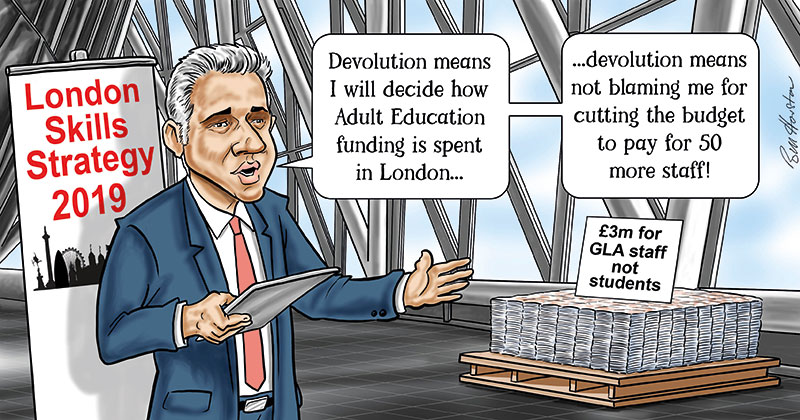 Issue 246 – May 25: Mayor of London blames DfE for having to top-slice AEB
The Mayor of London, Sadiq Khan, defended topslicing three per cent of its devolved adult education budget for administration costs, saying that the Department for Education had refused his request for a separate budget for this purpose.
---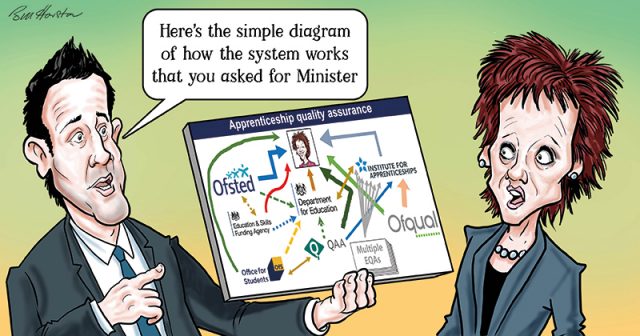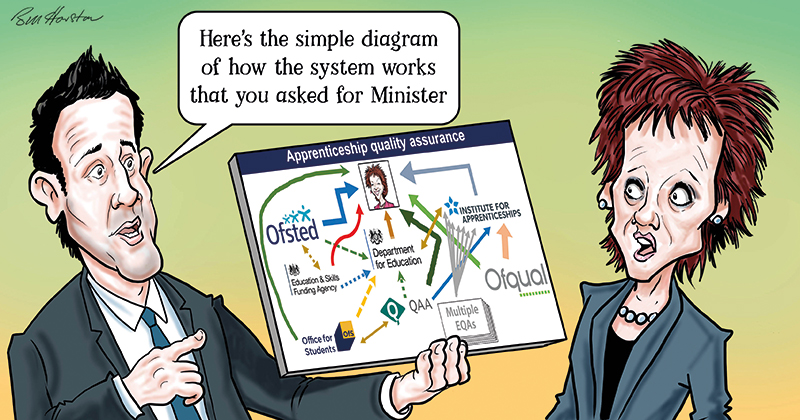 Issue 245 – May 18: Minister admits to confusion over apprenticeship quality accountability
During a select committee hearing skills minister Anne Milton admitted it wasn't clear who was ultimately accountable for apprenticeship quality, after the ESFA lifted a ban imposed on one provider that was blasted for its poor provision by Ofsted.
---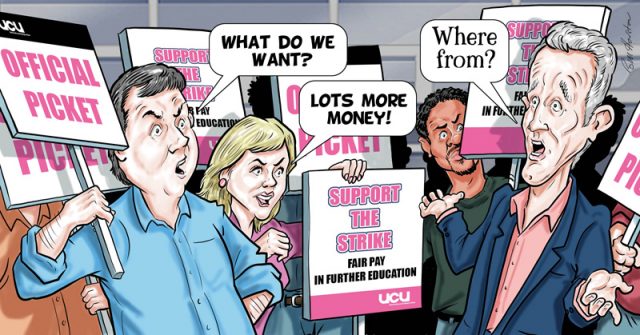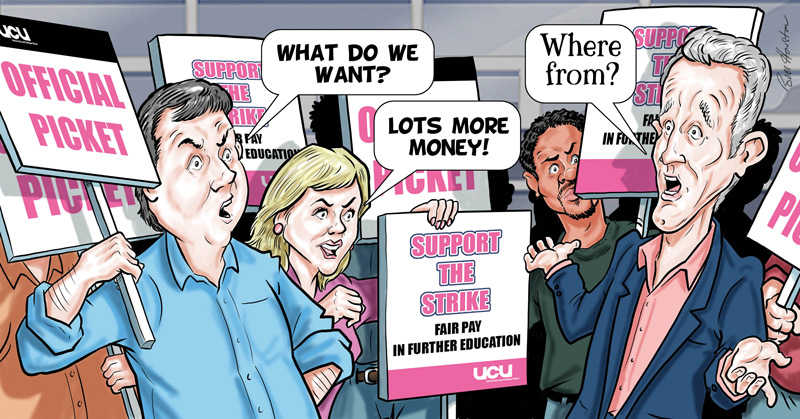 Issue 244 – May 11: Staff at colleges striking for up to 7 days in exam season
Staff at a number of colleges across the country went out on strike during exam season as part of an ongoing dispute over pay – action that David Hughes, boss of the AoC, described as "regrettable".
---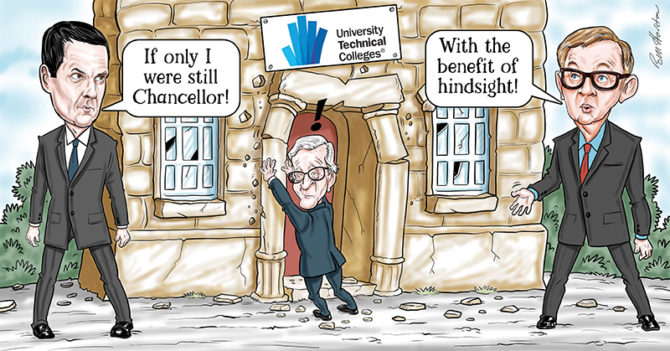 Issue 243 – May 4: UTC architect George Osborne says 14 start age 'hasn't worked'
George Osborne, former chancellor and driving force behind UTCs, said UTC model hasn't worked – joining Michael Gove, education secretary at the time of their launch, in criticising the 14 to 19 technical institutions.
---
Issue 242 – April 27: Mucklow tackles AEB devolution as director roles change at ESFA
Peter Mucklow, former sixth form college commissioner and director for young people at the ESFA, was handed the mammoth task of overseeing devolution of the adult education budget as part of a management reshuffle at the agency.
---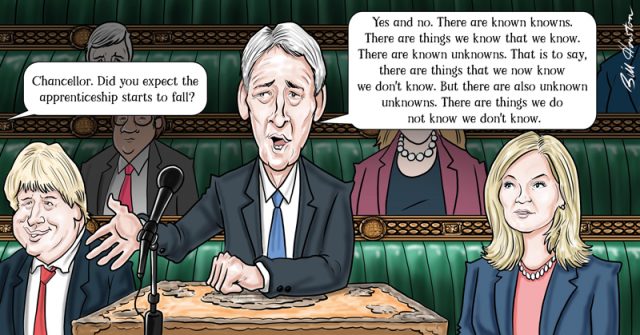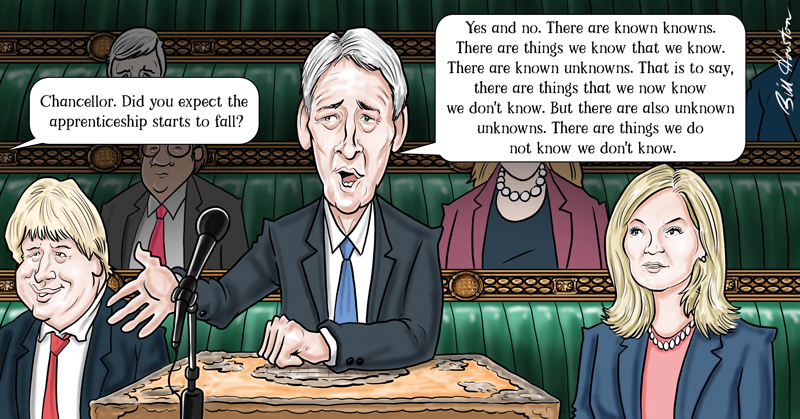 Issue 241 – April 20: Apprenticeship starts still in free-fall
Chancellor Philip Hammond told parliament that the government had expected apprenticeship starts to fall, but not as much as they had done – as the latest statistics showed a 31 per cent year-on-year drop.
---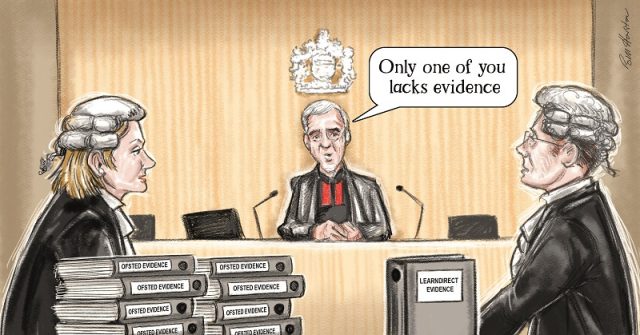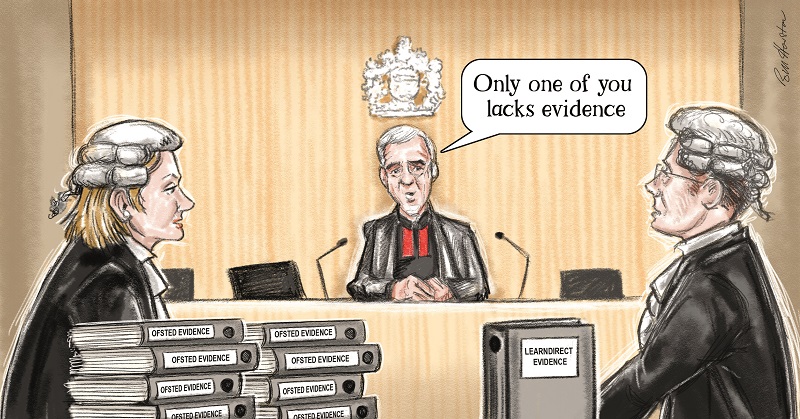 Issue 240 – April 13: Learndirect did not get 'anywhere near' winning legal battle against Ofsted, judge says
Seven months after Learndirect's failed legal fight against Ofsted, the Manchester Administrative Court finally published the detailed judgement – revealing that the provider didn't get "anywhere near" quashing its 'inadequate' rating.
---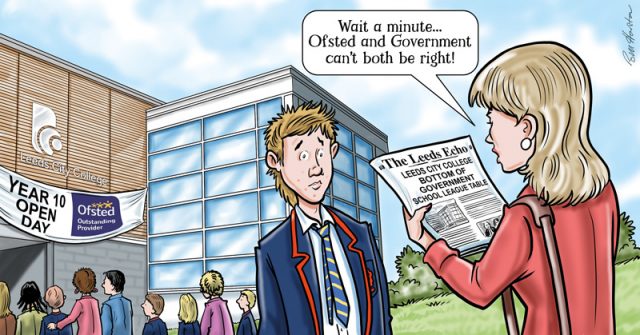 Issue 239 – March 23: Ofsted appears to back colleges in Progress 8 battle
Leeds City College was rated 'outstanding' for its 14 to 16 provision by Ofsted, despite having one of the worst Progress 8 measures in the country – adding weight to arguments that the measure is unfair for colleges and other providers that recruit at 14.
---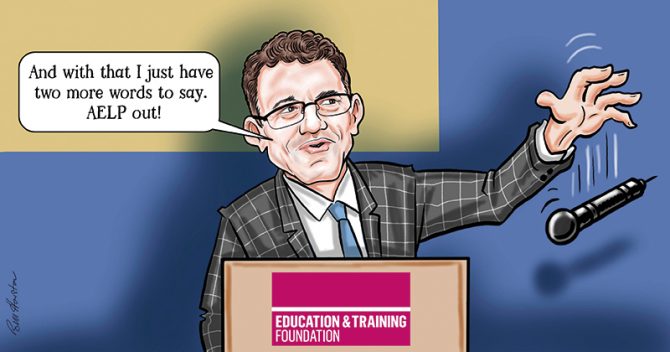 Issue 238 – March 16: AELP dramatically ditches ETF ownership, effective immediately
The AELP has ditched its ownership of the Education and Training Foundation, claiming that it no longer operates as an independent body and is instead an extension of the DfE focusing on the incoming T-levels.
---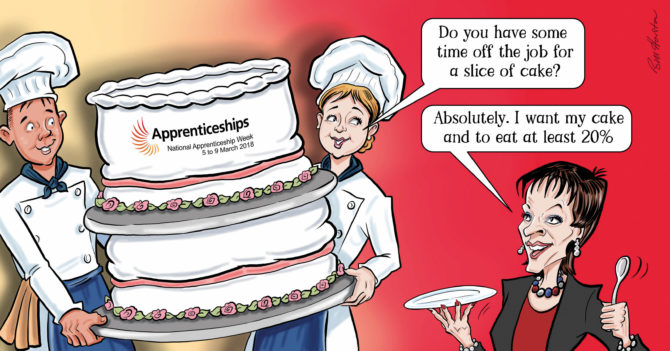 Issue 237 – March 9: Milton not budging on 20% off-the-job training rule
An FE Week survey found that the 20 per cent off-the-job training rule was the biggest barrier to apprenticeship recruitment, but skills minister Anne Milton insisted it was a "protected characteristic" and it wouldn't be changing.
---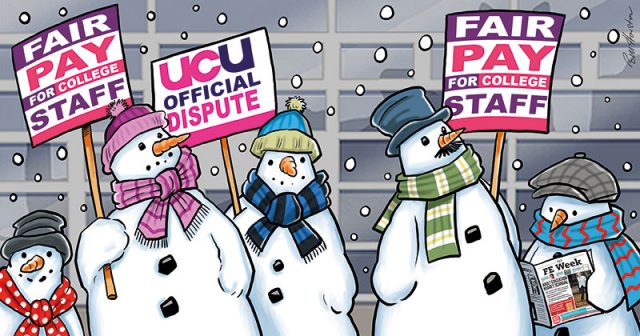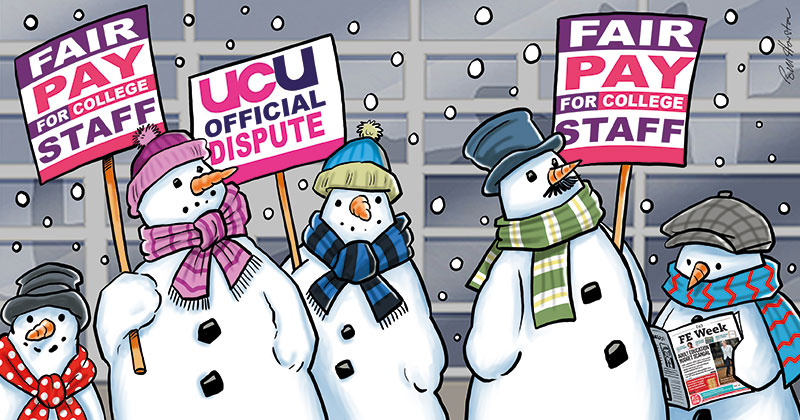 Issue 236 – March 2: Strike action escalates on a second day of college walkouts
More than 1,500 members of the University and College Union at colleges across the country took to the picket lines – despite the snow – in the second day of strike action over a "disappointing" pay offer of one per cent.
---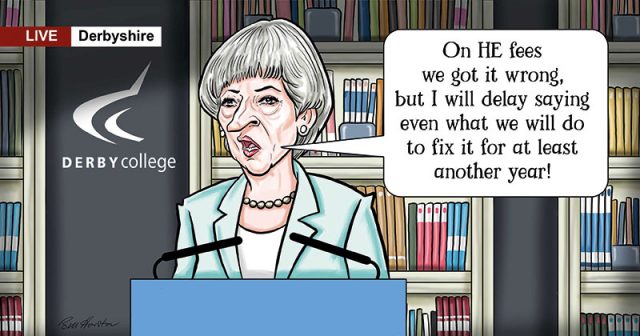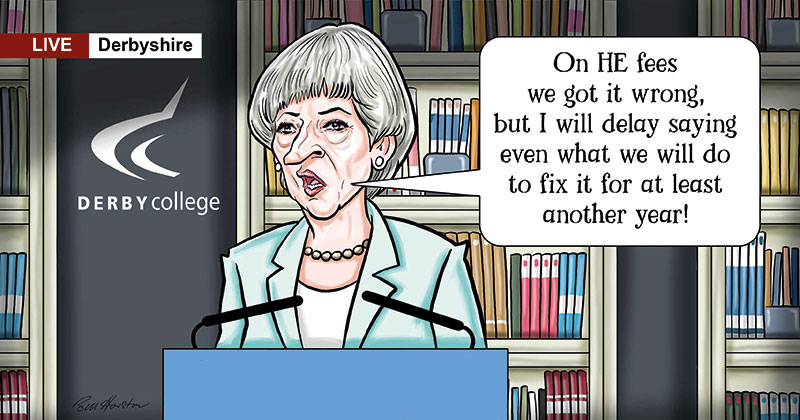 Issue 235 – February 23: Huge expansion of higher education in colleges expected to follow post-18 funding review
Prime minister Theresa May chose Derby College to launch the government's post-18 funding review, which Association of Colleges boss David Hughes said he hoped would result in an expansion of HE provision at colleges.
---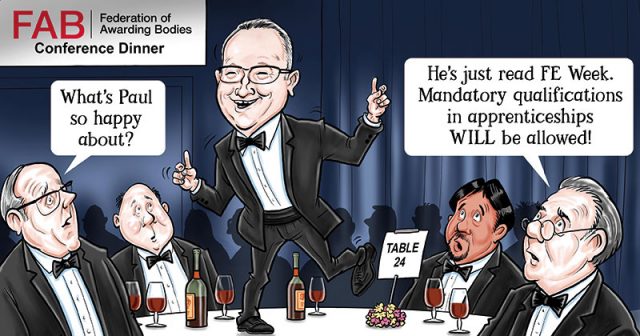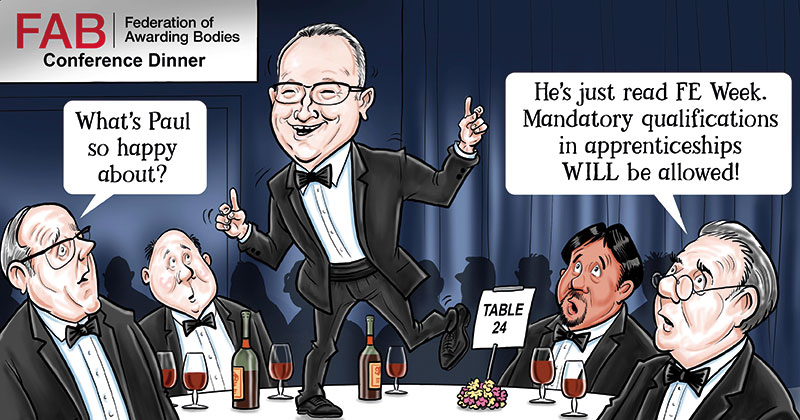 Issue 234 – February 9: Sector welcomes U-turn on qualifications in apprenticeships
Sector leaders – including Paul Eeles, chair of the Federation of Awarding Bodies – welcomed a U-turn by the Institute for Apprenticeships that meant mandatory qualifications could be included in standards.
---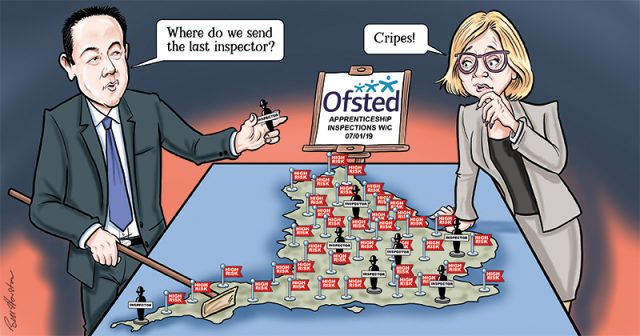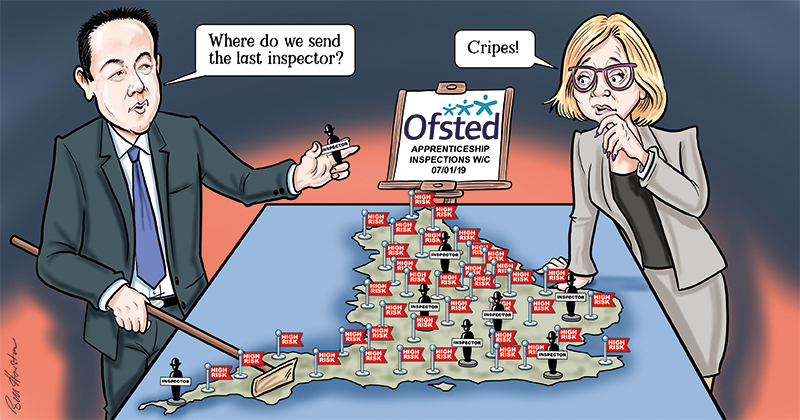 Issue 233 – February 2: Invest in Ofsted to guarantee apprenticeship quality
As the number of apprenticeship providers on the government's register topped 2,000 for the first time, FE Week editor Nick Linford argued that Ofsted needed to be given the cash to inspect these new providers.
---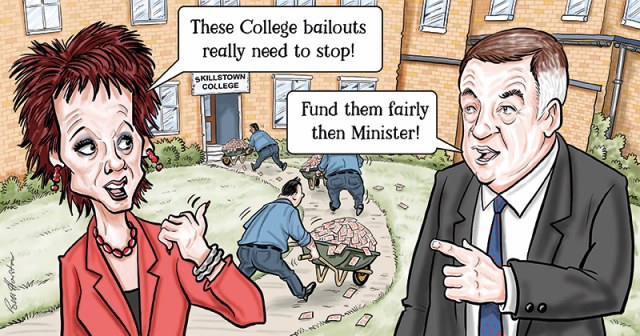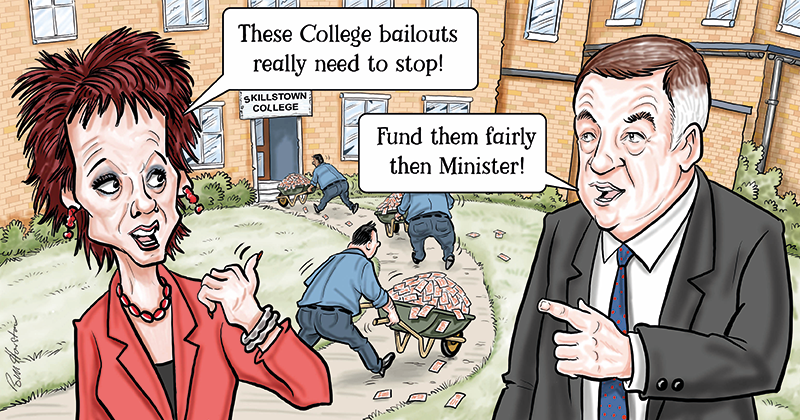 Issue 232 – January 26: FE commissioner Richard Atkins: 'Funding for FE is unfair'
FE commissioner Richard Atkins told an education select committee hearing that FE funding was 'unfair' – adding his voice to others, including Amanda Spielman, calling for more cash for the sector.
---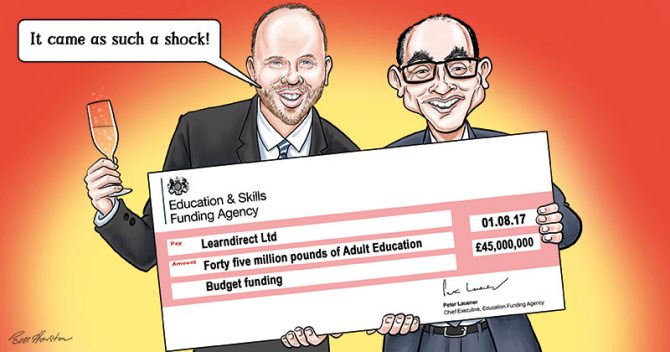 Issue 231 – January 19: Learndirect boss reveals 'surprise' at £45m allocation following AEB tender withdrawal
The £45m allocation given to Learndirect in last year's adult education budget tender fiasco came as a surprise, its boss Andy Palmer told a hearing of the Public Accounts Committee about the nation's largest FE provider.
---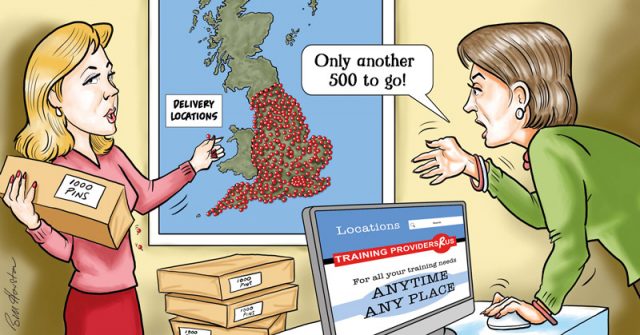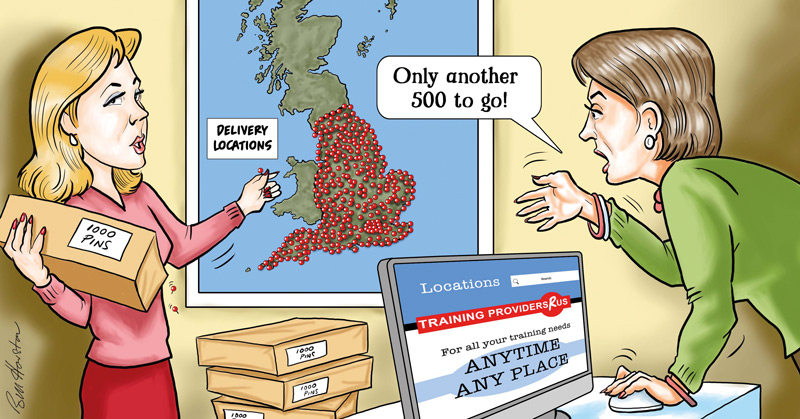 Issue 230 – January 12: Government search site is flooded with hundreds of 'locations' for the same providers
FE Week found some providers had hundreds of locations listed on the Find Apprenticeship Training website – with one using tutors' home addresses to show it had a national presence.
---