The Institute for Apprenticeships is "considering" releasing a presentation given to employers that warned of an imminent apprenticeship overspend.
The admission came in a letter, sent today, from its boss Sir Gerry Berragan, in response to a request from shadow skills minister Gordon Marsden.
"We are considering the request and will respond as soon as possible in the new year," it said.
The presentation, given by the IfA's chief operating officer Robert Nitsch at an employer engagement event at Exeter College on November 30, included a forecast of a £500 million overspend on the apprenticeship budget in 2018/19 – rising to £1.5 billion by 2020/21.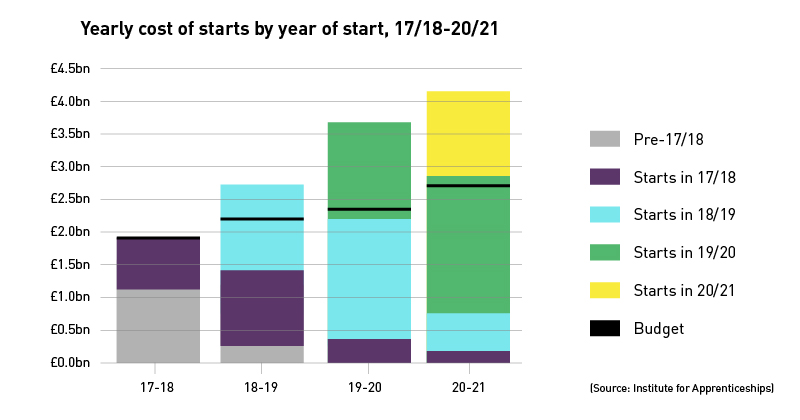 The figures were exclusively reported by FE Week earlier this month and prompted demands for an open debate on how the levy operates, and for the IfA to share the full presentation.
It had previously refused to do so on the basis that it was produced specifically for that event and not intended to be shared more widely.
Mr Marsden wrote to Sir Gerry on December 7, asking for the presentation to be made public.
"With an apprenticeship programme still adapting to the introduction of the apprenticeship levy, and fluctuating starts across levels and standards, I believe maximum transparency as to where the apprenticeship budget is being spent is essential for the health of the sector," he wrote.
The IfA's response comes just days after the education secretary dodged a question in parliament from education select committee chair Robert Halfon about the projected overspend.
Damian Hinds was asked to "confirm that there is a £500m overspend on the apprentice levy budget" during education questions in parliament on Monday.
"I can confirm to my right honourable friend that of course it's very important that we continue to monitor the way the apprenticeship levy works," he said in response.
The non-reply prompted Mr Halfon to call on the government to be "open and transparent about this alleged overspend" which he described as "incredibly concerning".
However, Keith Smith, the Education and Skills Funding Agency's director of apprenticeships, told FE Week last week that he was "not expecting any pressures" on the budget this year.
"I think what they were trying to set out was one scenario or a potential, particular illustration of what the budget might do and might happen, depending on some assumptions about demand, take up and those sorts of things," Mr Smith said.
However, he added that from the agency's "current point of view we're working within the context that the apprenticeship levy does and can continue to cover the costs of the programme".