Crisis-hit Aspire Achieve Advance spent over £1.6 million of its mostly government-funded income on professional sports sponsorship deals.
One of the deals, worth half a million pounds with Derbyshire Cricket Club, remains in play despite the launch of a police probe into the apprenticeship giant.
The company, better known as 3aaa, went into administration yesterday after the Education and Skills Funding Agency withdrew its funding following a second government investigation, as revealed by FE Week.
A new investigation by this newspaper, in partnership with The Guardian, has obtained documents which show that from January 2015 to May 2018, the now-defunct provider spent £1.6 million on sponsorship of sports clubs, including Derby County and Norwich Football Club.
The public accounts committee slammed Learndirect, the nation's former largest FE provider, earlier this year for spending over £500,000 of public money to sponsor a Formula 1 team, which was reported on the front page of the Financial Times following a joint investigation with FE Week.
3aaa's biggest deal has been with Derbyshire County Cricket Club, which launched a partnership in 2014. The company is its "principal partner and ground sponsor", holding the naming rights for The 3aaa County Ground as well as sponsoring the club's kit.
More than £480,000 has been cashed in by the club following the agreement with co-founders Peter Marples and Di McEvoy Robinson – who can be seen in the photo above.
The cricket club released a statement today to say they are monitoring the situation at 3aaa but the deal is very much still in place.
"Derbyshire County Cricket Club has been advised that principal partner, 3aaa Apprenticeships, has entered administration," a spokesperson said.
"The club will continue to monitor the situation. At this time, our thoughts are with the staff and apprentices who are impacted and we hope a positive outcome can be achieved.
"The club are unable to make any further comment at this time."
FE Week approached 3aaa two days before it went bust to ask it to justify its huge spend on sponsorship, considering nearly all of its income came from taxpayers' pockets and it made a £2.5 million post-tax loss in the 18 months to January 2018.
A spokesperson acknowledged the request but didn't respond.
FE Week made multiple attempts to contact Mr Marples and Ms McEvoy-Robinson but they have also not responded. Mr Marples has taken down his LinkedIn and Facebook page in the last couple of days.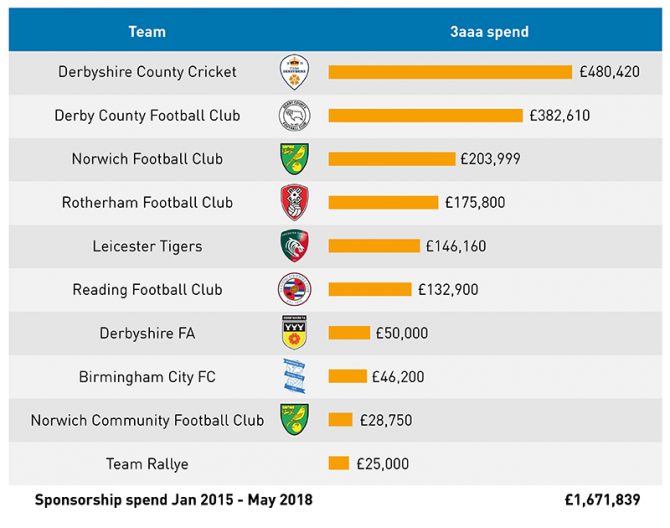 Last year 3aaa was allocated over £31 million by the ESFA to deliver apprenticeships and adult learning.
By offering sponsorship, the company gains automatic membership to Derbyshire County Cricket Club's '1870 Business Club' – a "relaxed and informal environment where local businesses can meet, create new contacts and watch first-class cricket", according to its website.
They can also "entertain clients with one of our matchday hospitality packages".
A press release from April this year explained that with 3aaa's "continued support", the cricket club has been able to "improve facilities, as the venue looks forward to an exciting year of events, which includes hosting the world's biggest girl group, Little Mix, live in concert on Thursday 19 July".
As well as the deal with Derbyshire County Cricket Club, the apprenticeship provider handed over £382,000 to Derby County Football Club, which Mr Marples is a former owner of.
More than £200,000 went to Norwich City Football Club, £175,000 to Rotherham Football Club, nearly £150,000 to Leicester Tigers, and £132,000 to Reading Football Club.
The Derbyshire FA was meanwhile given £50,000, Birmingham City Football Club cashed in £46,000, Norwich Community Football Club received £28,750, and Team Rallye was given £25,000.
The ESFA launched a second investigation into 3aaa, which was formerly rated 'outstanding' by Ofsted, earlier this year following claims of inflated achievement rates by a whistleblower.
The first investigation was carried out in 2016 by auditing firm KPMG and found dozens of success rate "overclaims".
The ESFA's new findings have been referred to the police via Action Fraud – the UK's national reporting centre for fraud and cybercrime.
The case was today passed onto Derbyshire Constabulary who will lead on enquiries.
Mr Marples resigned as chair of the Spencer Academies Trust today, which runs 17 schools across the East Midlands.