The UK has re-entered the global top 10 of the WorldSkills medal rankings following its "phenomenal" performance at the WorldSkills 2022 special edition competition.
Team UK brought home gold medals in cabinet making and aircraft maintenance, and a clutch of bronze medals in car painting, jewellery and Industry 4.0. These were complemented by 12 medallions for excellence. 
That success totalled 26 medal points for Team UK, landing a 10th place position on the global medal table, up two places from the last WorldSkills competition in 2019. Hot on the UK's heels was India, which was just one medal point behind.
Topping the table this year was China, which also scored the top spot in 2019, with a medal point score of 106. Korea came in second place, Chinese Taipei in third and Japan in fourth.

The journey to compete on the world stage wasn't an easy one for this year's members of Team UK. The competition was originally planned to take place in 2021 but was postponed for a year because of Covid-19 restrictions.
Then, in May this year, WorldSkills International dramatically announced that the competition in Shanghai would be cancelled altogether due to ongoing Covid-19 in China.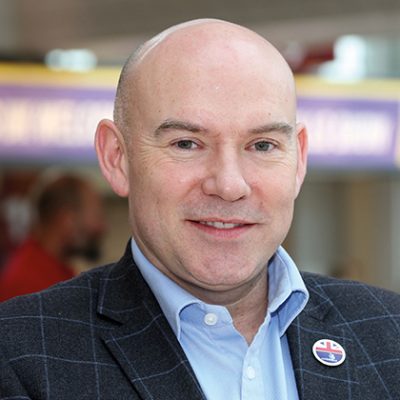 However, 11 countries, including the UK, stepped up to host the finals which all took place over a period of six weeks throughout October and November.
Neil Bentley-Gockmann, chief executive at WorldSkills UK, was full of praise for UK competitors: "To climb back into the world's top 10 is a phenomenal achievement from the young men and women in Team UK. Despite all the difficulties, distractions, and cancellations of the past few years, they have shown their true quality and real fortitude to achieve so much."
Former Moulton College student James Boyes was Team UK's first gold medal winner this year, winning the top prize in cabinet making against 17 other countries at the international finals held in Basel, Switzerland.
Ewan Payne, who won gold in aircraft maintenance, told FE Week that he put his success down to his close relationship with his training manager Jimmy: "I did get very close with Jimmy and it was that bond which allowed us to be very honest and open about our goals and what we were hoping to achieve and look at the areas where I was weakest."
On his medal win, Payne said: "It was three years of hard work and dedication and missing out on social events and working in my evenings practising. To have it all come to life and be worth it was such an amazing feeling. It's one of those moments I will probably remember for the rest of my life."
Bentley-Gockmann added: "Every member of Team UK has demonstrated excellence in their skill. We delivered the best ever performance for the UK in digital skills, positioning 4th in the world, ahead of countries including Singapore and Germany.
"Half of Team UK attained the world class standard in future skills, including cyber security and web technologies. This performance gives us a fantastic platform to raise standards in technical education and apprenticeships right across the UK."
The next WorldSkills competition will take place in Lyon, France in 2024.
Team UK competitions and results (click to enlarge)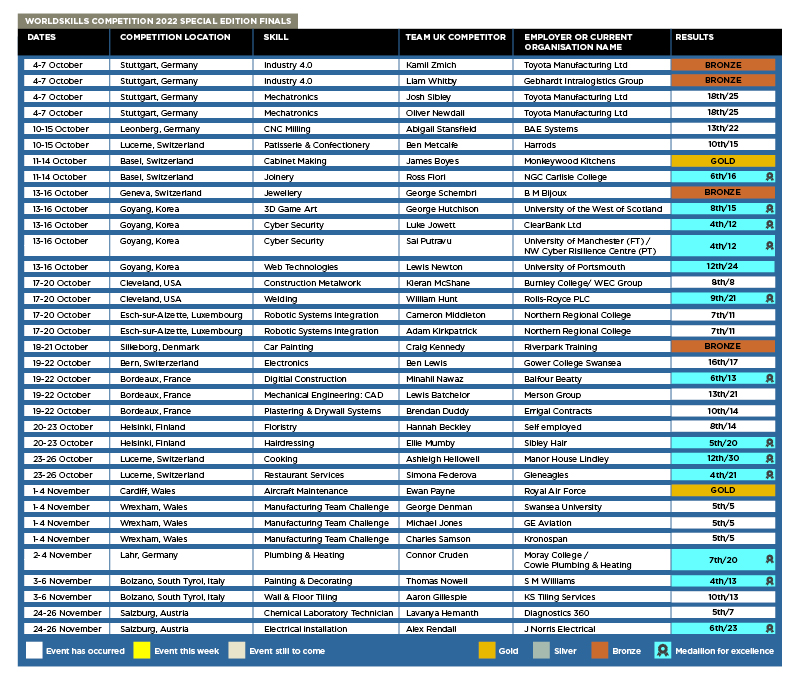 Week 1: Team UK picks up first medals
October 4-7
Kamil Zmich and Liam Whitby have won Team UK's first medals at this year's "special edition" WorldSkills competition. The pair, both aged 24, represented the UK in the Industry 4.0 competition at the WorldSkills finals in Stuttgart, Germany.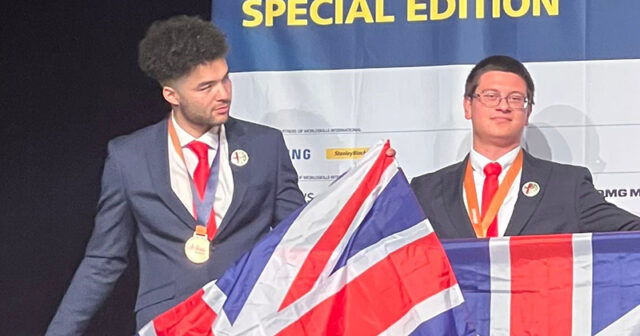 Team UK took home a bronze medal, having finished in third place behind Germany, who achieved silver, and Switzerland, who achieved gold. A total of eight countries took part.
Zmich said: "Winning a medal is a huge achievement and I'm over the moon that all the hard work has finally paid off. The whole experience of being involved with WorldSkills – medals aside – has been brilliant and will be a massive boost to my career. I'd like to thank everyone who helped along the way and WorldSkills UK for the amazing opportunity."
Elsewhere in the competition, Josh Sibley and Oliver Newdall, both from Toyota Manufacturing Ltd, took on 24 countries in the mechatronics final. They placed 18th, and were 50 points short of a medal.
---
Week 2: First GOLD for Team UK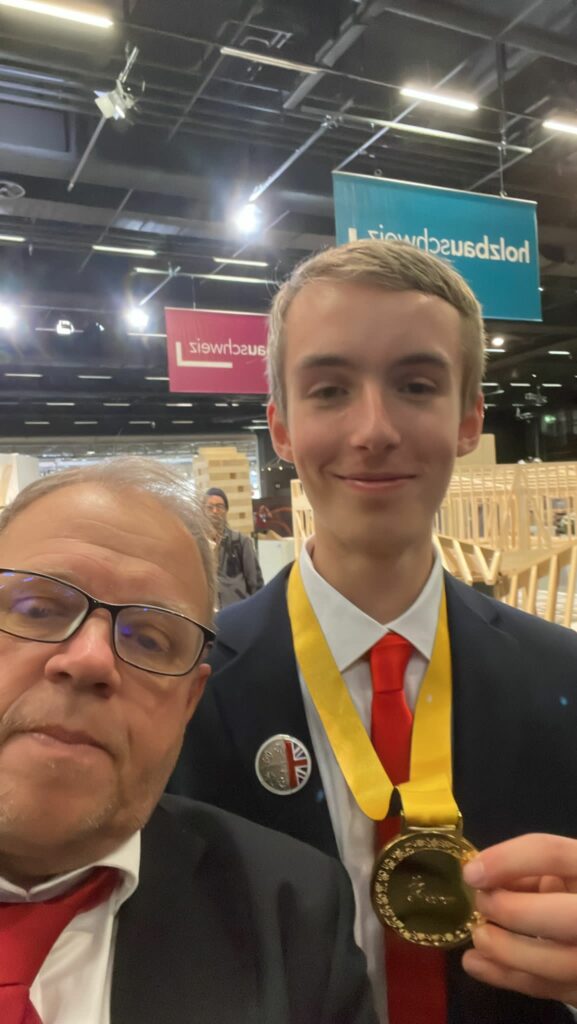 October 10-16
James Boyes has won the UK's first gold medal at the WorldSkills special edition 2022 competition.
The 22 year-old competed against 17 other countries in the cabinet making finals, held in Basel, Switzerland. Boyes came joint first alongside Suil Kwon, representing Korea, and Dexin Li who represented China.
Boyes studied at Moulton College in Northamptonshire. College principal Corrie Harris said she was "super proud" and tweeted using the hashtag "#MoultonMade".
In jewellery, the UK was represented by 22 year-old George Schembri at the finals in Geneva, Switzerland, and won bronze. Schembri was just five points short of his nearest rival, Korea's Minsung Sho, who won silver. Iran's Raziyeh Jalili won gold.
WorldSkills UK described Schembri as the "shining jewel in Team UK's crown".
Elsewhere in the competition this week, Team UK narrowly missed out on a bronze medal in cyber security. Those finals were held in Goyang, Korea, with the home nation winning the gold medal. The UK was represented by Sai Putravu, 19, from Bradley Stoke in Gloucestershire, and Luke Jowett, 20, from Cannock. The pair came just 11 points behind the bronze medal winners, Iran, but were awarded the medallion for excellence which recognises displays of world-class technical standards.
Medallions for excellence were also won by Ross Fiori and George Hutchinson for their performance in joinery and 3D game art respectively.
---
Week 3: BRONZE in car painting
October 17- 23
The third week of the WorldSkills special edition 2022 competition saw Craig Kennedy take home a bronze medal in car painting.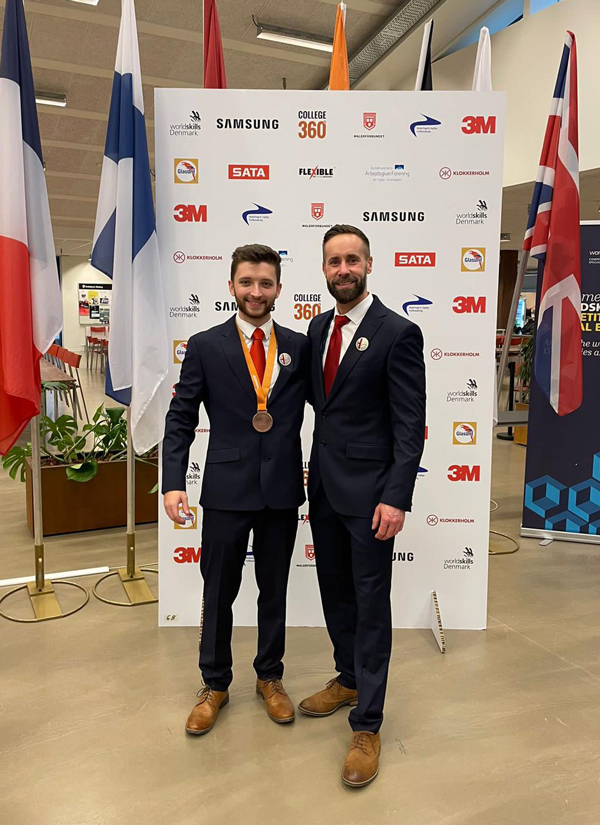 The 22-year-old from Riverpark Training competed against 12 other countries in Silkeborg, Denmark. Kennedy was just five points behind joint gold medal winners Korea and France.
After hearing about the WorldSkills competitions whilst studying for his apprenticeship, he went on to win the UK car painting final in 2019.
Minahil Nawaz, William Hunt and Ellie Mumby all won medallions for excellence, which recognise displays of world-class technical standards.
Mumby came joint 5th in hairdressing with Jéssica Bastos from Portugal only four points away from fourth place.
Nawaz came 6th place in digital construction in Bordeaux France, only two points behind Austria in 5th place. Hunt earnt his medallion for excellence in welding after coming in 9th place, only 3 points behind Austria and Canada who came in joint 7th.
Elsewhere in the competition, Cameron Middleton and Adam Kirkpatrick came joint 7th with Hungary in robot systems integration in Luxembourg. The event saw Germany win gold and Chinese Taipei come in second place, with Poland come in third.
Next week will be quieter with only two competitions.
Ashleigh Hellowell is set to compete in cooking and Simona Federova will compete in restaurant services in Lucerne, Switzerland.
---
Week 4: Excellence in Restaurant Services
October 23 -26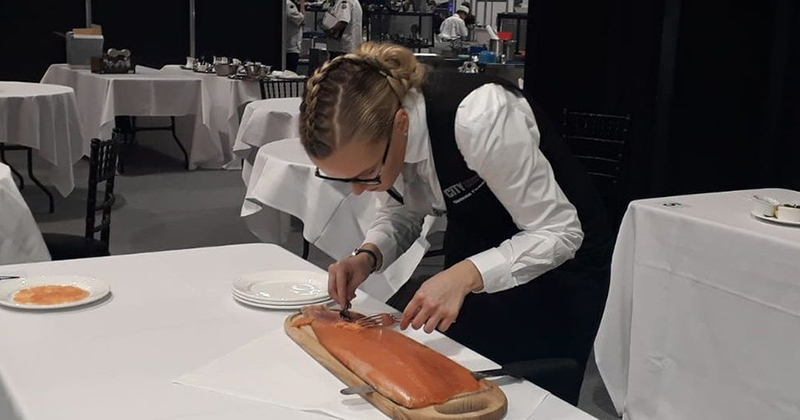 Simona Federová finished in fourth place in the Restaurant Services competition, narrowly missing out on a bronze medal by only six points.
France won gold in the same competition with 745 points. Chinese Taipei and Switzerland came in second and third at 739 and 736 points respectively.
The fourth week of the WordSkills special edition 2022 competition was much quieter for Team UK, with only two events happening.
Ashleigh Hellowell represented Team UK in the Cooking finals. She came 12th out of 30 competitors with 707 points.
Hellowell's attempt won her a Medallion for Excellence, given to competitors judged to have reached a world class standard.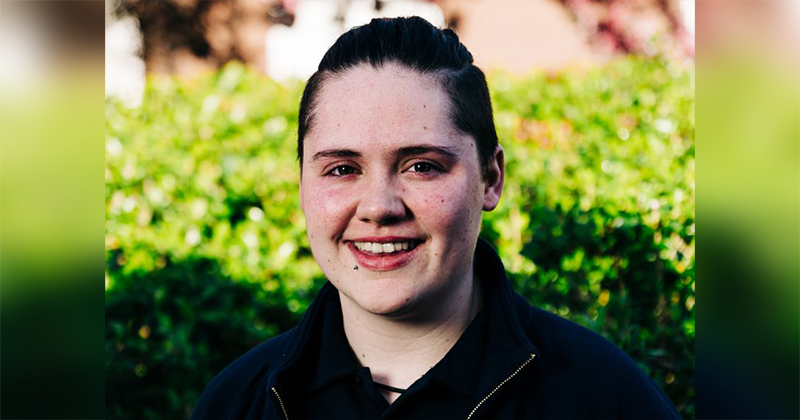 Canada, Portugal, and France all took home gold medals for the Cooking championships.
Australia's Sabrina Rees came in fourth place, scoring 723 points alongside a Medallion for Excellence.
Next week's competitions will be a bit busier, with some taking place closer to home in Cardiff and Wrexham in Wales.
Ewan Payne will compete in Aircaft Maintenance. George Denman, Michael Jones and Charles Samson will represent Team UK in the Manufacturing Team Challenge.
---
Week 5: More GOLD for Team UK
November 1 – 6
Ewan Payne won a gold medal at the WorldSkills aircraft maintenance final in Cardiff last week after four days of intense competition against rivals from 11 countries.
The RAF aircraft engineer from Oxfordshire has served in America, France and the Middle East said all the hard work and sacrifices were worth it.
Payne said: "I have trained extremely hard for this competition, giving up evenings, weekends and missing out on all sorts of events to ensure I was prepared.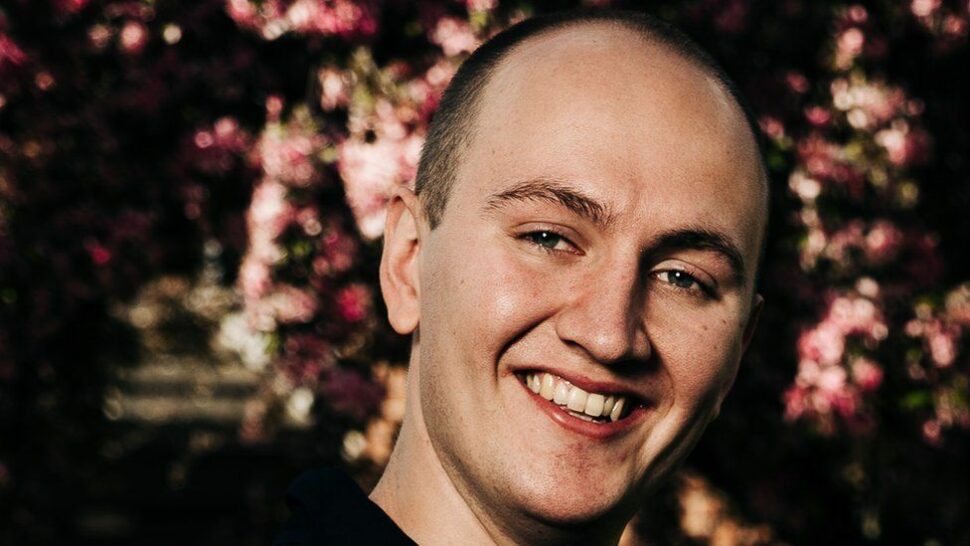 "I am really proud to have represented my country and wanted to not only want to do well, but to be the best. Being presented with the gold medal at the end of it has made everything worthwhile and I am absolutely delighted.
"The whole experience has been amazing and I have really enjoyed the opportunity to develop new skills, as well as honing the exemplary training provided to me by the Royal Air Force. I want to thank everyone who has helped me along the way, in particular my training manager and my family, and WorldSkills UK for the incredible opportunity."
His gold medal was Team UK's second of this year's WorldSkills competition.
The Cardiff final was the first time the UK had hosted international competition since London welcomed the world to the "skills olympics" in 2011. Wales also hosted the manufacturing team challenge final at Coleg Cambria in Wrexham last week.
Connor Cruden picked up a Medallion for Excellence in plumbing and heating after four days of competitions in Lahr, Germany.
Cruden came in joint 7th place, with Luca Herzog from Switzerland, out of 20 rival countries with 716 points.
Thomas Nowell will compete in painting & decorating, and Aaron Gillespie will compete in wall & floor tiling in Bozano, Italy from November 3 – 6.