Staff walkouts at three colleges have been abandoned after eleventh hour pay offers were received.
University and College Union strikes had been set to go ahead at 13 colleges across England from today, but that number has now reduced to 10.
The action has been suspended at City of Bristol College and New College Swindon after management made a late pay offer, which staff are "considering", a UCU spokesperson said.
And strikes are completely off at Weymouth College after staff accepted an offer.
UCU said that if colleges want to avoid further disruption they need to "follow the lead of these colleges and get around the negotiating table".
The union is demanding a pay increase of greater than 5 per cent to "close the school-college pay gap" which currently stands at £9,000, and after more than a decade of below inflation FE pay increases.
Despite this demand, staff at Weymouth College voted to end strike action after receiving a 2.2 per cent back-dated pay award.
A Weymouth College spokesperson said: "A 2 per cent pay award for all staff had been part of Weymouth College budget planning since January 2021 and the college was pleased to award this in July 2021 (at 2.2 per cent) backdated to April 2021.
"The Weymouth College members have voted to accept this final award. The UCU have advised that the dispute with Weymouth College is now settled and there will be no industrial action taken in relation to it. The college has met regularly with both local and regional UCU representatives and has maintained honest, open and transparent discussions."
City of Bristol College, New College Swindon and the UCU were not able to divulge the pay offers currently on the table that have suspended strikes because negotiations are ongoing.
Rich Harris, principal of City of Bristol College, said: "City of Bristol and UCU are in ongoing and constructive discussions. Union colleagues have suspended the strike action that was due to take place on 28 September to allow for further consultation."
A spokesperson for New College Swindon said the college was "pleased that UCU have suspended strike action" and hope that this "damaging dispute" can be "brought to an end through agreement on a range of matters such as pay harmonisation and family friendly flexibilities to support wellbeing".
FE Week reported last week that strikes scheduled for this month at Sheffield College and City College Plymouth had also been called off following last-minute pay agreements.
Today's strike is the first of up to 10 days of walk outs in this latest wave of UCU industrial action over pay.
Staff at five of the 10 colleges will also be out on Wednesday, in a two day strike. Pickets are taking place at all affected colleges from 8am.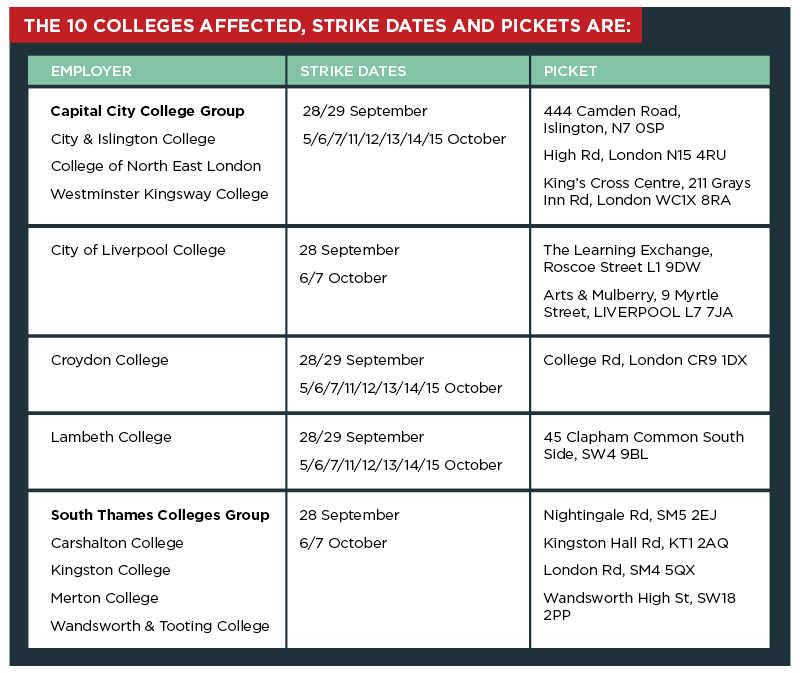 The dispute has arisen following a pay offer of 1 per cent from employer body, the Association of Colleges, in December 2020. The AoC said members could only offer that pay rise because of the unforeseen and "severe financial pressure" colleges were facing owing to the Covid-19 pandemic that has "forced many into deficit".
UCU general secretary Jo Grady said: "College leaders are facing strike action and severe disruption because they have refused to negotiate on pay. If they want to avoid further disruption they need to follow the examples of Weymouth, Bristol and Swindon colleges and meaningfully negotiate on wages."