Strikes at two colleges have been called off after leadership struck a deal to improve staff pay.
But industrial action at 13 other colleges is still set to begin next week after management refused to meet University and College Union demands.
UCU members in 15 colleges across England had voted to walk out in a row about pay earlier this summer. College bosses were given until September to increase staff pay by more than five per cent.
Among them was Sheffield College and City College Plymouth, which have both now found resolutions to end the dispute.
UCU head of further education Andrew Harden said: "Management at both City College Plymouth and Sheffield College have listened to staff and made an offer on pay and working conditions that has been accepted.
"Therefore, these colleges will no longer face the severe disruption of industrial action from Tuesday. We hope other employers take note and come back to the negotiating table."
The UCU and both colleges were, however, unable to provide details of their pay deals at the time of going to press.
Paul Simpson, the executive director for people at The Sheffield College, said: "We are pleased that this issue has been resolved.
"During the last three years, we have offered pay awards above the sector average, including raising the minimum wage to the level of the foundation living wage, reflecting our commitment to investing in our staff."
A City College Plymouth spokesperson said: "We are pleased to be able to confirm that we have reached an agreement."
Up to ten days of strike action at the other 13 colleges will begin next week.
Five colleges will spend ten days on the picket line while eight colleges will initially walk out for three days (see table).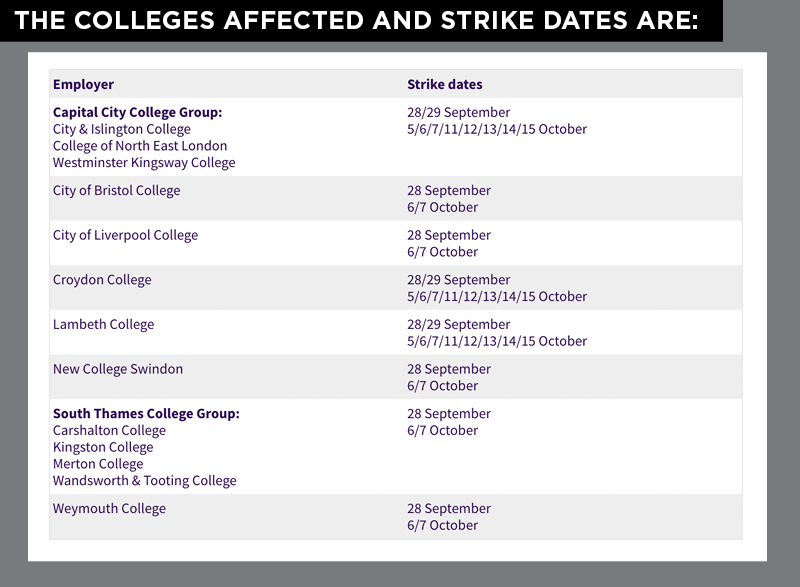 UCU said its members have a mandate for further action and that more waves of strikes are on the cards if employers refuse to meet its demands.
In December 2020, the Association of Colleges recommended colleges give their staff a one per cent pay rise because of the unforeseen and "severe financial pressure" colleges were facing owing to the Covid-19 pandemic that has "forced many into deficit".
But the offer was still condemned by UCU, Unite the Union, Unison, GMB and the National Education Union.
According to UCU, the pay gap between college and schoolteachers currently stands at £9,000 as staff working in further education have suffered real terms pay cuts of over 30 per cent in the past decade.
UCU general secretary Jo Grady said: "College staff are angry at having had their pay held down whilst workloads increase.
"It is completely unacceptable and is especially insulting after staff have worked so hard throughout the Covid pandemic. College leaders urgently need to come to the negotiating table if they want to avoid facing sustained strike action and severe disruption over the next few months."
Staff at all affected colleges are taking action over pay, but at City & Islington College, Westminster Kingsway College and the College of North East London, which are all part of the Capital City College Group, the dispute also includes other working conditions.