The retailer apprenticeship standard is facing a 20 per cent funding cut, following the Institute for Apprenticeships' review.
The level two standard will have its funding cap reduced from £5,000 to £4,000, FE Week has learned.
It's currently the 13th most popular standard, responsible for 2,750 starts in the first nine months of 2017/18.
Annette Allmark, director of strategic policy at People 1st, who worked with the employer group that developed the standard, said the group had yet to respond to the proposal.
The standard, approved for delivery in May 2016, was developed by a number of employers from across the retail sector including John Lewis plc, Tesco Stores Ltd and the Co-operative Group, which chaired the group.
It's designed to train apprentice retailers to be "passionate about delivering a quality service that always aims to exceed customers' expectations".
It covers a wide range of knowledge, skills and behaviours that a retailer apprentice must have to do their job, in areas including customer service, sales and promotion, and product and service.
The IfA's funding band review, launched in May, was intended to "help make sure that employers can access high quality apprenticeships and that funding bands represent good value for money for employers and government".
It covers 31 standards – including some of the most popular.
Analysis at the time the review was launched found that the 31 represented 64 per cent of all starts on standards for the first half of 2017/18 (45,900 out of 71,720).
FE Week has so far learned of the outcomes of six of these reviews – all of which have resulted in a rate reduction.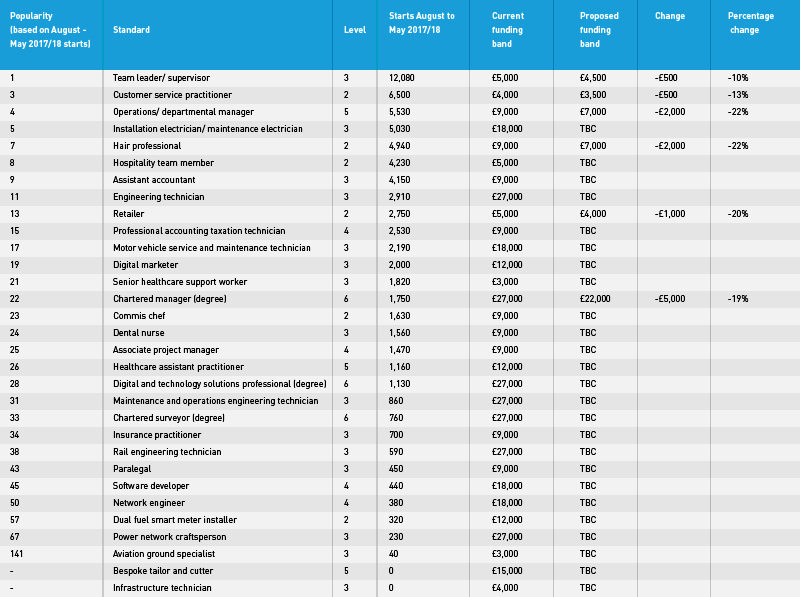 The level two hair professional standard is set to be cut by 22 per cent, from £9,000 to £7,000.
Three management standards – including the level three team leader/ supervisor, responsible for the highest number of starts of any standard – will be reduced by between 10 and 22 per cent.
This includes the chartered manager degree apprenticeship, which is set to have its funding band reduced by £5,000 from £27,000 to £22,000.
And the level two customer service practitioner standard is facing a 13 per cent reduction, from £4,000 to £3,500.
Each of these proposals is subject to potential appeal by the employer groups behind them, and final approval by the education secretary, Damian Hinds.
Writing for FE Week, the IfA's chief executive Sir Gerry Berragan insisted that the "collaborative approach" it had taken with the reviews was working.
Some of the reviews had resulted in recommendation that the band "stay the same, some increase, and some decrease", he said.
"We know some trailblazers disagree with the proposed new funding bands.
"However, some groups are content, and we have had some encouraging feedback from trailblazers who have been impressed with the level of engagement."
---
If you are part of a trailblazer group that's been through a funding band review, email us at news@feweek.co.uk to let us know how it went for you!