The Department for Education has, for the first time, refused to commit to its 3m apprenticeship starts target, after a spokesperson for the prime minister dodged the question this morning.
The target has been included in the past two Conservative party election manifestos, but with starts falling it's slipping ever further out of reach.
At a Downing Street lobby briefing this morning a spokesperson for the prime minister reportedly refused to back the target, after being asked three times.
And the Department for Education subsequently told FE Week it had nothing further to add.
In its 2015 election manifesto, the Conservatives – under former leader David Cameron – promised to "support three million new apprenticeships, so young people acquire the skills to succeed".
This was reaffirmed in 2017 under Ms May's leadership, who pledged to "deliver our commitment to create 3 million apprenticeships for young people by 2020 and in doing so we will drive up the quality of apprenticeships to ensure they deliver the skills employers need."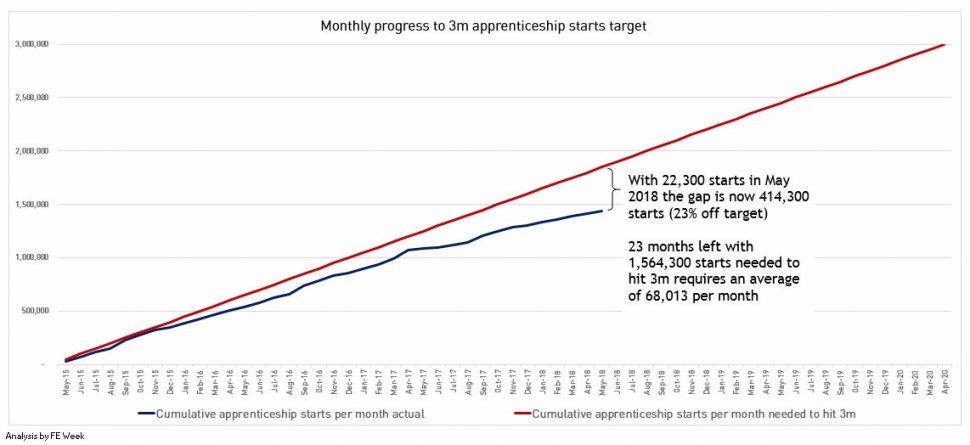 As previously reported by FE Week, there have been just 22,300 starts reported to date in May this year – an increase of 9,400 on the same month in 2017 but still 40 per cent down on May 2016.
According to FE Week's analysis of the latest figures, starts are 414,300, or 23 per cent, down from where they need to be to hit the target.
There have been 1,435,700 starts since May 2015, when the target was launched – meaning a further 1,564,300 are needed to reach 3m.
With just 23 months left until the target end date, in April 2020, that's an average of 68,013 starts per month – more than three times the number so far in May.
According to Politics Home, a spokesperson for Theresa May was questioned about the number of starts at a lobby briefing for journalists this morning.
Despite being asked three times if the government would meet the 3m target, the spokesperson reportedly refused to say.
Writing in The Times newspaper earlier this year, skills minister Anne Milton also appeared to back away from the target.
The government's reforms had "made sure that apprenticeships are high quality", and "we won't sacrifice that quality just to meet the target that was set," she wrote in an opinion piece in May.
Just two months earlier, in a hearing for an inquiry by the House of Lords economic affairs committee, Ms Milton said her aim was "to meet the 3m target", but admitted that she had "absolutely no idea" how that target was arrived at.
According to an interview with the Institute for Government think-tank, published in January, former skills minister Nick Boles came up with the target during the build-up to the 2015 election.
"We had delivered two million apprenticeships in the 2010–15 parliament," he said. "So in the manifesto process, there was a classic exercise in 'well, okay, what are we going to promise for the next parliament?'
"There was this feeling that you can't say two-and-a-half million – that sounds a bit tame, nobody would be excited by that – so we're going to say three million. Then three million is really a lot of apprenticeships, it's big growth."