Another two university technical colleges are being absorbed into multi-academy trusts and expanding their age ranges after facing possible financial ruin amid recruitment struggles.
A financial notice to improve issued last month to Health Futures UTC instructed it to join a "strong" MAT by September after the government became concerned about its "weak financial position and management".
Meanwhile, Greater Peterborough UTC (GPUTC) announced this week it will join Cambridge Meridian Academies Trust in June and will extend its starting age to 11 from September.
Health Futures, which opened in 2015, has remained tight-lipped about which MAT it will join, but West Midlands-based Shireland Collegiate Multi Academy Trust confirmed it had held "exploratory talks" with the West Bromwich-based UTC without having discussed anything formally.
Another candidate is the trust run by its lead partner, the University of Wolverhampton. The university declined to comment on which MAT the UTC will join.
UTC owed ESFA almost half a million pounds
Both UTCs have faced problems recruiting enough students to meet capacity, with the latest government statistics showing Health Futures has 160 students against a capacity of 600, while GPUTC has 224 against 500.
The 2020 accounts for Health Futures UTC warns "low student numbers" are its principal risk, after the college, which specialises in healthcare and science for 14- to 19-yearolds, ended the financial year with a loss of £593,555.
The Ofsted grade three college also owed the Education and Skills Funding Agency £458,845 and its accounts say it is depending on the agency not asking for that cash back if it is to have enough money to meet its liabilities over the next year.
It is also receiving "additional financial support" from the agency.
Were the government to demand its money back and discontinue that support, this would cast "significant doubt" on the college's ability to continue as a going concern, the accounts say.
Board member Michelle Shaw, director of education for the university, said Health Futures joining a MAT will "help ensure its ongoing viability".
She said the college had complied with all the demands of the notice to improve, which included submitting certain financial information, boosting the number of board members and asking the ESFA for permission to make certain transactions.
The additional support had been provided, she explained, "to ensure that operating costs can be met during this time of low student numbers. The student number situation will be remedied once the UTC has joined the new MAT."
GPUTC's financial statements for 2019/20 reveal that, in addition to having generated a "significant" deficit, the ESFA was also clawing back £234,730 after the college did not recruit enough students for the 2019/20 academic year.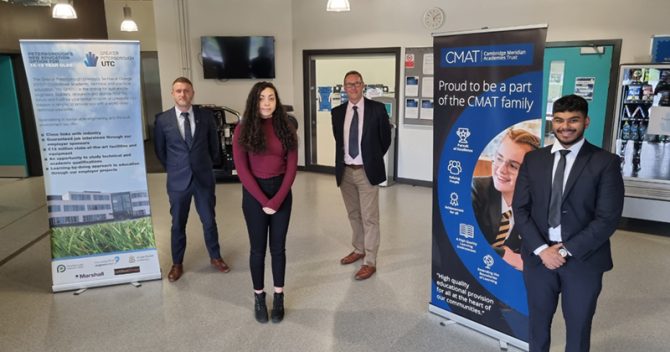 They add that the trustees consider that the UTC will "not have sufficient resources to continue for the foreseeable future".
Principal David Bisley said the UTC had "doubled the number of students on the roll over the past three years.
"With the support of Cambridge Meridian Academies Trust, our superb offer to students and the strong school community we have developed, we are confident we will reach our target of being fully subscribed by the 2022/23 academic year."
Joining multi-academy trusts has become common for UTCs
FE Week reported in March 2020 the grade three college, which opened in 2016, had dropped its age range from 14-19 to 13, as part of a growing trend in UTCs admitting broader age ranges to improve their enrolment.
Simon Connell, chief executive of the UTC licensing body the Baker-Dearing Trust, previously told this newspaper changing entry age could be a "pragmatic solution" for colleges with low rolls which need to up their capacity "significantly".
Joining an MAT has also become a common option for struggling UTCs in recent years. It is a move favoured by ministers and, despite initially resisting it, the Baker Dearing Trust began to encourage the process in 2019 to enable the colleges to survive.
When Health Futures' and GPUTC's moves go ahead, 28 of the 48 currently open UTCs (58 per cent) will be run by MATs.
Schools system minister Baroness Berridge told the Commons education select committee in April the government hoped to have a "strong sustainable group of UTCs" by the autumn, and to have "worked through any of the issues that are remaining".