Training providers have been left livid and refusing to sign contracts after the Department for Education revealed their researchers would randomly reject half of all eligible bootcamp applicants.
"Ludicrous" is how one described the delivery requirement, first revealed in a DfE presentation (see image) to the successful bidders to the £18 million digital, technical and construction skills bootcamp tender.
Announced by the prime minister Boris Johnson in September 2020, skills bootcamps are typically three-month courses at level 3 and above and form part of a number of new flagship adult education policies.
During the presentation, the DfE explained the planned randomised control trial (RCT) meant they would need to recruit twice as many candidates and then submit all their details to the DfE.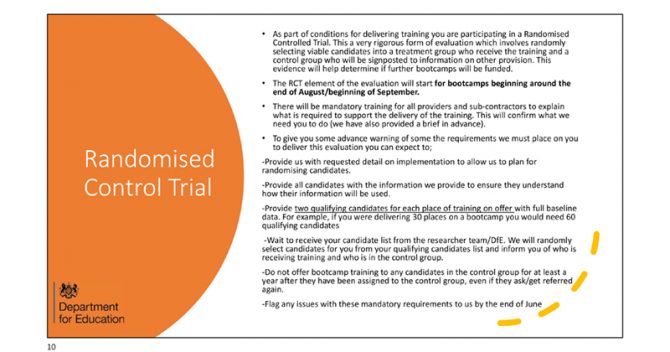 A research contractor to the DfE, the Institute for Employment Studies, would then take at least four weeks to "randomly select candidates for you from your qualifying candidates list and inform you of who is receiving training and who is in the control group".
Several providers voiced similar ethical concerns about the DfE researchers spending weeks to randomly separate the unemployed applicants into this "treatment group" and a "control group".
The lucky "treatment group" would benefit from the training, whilst the "control group" would be refused access for at least a year so that they could be monitored and compared.
One training provider described it as being "like half the patients given a trial drug and rest given a placebo".
The DfE presentation spelt out that they must "not offer bootcamp training to any candidates in the control group for at least a year after they have been assigned to the control group, even if they ask/get referred again".
The DfE also told providers not to speak to the media and that the research findings would be shared with the Treasury to "help determine if further bootcamps will be funded".
FE Week has spoken to many of the successful providers that were present during the DfE briefing, all of whom have refused to sign the contract after the "goalposts had been moved".
"It would be a challenge in the time available to hit our contact target, let alone double it," said one.
Another objected to the "bureaucracy" of having to wait to be told who they can enrol, "by which time, they may no longer be interested".
And they all expressed concern about the unfunded costs of recruiting twice as many applicants, only for the DfE to then reject half that would become "guinea pigs" for research purposes.
With the flagship programme in jeopardy before launching and the results of a second £18 million bootcamp tender facing ongoing delays, the DfE has now been forced to revisit the RCT requirements.
The DfE told FE Week that conversations were ongoing with the 18 bootcamp providers and a meeting had been arranged for next Tuesday to try to break the deadlock.
A spokesperson said: "We are continuing to engage with suppliers on the proposed evaluation approaches. Due to ongoing contract discussions, this is commercially sensitive, so it would be inappropriate to comment further at this time."
Winning bidders also voiced ethical concerns where there were no alternative courses available for the rejected applicants, to which the DfE said they would be "signposted to information on other provision".
On seeing the RCT plan, Fiona Aldridge, director for policy and research at the Learning and Work Institute, told FE Week this research technique in post-16 education was "extremely rare".
"It's important that we have a strong evidence base for future investment decisions in education. I welcome the use of RCTs in assessing the effectiveness of bootcamps.
"There is, however, a set of ethical issues that need to be thought through. In particular, decisions about who gets to take part should be communicated in a timely way that doesn't discourage potential learners from engaging in wider opportunities."
The DfE refused to comment on, or defend, the ethics of the research approach.
Government guidance on randomised controlled trials, published by Public Health England, states that if there is an "existing intervention that works, it would be unethical not to give it to participants".