A college union has attacked government plans to relax Covid restrictions on campuses as showing a "reckless disregard for health and safety".
However, representatives of college leaders have given the move a cautious welcome, albeit with concerns about requirements for on-site Covid testing and keeping classrooms ventilated.
The Department for Education released guidance on Tuesday telling colleges and training providers, from July 19, to relax the need for students to keep to consistent, "bubble" groups, or for the start and end of the college day to be staggered.
Face coverings and social distancing will no longer be necessary in either classrooms or in communal spaces from that date, and contact-tracing duties will be transferred to NHS Test and Trace.
Also, learners under 18 will no longer be required to self-isolate from July 19 if they are contacted by Test and Trace as a close contact of a positive case.
Unvaccinated adult learners will need to self-isolate if identified as a close contact, the guidance adds.
'Robust' safety measures needed, says Grady
University and College Union general secretary Jo Grady has accused the government of "scrapping health and safety measures in education while cases are climbing rapidly".
The government's summary of Covid cases from Wednesday showed the number of cases in the UK rose by 42 per cent between June 24-30 and July 1-7.
Grady said the "shocking outbreaks" that had been seen in colleges and universities over the past academic year show that education settings "act as Covid incubators".
"Worryingly, it appears the government has learned nothing, and is set to repeat the same mistakes, abandoning important safety measures too early and showing a continued reckless disregard for health and safety."
She said "robust" Covid health and safety measures were necessary, and the majority of students needed to be vaccinated.
'We have to put an end to educational disruption'
Despite relaxing many Covid regulations, some protective measures, including enhanced hygiene and ventilation, will remain in place for the autumn term.
Colleges will be asked to provide two on-site tests to their students at the start of the new academic year, with regular home testing continuing until the end of September.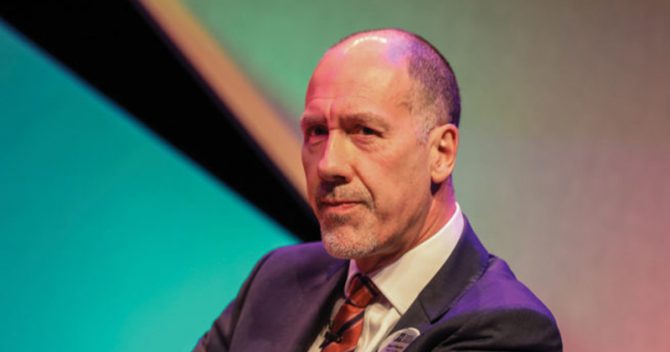 Association of School and College Leaders general secretary Geoff Barton welcomed the government moving test and trace responsibilities to the NHS and the removal of bubbles.
He said the relaxation of regulations "will understandably be greeted with some trepidation after the events of the past 15 months.
"But we have to put an end to the educational disruption that has blighted the lives of children and young people during the pandemic and it simply would not be fair to them to continue with the current controls when the adult population is largely vaccinated."
He said ASCL was concerned over the requirement for on-site testing, as it "is a huge logistical exercise which has once again been landed on leaders and staff without much thought".
He called for "significant support" from the government to deliver the requirement, something ASCL will be pushing for.
The organisation also wants financial support for colleges to be able to invest in "high-quality" ventilation systems for when colleges have to keep classrooms ventilated "in the middle of winter, when it is too cold to keep windows and doors open".
Education secretary Gavin Williamson, announcing the relaxation of measures to the House of Commons on Tuesday, said it meant "children and young people will be able to get on with their education and lives while we continue to manage this pandemic".