Owners of a new apprenticeship provider that quickly raked in £6 million have had their contract terminated after hundreds of apprentices were found to be unemployed.
Personal Track Safety Ltd, which trades as PTS Training Academy, began recruiting in May 2018 and within two years had started more than 2,500 apprentices in sectors such as food, care, rail, management, accounting, engineering, sport and prison services.
But the firm was forced to stop starts in July last year by the Education and Skills Funding Agency following allegations that some of its apprentices did not have jobs and were therefore ineligible for an apprenticeship.
The agency stopped all payments from July 2020 and has since issued a termination notice, which comes into effect on July 10, 2021.
PTS Training Academy has cut its staff numbers over the past year from around 125 to 35. The remaining staff are now all at risk of redundancy as the company is on the brink of collapse.
PTS owner Matthew Joyce told FE Week the firm grew too rapidly but places the blame for the unemployed apprentices with an apprenticeship training agency (ATA) it partnered with.
ATAs launched in 2009 to hire apprentices and then place them with various host companies that would pay the agency to cover the salaries and administration costs.
PTS claims that when they partnered with the ATA in question the apprentices had signed employer agreements, but later found out the jobs were gone when the Covid-19 pandemic struck.
Joyce said the firm had received around £2 million for the unemployed apprentices, which the ESFA then deducted from future payments.
The ESFA declined to comment on its investigation into PTS and the ATA.
PTS Training Academy, based in Northampton but with offices in London, Doncaster and Somerset, set up in 2012 and was a subcontractor until 2017. It was visited by Ofsted in January 2019 and was found making 'reasonable progress' in all areas of an early monitoring report.
Joyce took over the firm in 2015 and his business partner Charlie Smith, with whom he runs multiple other companies, joined in 2019.
The pair are also directors of an awarding body called AoFA Qualifications, which was subject to an Ofqual investigation in 2018 and told to stop issuing certificates after failing to comply with the regulator's conditions.
It rebranded as EQ Qualifications but took the business decision to surrender its status as an Ofqual-recognised awarding organisation in October 2020. Joyce claims this was unrelated to the ESFA's investigation into PTS Training Academy.
It was around the time of Ofqual's first investigation that Joyce and Smith ramped up their apprenticeship start numbers.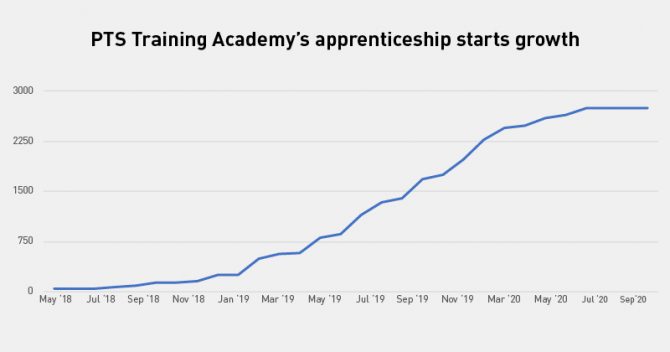 Despite having 20 years' experience in only the rail sector, their first apprenticeships were on the level 3 custody and detention officer apprenticeship after it landed a partnership with Sodexo Justice Service.
Even though Sodexo was itself an employer provider on the government's apprenticeship register, it chose to act as a subcontractor to PTS and deliver the training itself, using PTS for functional skills training.
Sodexo told FE Week that it partnered with PTS because it was, at the time, the only provider registered to deliver the plan apprenticeship standard.
A spokesperson said the subcontracting partnership was seen as a "low-risk stepping-stone to allow them time to gather knowledge and a fundamental understanding of the standard, ESFA processes and quality assurance requirements in readiness for direct delivery under the Sodexo Ltd employer provider status". Its contract with PTS was terminated for new starters in September 2019.
It wasn't until November 2019 that PTS delivered its first rail apprenticeships.
Joyce told FE Week his provider entered into a relationship with an ATA a month later which led to its exponential growth.
"These guys were going to guarantee apprentices work on the railway – that's the difficult part because normally it's quite a transient workforce. So this is exactly what we were looking for," he said.
"We weren't concerned back in December time ̶ we weren't expecting the apprentices to be out working yet. By around February-March time, we had concerns and we were sort of really pushing to say, 'Where's the new jobs coming in? Where are these guys going out to work?' And obviously, we got hit with Covid. The ATA furloughed its workers and said apprentices cannot go out to work."
Joyce says he complied fully with the ESFA when its officials started asking questions, but they swiftly suspended starts and then cut off funding.
"The ESFA found that the learners weren't eligible because the ATA didn't actually have any work for them. They had no employer engagement," he explained.
"I admit, we grew too quick. We thought we'd hit the solution to the railway sector's problems because we found an ATA that had fantastic links to the railway.
"The mistake we made is we put lots of people on very quickly."
Joyce says that while he has to respect the ESFA's decision and "move on", he wants to keep his firm running in some form because "we don't want to give up on helping people into work, especially now".
The provider still has around 120 apprentices on programme and promised to support them to complete their training.