Ofsted and Her Majesty's Inspectorate of Prisons are launching a review into the "very poor state" of prison education.
Chief inspector Amanda Spielman and her opposite number at the prisons inspectorate Charlie Taylor have published a joint commentary on the impact of Covid-19 on inmate learning.
This is based on 25 remote visits to adult prisons in early 2021 and 10 monitoring visits Ofsted undertook between May and July this year, which "paint a stark picture" of prison remote education.
The findings highlight the quality of provision in prisons was "already poor and had seen little improvement in recent years".
In fact, "little improvement" has been made since Dame Sally Coates' landmark review of prison education in 2016, the commentary finds.
Coates' review led to prison governors being handed responsibility for contracting providers, which took that out of the hands of the then-Skills Funding Agency. It also recommended ensuring each prisoner get a personal learning plan which specifies the education they will do during their time in prison.
Ofsted and HMIP find prison learners 'frustrated and demotivated'
Due to lockdowns, there was no classroom provision for at least five months and it remains limited even now.
In most cases, the visits found, education was limited to giving prisoners in-cell work packs with little face-to-face teaching or feedback, which "proved a frustrating and demotivating experience for many prisoners".
One prisoner had to communicate with teachers through letter, the commentary reports.
The packs were often not suited to prisoners' specific education needs, as many inmates have difficulty reading and need closer support.
The commentary talks of one prisoner with dyslexia who had "simply been told he could not learn English or mathematics until face-to-face teaching resumed".
Vocational education has also been hit, with prison workshops and training spaces being forced to close so learners were unable to complete practical elements of the curriculum.
While there is some evidence the number of prisoners learning English and maths increased, the commentary says: "This was mainly due to a lack of preferable alternatives."
Work experience has also been gutted as businesses which would usually employ prisoners face increased financial insecurity.
Information, advice and guidance (IAG) services for prisoners have also been disrupted, leading to "significant backlogs" in prisoner inductions so leaders do not know the educational starting points for many inmates.
Review will start by looking at reading
Ahead of the year-long review launching this term, the commentary makes a number of recommendations, including making prison leaders and providers ensure "assessments are used to identify gaps in learning and to support learners back into the classroom as quickly as possible".
They must also act to open up as many vocational training opportunities and places as is practical, while maintaining social distancing.
Prison leaders must work with IAG services to clear induction backlogs "as a priority," with all prisoners receiving a "timely and effective" induction to education, skills and work when they are placed in a prison.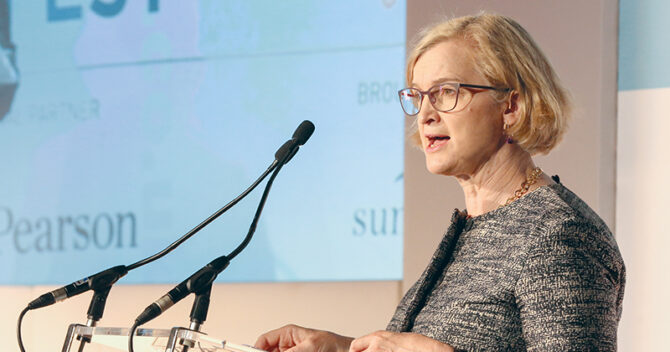 The review will start with research visits to prisons over the autumn term to examine reading, which will investigate how prisons assess reading ability on arrival and throughout prisoners' time there.
The visits will also look at how the prison works together to improve inmates' reading and what this means for their educational progress and well-being.
While the commentary states "the standard of prison education needs to improve," it also stresses: "We are grateful to the hard-working prison and education staff who have supported prisoners and kept them safe throughout the pandemic," considering the risk of Covid-19 transmission was "especially high in prison environments compared with the wider community.
"Yet, we must ask, both of prison leaders and of government, whether the wider risk to prisoners' chances of resettlement has been sufficiently weighed."
Review is an opportunity to 'take stock'
Prisoners' Education Trust chief executive Jon Collins says Ofsted and HMIP are "right," as "despite the hard work of prison teachers and staff, prison education is still not nearly good enough".
He called the review a "welcome opportunity to take stock of the current situation and identify how we can improve the education that is offered to people in prison.
"Access to good quality education is vital in supporting people in prison to turn their lives around. If we want to reduce reoffending, we therefore must improve the quality of prison education.
"This review can help to ensure that as prisons recover from the impact of the coronavirus pandemic, real attention is given to making significant and long-overdue improvements to prison education," he said.