Neil Bentley-Gockmann is extremely proud of pivoting the focus of WorldSkills UK's from one big showstopping annual competition event to loftier ambitions around "tackling vocational snobbery".
But he still misses the buzz the big national skills competition final used to give him in the pre-pandemic years.
Bentley-Gockmann, who is stepping down as chief executive at the charity next month after seven years at the helm, still gets "emotional pangs" when he recalls the bustling event.
Last May, he was at a Pet Shop Boys concert at Birmingham's NEC and couldn't resist dragging his husband across to the venue's empty conference hall where, pre-Covid, around 100,000 young people showcased their skills over three days each year.
"It was fabulous and fantastic – oh, my God, everybody loved it – the scale of it all," he gushed.
When Bentley-Gockmann joined the charity in 2015 after 11 years in senior management roles at the Confederation of British Industry, the charity, then called Find a Future, was "very much focused on careers advice". Bentley-Gockmann led a renaming the next year to WorldSkills UK, and added role modelling and research to its portfolio.
Then the pandemic delivered a bitter blow to the skills competition, from which it has yet to fully recover. Local and national events were put on hold throughout 2020, then WorldSkills Shanghai 2021 was postponed in both 2021 and 2022 due to lockdowns and restrictions. In the UK, small-scale WorldSkills finals took place across 25 venues in 2021 and seven venues in 2022, culminating in virtual awards ceremonies.
Bentley-Gockmann recalls Covid as "such a low point" when he felt the "loneliness of leadership" – "having to make decisions around what to do next in everybody's best interest when you just have no clue how long this was going to last".
But the pandemic also gave the charity the opportunity to innovate.
During the first lockdown, WorldSkills UK launched a Centre for Excellence in conjunction with NCFE to drive up training standards for professional development. Although they had "no idea" if anyone in the sector would be interested, they were "overwhelmed with demand".
It quickly grew. An innovation network was set up for partners to share data and best practice nationally and internationally, which would not have been possible without the pause in the cycle of national and international competitions programmes. "It gave us space to see things differently," said the west Belfast-born chief.
Despite his nostalgia for the former final, he does not regret the shift.
"We have moved to really trying to spread high quality within the skills system. We're now much more plugged into it, bringing our know-how into colleges and training providers more effectively to help raise standards as opposed to just inviting people to our event once a year."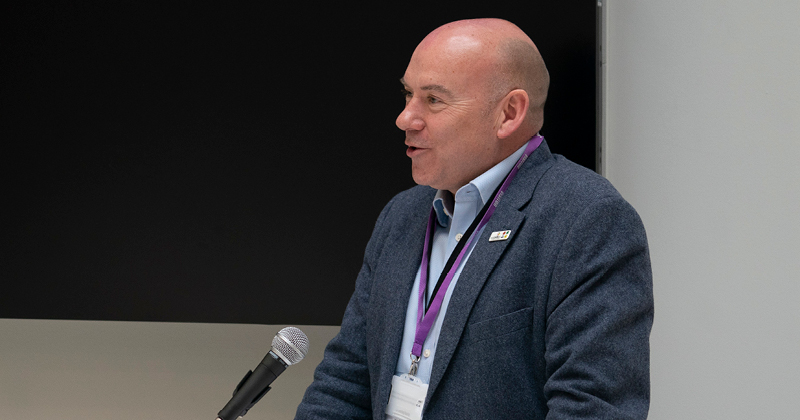 Learning from other countries
Bentley-Gockmann claims the shift in thinking about raising standards is "not just think-tanky stuff", but learning from the UK's competitors about what they are doing better than us.
WorldSkills UK's latest report last month featured insights gained from the last international competition. In Japan, becoming a vocational educator is a "really prestigious career pathway for professionals" who are "trained to very high levels".
Inspired by the country's model, the Centre for Excellence is now exploring how to "give prestige" to the profession of educators and FE on these shores.
Lessons are also being learnt from Switzerland and Austria, where industry is more "embedded in the training system", and "sharing tech know-how with training systems and intelligence about the direction of travel for technology development".
He believes professionals are "crying out" for similar collaboration with industry in the UK and is concerned over a lack of funding in colleges to buy the latest equipment that industry is using, with a "gap evolving between what's being trained for… and what industry needs".
The next stage of the Centre for Excellence's work is around "bringing industry insights and knowhow much more closely into that CPD discussion".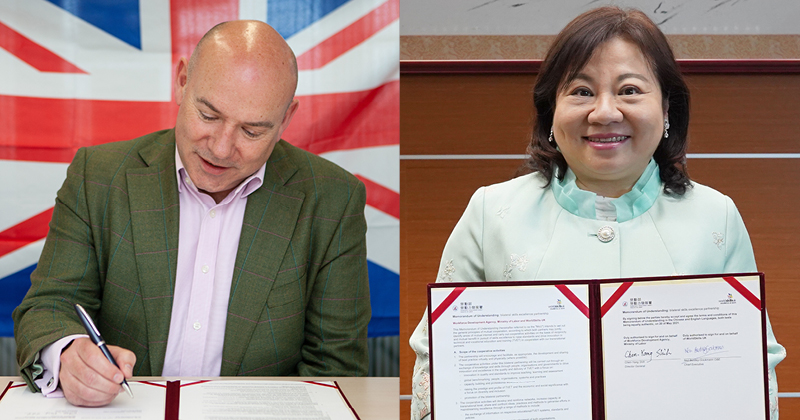 British resilience in adversity
When FE Week first profiled Bentley-Gockmann just before the UK's withdrawal from the EU in January 2020, he feared Brexit would leave the country "internationally exposed".
Three years later, he believes it has not had a lasting impact on our standing; although Brexit caused a "wobble" in our relationship with European partners who "couldn't understand why we were leaving", we remain "world-leading" on skills, particularly when it comes to our "focus on creativity and problem solving".
The UK is still among the top 10 leading nations within the global WorldSkills league table, despite facing "really fierce competition" from those countries we seek to learn from.
Bentley-Gockmann believes it is the UK training system's "huge emphasis on coping with adversity" which makes it stand out. When things go wrong, our contestants "stay focused and in control".
One British competitor who showed resilience in spades and inspired Bentley-Gockmann more than any other was Dan McCabe, a teenager from Liverpool whose mum described him as a "bit of a nightmare" because he would "sit in his room playing video games all day". McCabe went on to win a gold medal for 3D games art at Euroskills Gothenburg in 2016.
While he did not get a medal at the global final the following year, he was "quite sanguine" about it, describing the contest as the best experience of his life. He went on to spearhead a global campaign on mental wellbeing for other young people through WorldSkills.
Since 2017, WorldSkills has engaged over a million young people and, for Bentley-Gockmann, it is youngsters like McCabe who have "kept [him] going" over the last seven years.
But, while he was in awe of the skills of some contestants, Bentley-Gockmann admits to not having those same practical attributes himself. He claims to be "too clumsy", despite coming from a family of skilled workers.
His dad was a process operator, his uncle a plumber and his brother a train driver. However, a passion for chemistry at school meant he particularly relished the opportunity to watch the lab technicians at WorldSkills events.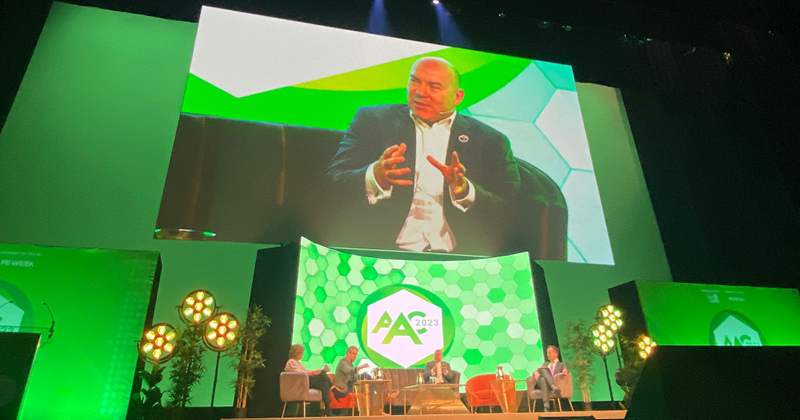 Focus on leadership
Bentley-Gockmann's next move involves taking the reins at The Whitehall & Industry Group, which enables closer collaboration between industry, government and the third sector.
It will allow him to focus on leadership development, his biggest passion, something he discovered he had in 2013 on an authentic leadership course at Harvard Business School. It was instrumental in his decision to quit the CBI and gave him clarity about his passions for education and diversity.
But the show is not over for Bentley-Gockmann and WorldSkills; he is staying on the UK board to "see them through this transition period" and also as chair of the WorldSkills Global Research Council, a new part of the organisation, to push forward its research agenda.
"There is a Hotel California syndrome at WorldSkills that you check out but never leave. So they have booked me a room, because I'll be staying a part of the WorldSkills family for a while yet."
Boosting diversity
One of Bentley-Gockmann's proudest achievements is managing to boost the diversity of WorldSkills UK's participants. When he joined the sector, he had assumed it would be "really progressive" around equality, diversity and inclusion (EDI). But he was "surprised at the lack of discussion" on the issue.
At the time, the UK team faced "a lot of criticism" because it was "very white and gender segregated", which did not reflect the make-up of UK colleges. Bentley-Gockmann set about turning things around.
In 2018, WorldSkills interviewed 700 stakeholders around diversity, followed by a big marketing push. Partners were encouraged to "purposefully seek out diversity" – not just young people from ethnic minorities, but also young women in engineering and construction.
Bentley-Gockmann believes the word competition "put off a lot of young people, because they don't think they're competitive". So the wording was softened to "competitions-based training and development".
Work is continuing at pace with the Association of Colleges, the Association of Employment and Learning Providers and Collab Group around EDI, and Bentley-Gockmann is "really happy" there is now a "really active debate" taking place in the sector on the issue.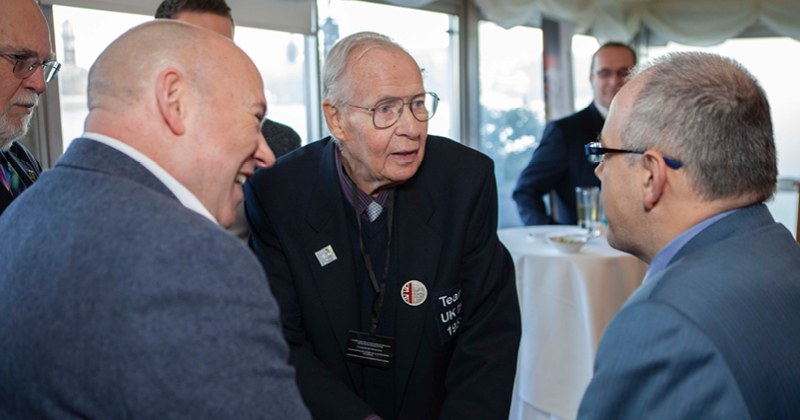 The unfulfilled dream
Despite pride in his achievements at WorldSkills UK, Bentley-Gockmann admits he did not achieve all his ambitions. There is one big goal he is leaving for his successor – getting the UK to host WorldSkills International.
The UK has hosted it three times since the two-yearly contest began in 1950, but not since 2011.
It was "not for want of trying", with Bentley-Gockmann's team working for a "long time behind the scenes" to "drum up appetite" for a campaign.
He had "lots of really good discussions" with governments around hosting the event here, but it was "never the right timing in terms of government and funding" with "so much change going on in the policy world and politics".
He believes hosting would have a "really positive, galvanising effect on the skill system". He witnessed this first hand when the UAE hosted in 2017, and Russia in 2019.
"We have this great international reputation, it's time for the UK to rehost and showcase what it can do," he said. "People see Worldskills as an event, but it's much more than that. It's a catalyst – the run-up to it is about driving change, getting the sector engaged in the whole agenda and creating a legacy."
The next WorldSkills will be in Lyon, France in 2024, then "hopefully" Shanghai in 2026, and "beyond that is still up for grabs".
If the UK does get to play host, Bentley-Gockmann promises he will be "cheering very loudly from the sidelines".