Chris Claydon has a biography better suited to James Bond than to the chief executive of a training provider for building service engineers.
He has flown Apache military helicopters, briefed cabinet ministers on evacuations from the Arab Spring uprisings, and helped save lives by designing countermeasures to the roadside bombs used in Afghanistan. Oh, and he used to live in a castle.
That all happened in his previous life in the British Army, which he left in 2015 at the age of 50. Claydon spent the next seven years as chief executive of The Engineering Construction Industry Training Board (ECITB), the employer-led skills body for the engineering and construction workforce, where he honed his corporate skills and gleaned intelligence on what employers say they want.
That came in useful for his next and current role leading JTL, a charity providing advanced apprenticeships in electrical installation, engineering maintenance and mechanical engineering services.
An education, not skills system
On his first day at JTL in February, Claydon was keen to meet apprentices at the heart of the organisation. He visited the site of the refit of Deutsche Bank's new London headquarters to meet some adult apprentices – one of whom, he recalls, was "on track to earn £75,000 this year".
I express some astonishment at this figure.
"Go to the car park of any apprentice training centre where you've got electricians or welders, especially towards the end of their apprenticeship, and look at the cars knocking around," he says. "These apprentices are in well-paid jobs."
Claydon believes "many people" in the UK "do not understand" just how much such skilled labour jobs can pay. He blames this partly on schools.
When Claydon asks apprentices what careers advice they got at school, a "woefully low" number say their teachers encouraged them to do an apprenticeship.
Some of the problems lie in how government departments were carved up when responsibility for skills was handed to the Department for Education from the former Department for Business, Innovation and Skills.
He believes "the DfE is still very much focused on education, not skills. Now, [education secretary] Gillian Keegan and [skills minister] Robert Halfon do have a good skills focus, so maybe things will change. But, at the moment, the focus is still around schools."
Another department name change might help matters. Claydon has suggested to DfE officials that they should "get into their cellars" where a sign might be lurking for the former Department for Education and Skill' (which became defunct in 2007).
"I told them they could dust it off and reuse it… But they didn't like even a joking assessment."
Claydon also questions whether T Levels are the right solution for the country. While "we've not seen sufficient numbers to really understand whether it is the answer to what we need", his concern is that they are "pitched at quite a high level".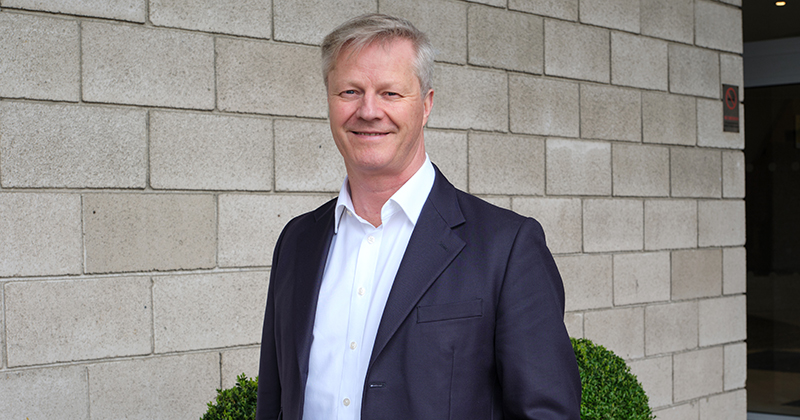 Explosive success
I ask Claydon whether he would have considered studying T Levels, had they been around when he was at school? The chief executive tells me not to ask him about his education. "People develop at different ages, let's put it that way."
Claydon joined the army at 18, starting in infantry roles including patrolling the streets of Northern Ireland. He later applied to become a helicopter pilot in the Army Air Corps, starting on the Gazelle and the Lynx before learning to fly the Apache attack – described by some as a "flying tank".
But Claydon was keen to fly high in other ways in his career and grasped the opportunity to spend five years working for the Ministry of Defence on strategy. During the Arab Spring, he worked with the Cabinet Office, briefing ministers on plans to extract UK nationals from countries in conflict.
He also worked on projects around how to establish a presence in the Middle East and was very closely involved in a scheme to base the UK military east of Suez for the first time since the 1960s. It involved establishing a seaborne mine countermeasure force to provide guarantees of access to the Gulf.
Another job in which Claydon was very heavily involved was designing countermeasures to the improvised explosive devices that were killing and injuring so many soldiers in Afghanistan at the time. The devices, also known as roadside bombs, were being used "extensively and effectively" and it was "quite a challenge designing systems to overcome that threat".
Of all his jobs in the military, this was the one that Claydon gained "most satisfaction" from because it resulted in casualty figures dropping.
King of the castle
But his final stint before leaving the military was perhaps even more impressive. During the day, he commanded a brigade of 4,500 across sites in the UK and South East Asia, delivering security, crisis response, training, logistics and infrastructure support to military forces and civilian emergency services. In his "evening and weekend job, quite bizarrely", he was deputy constable of Dover Castle.
His role involved supporting the constable – at the time, Admiral of the Fleet Lord Boyce. Notable former constables include Queen Elizabeth the Queen Mother and Sir Winston Churchill during the Second World War.
Claydon's children enjoyed making the most of castle life when they came to visit him there, and he admits that "once the gates had closed, the whole castle was yours. For games, go-karting and teaching children to drive, it was wonderful.
Claydon has the "dubious distinction" of being the last full-time resident of Dover Castle in its 850-year history after cost-cutting measures saw the position disposed of. He insists, with a smile, that this has nothing to do with any parties he threw, and was "definitely not because I destroyed a piece of English Heritage property".
Civilian life
Claydon now lives in a house ("not a castle") in Hammersmith. The job leading ECITB piqued his interest because it involved "pulling together a workforce to deliver critical national infrastructure", something he considers vital for the country.
"It's not making the plastic toy that goes into a happy meal. People who do that [infrastructure] work should feel absolutely motivated and proud they are doing important things."
But the shrinking domestic skilled labour market since Brexit, combined with a tight global market – "we're all on the same timetable to net zero, everyone's starting to build this infrastructure" – has created a "perfect storm" for the engineering and construction industry.
One of the biggest challenges is finding people to work on the country's first nuclear power station to be built for a generation, Hinkley Point C in Somerset. The site's owner EDF Energy is stumping up £24 million for 30,000 new training places for electricians, welders and pipe installers.
There is also HS2, which also requires thousands of electricians to lay cables.
At the moment, a contractor will only take on apprentices when the order book is filled. But it takes four years to train an apprentice electrician, for example.
"Unless you've got a lot of spare capacity in the system, you have this constant tension between, 'I need it now' and 'But I can only get it when I'm paying for it'."
Claydon believes the solution for large infrastructure projects is to develop a model of "forward funding", to "pump prime" the system of skills provision. He provides the example of a £500 million project for carbon capture in Teesside.
If those funding the project could provide £5 million to train local people up in advance in the core skills required of welding, pipe fitting and electrics, while some may go on to work for other companies by the time the project comes to fruition, at least those skills would be "more readily accessible to meet the requirements".
On a project of that size, Claydon sees £5 million as "nothing", and the investors will have "helped de-risk the project".
"It's hitting their ESG [environmental, social, governance] goals, so there's a win-win. But how you persuade people is the challenge."
But that is "unfinished business", which he has left to his successor at ECITB.
Military skills
Claydon believes the soft skills he learnt in the military around "conflict resolution" and "tact and diplomacy" have been invaluable in his roles since. He recalls a position he undertook at the United Nations headquarters in Sierra Leone, which was a "tricky juggling act between the military and civilian mission, and bringing people together to reach agreements on issues which could really scale out of control if you weren't careful".
The importance of training – now central to his role – was also intrinsic to his role as a helicopter pilot, where he was "constantly training and being evaluated".
While in the military "you are all of one company – you define a mission and work towards it" – but being chief executive of a training provider involves "negotiating and navigating between people with different strategies and agendas. It's harder to get a more coherent line going forward around issues."
Electric dreams to be realised
JTL, graded 'good' by Ofsted at its last inspection in 2017, is currently training around 8,500 apprentices and taking on around 2,300 new starters this year. That "inevitably places strain on the system" by requiring more qualified engineers to teach and assess.
"It's that age-old conundrum, that the trainer gets paid less than the site operative. But we need the site operative to become the trainer. You can see the fragilities in that system."
But, while there are "good numbers" of apprentices signing up, it is "not going to be enough" to meet the economy's needs. He also believes there is a "north-south divide" in the apprenticeships market, with "people understanding the value of skilled jobs in the north" but a "wider, more competent and competitive jobs market" down south.
"You generally get more applicants further north. So you are competing harder in the south, where there are very high-demand areas."
JTL's electrical apprentices are the ones at the forefront of the country's net zero ambitions. But Claydon believes the industry needs to do more to promote its role in saving the planet to the next generation in order to attract new recruits.
"Joining photovoltaic cells and bringing solar farms on stream, smart housing and all those smart technologies saving energy in the commercial environment, installing offshore wind turbines – all of these things are contributing to reducing our carbon emissions. We're playing a vital role on that journey."