The amount of NHS clinicians that the government plans to train through apprenticeships will more than double in the next five years, according to a long-awaited report into boosting the NHS workforce.
The NHS workforce plan, published today, sets out the government's goals for the medical workforce in England, which will invest £2.4 billion into upskilling the national health service over the next five years.
Just 7 per cent of clinical staff training in the NHS is currently routed through apprenticeships.
The government aims to increase that to nearly one in six (16 per cent) by 2028/29, including over 850 medical doctor degree apprentices.
This will increase to over one in five (22 per cent) of all training for clinical staff to be done through apprenticeships by 2031/32.
"Apprenticeships will help widen access to opportunities for people from all backgrounds and in underserved areas to join the NHS," the report said.
The plan also reveals ambitions to boost overall adult nursing training places by 92 per cent, taking the total number of places to nearly 38,000 by 2031/32, achieved by expanding places to over 44,000 by 2028/29.
By 2028/29, the NHS will have 20 per cent of registered nurses qualifying through apprenticeship routes compared to just 9 per cent now.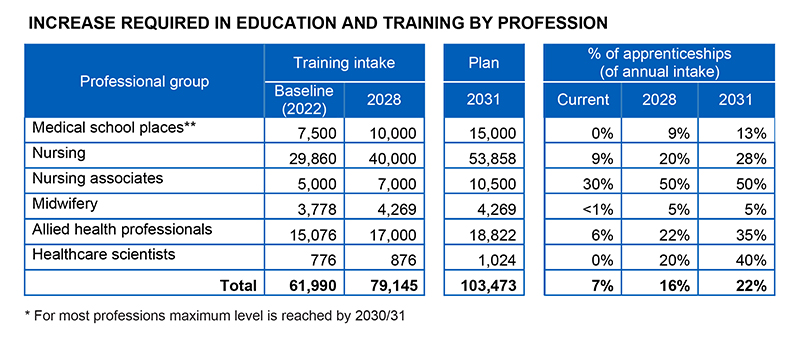 Over one in ten doctors to qualify through apprenticeships
The workforce plan explained that the new pilot degree apprenticeship for doctors will start in 2024 with 200 places.
The report says it will "enable individuals from under-represented backgrounds" to start medical training who otherwise would not have done so through full-time higher education and training routes.
The medical degree apprenticeships standard was originally approved in July 2022. An FE Week investigation earlier this year revealed that some in the medical profession worry that pushing medic degrees was more about reducing the cost of training, rather than widening participation.
In five years', the programme plans to offer more than 850 students the degree apprenticeship route. It aims that by 2031/32, 2,000 medical students will train via a degree apprenticeship.
The report added that there is "potential" to expand training via the apprenticeship route for pharmacy technicians and the government is considering bringing in a pharmacist degree apprenticeship.
Alongside apprenticeships, T Levels got a very brief nod in the report.
The report said next to initiatives like the lifelong loan entitlement, T Levels and Higher Technical Qualifications, "apprenticeships enable people to gain a qualification while earning a salary."
It added that the education sector would need measures to increase its capacity to deliver "more visible NHS career routes from T Levels through to enhanced careers."
The workforce plan entails three principles: "train, retain, and reform," said prime minister Rishi Sunak in a speech today, adding that the long-term plan's aim is to cut agency spending by £10 million and reduce the need for international recruitment.
"We're going to drive the biggest ever expansion of apprenticeships and the NHS so that 1/5 of all clinical training will be offered through degree apprenticeships, helping to bring staff into the NHS from a much wider range of backgrounds and will give staff in the NHS more opportunities to progress such as becoming a nurse or a doctor, as well as making sure that the workforce of the future has the advanced knowledge they need to care for our ageing population," Sunak added.
How will this be funded?
An additional £2.4 billion has been committed over the next six years to boost training places across the NHS workforce on top of existing training budgets.
The report outlines that NHS England will develop an apprenticeship funding approach to better supports employers with the cost of employing an apprentice.
This will entail working with NHS employers, integrated care systems (ICSs), providers and partners to develop a national policy framework that can be used locally. It will target apprenticeship schemes that would "have the greatest impact on patient outcomes."
"NHS England will work jointly across government to ensure that any changes to NHS England's apprenticeship funding approach are supported by, and align with, wider government apprenticeship funding policy," the report said.
"For example, NHS England and DHSC will work with the Department for Education (DfE) to enable apprenticeship levy funds to be more easily transferred between employers in an ICS and ensure that data on the use of apprenticeship funding in the NHS is more visible to decision-makers at national and local level."