Steph Lee-Vae, art and design lecturer at Tresham College, was named FE lecturer of the year at the last Pearson National Teaching Awards. They tell Jessica Hill about their passion for dangerous sports and how being an LGBTQ+ ambassador affects their teaching.
Steph Lee-Vae claims they are "probably the worst person" to be put in front of young people – at least as far as parents are concerned. That's because the winner of the FE lecturer of the year award has a dangerous pursuit that they actively promote to their students. Skateboarding.
Art and design lecturer Lee-Vae also used to box and do karate fighting (they reached semi-professional status as a teenager). They were even inspired by their 84-year-old nan to start motorcycling last summer.
Lee-Vae clearly has a penchant for danger. "I've been punched in the face many a time, but taking a slam on a skateboard is a whole different level. It really hurts."
It is clear that Lee-Vae's zest for life shone through to help them clinch the Pearson national award.
The 32-year-old's youthful appearance means that even after a decade of teaching at Tresham College (part of the Bedford College Group), they are still mistaken for a student as they wander around theKettering campus.
"New teachers ask me why I'm wearing a staff lanyard. It really cracks me up."
It takes "a good five months" for Lee-Vae to convince parents that they "actually know" what they are doing and that their young people are "in safe hands".
The results speak for themselves. Last year, all Lee-Vae's first-year graphics students passed first time and more than 80 per cent of their third-year students achieved a merit or distinction.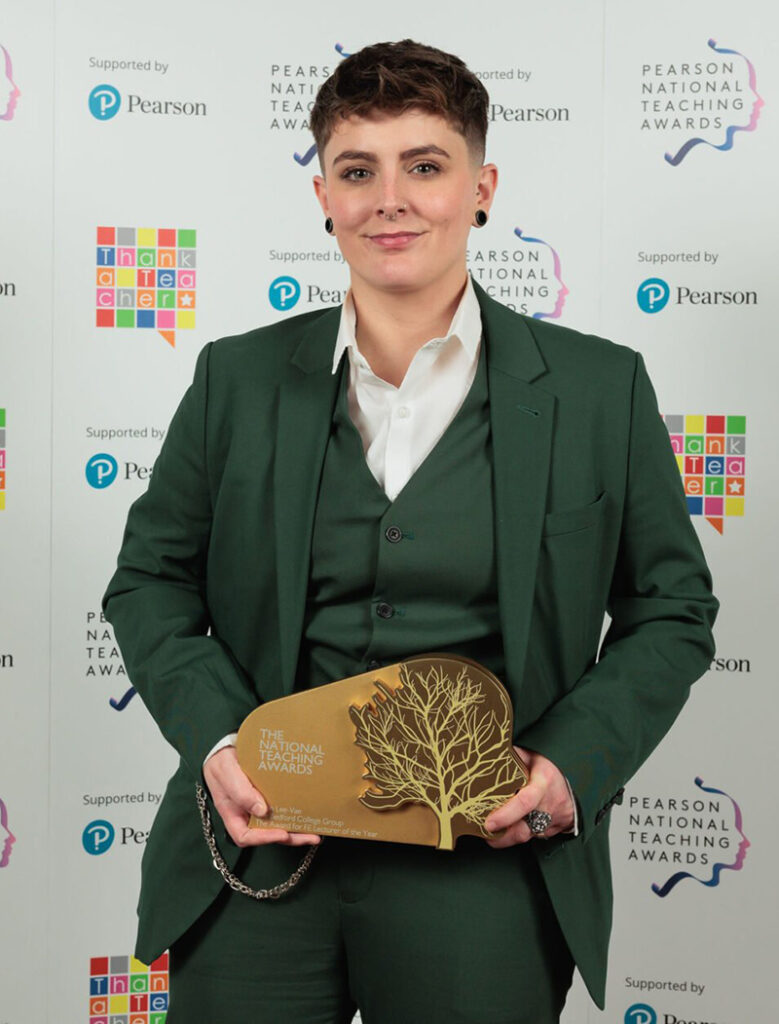 Representing the LGBTQ+ community
Lee-Vae, non-binary and a LGBTQ+ ambassador, introduces themselves as "Steph – they, them – nice to meet you all". These days their non-binary identity is "not even a thing" that they feel they "need to speak about" with their students.
They say LGBTQ+ students value having a teacher who represents their community. "To have representation for those students makes a difference, it makes them feel like they've got a place in this world."
Non-binary students are still forced to choose "male" or "female" to access funding for their courses – unlike most other places in the public sector.
Lee-Vae believes this is wrong, pointing to "the need to reflect our current times and the society we live in".
Some of Lee-Vae's students question the "purpose and relevance" of gendered data and how it this used. "If this is for the purpose of capturing inclusivity data, then surely by excluding marginalised gender/ non-binary and trans people then this is incorrect data. It's important that we as educators should be at the forefront of change and leading innovation for future generations."
Lee-Vae believes people are "scared of what they don't understand", so coming out publicly as trans means people get to appreciate they are "not actually a big scary monster that's going to take over the world and make all our kids queer" but "just a person who just wants to be me".
"When you start to have representation and normalise it, it becomes a lot less scary."
But Lee-Vae hasn't always felt comfortable to express themselves so freely. When they came out as gay at 13, being non-binary was "unheard of" and they only felt able to publicly identify as trans three years ago after being inspired by an article about a trans headteacher.
As a public sector teacher Lee-Vae was "terrified about coming out" as non-binary, partly because of media stories "tarnishing" people from their community.
As a child, Lee-Vae's mum and siblings spent two years in Florida and the move back to the UK at the age of nine was "difficult". Lee-Vae threw themselves into "anything and everything", embracing art and music as well as getting a black belt at 14 and fighting in the British karate championships.
But Lee-Vae recalls negative comments about karate being a "man's sport" and they struggled with gender dysphoria, feeling "different on the inside to how I was communicated to".
"It was hard enough coming out as a lesbian and getting all that backlash. I didn't really see anyone like me from the queer community, and I struggled with that."
Lee-Vae believes many people assume that being gay or trans is a "choice", but they dispute this.
"If I could choose an easy life of being straight or cisgendered and not having to go through being bashed, that would be much easier."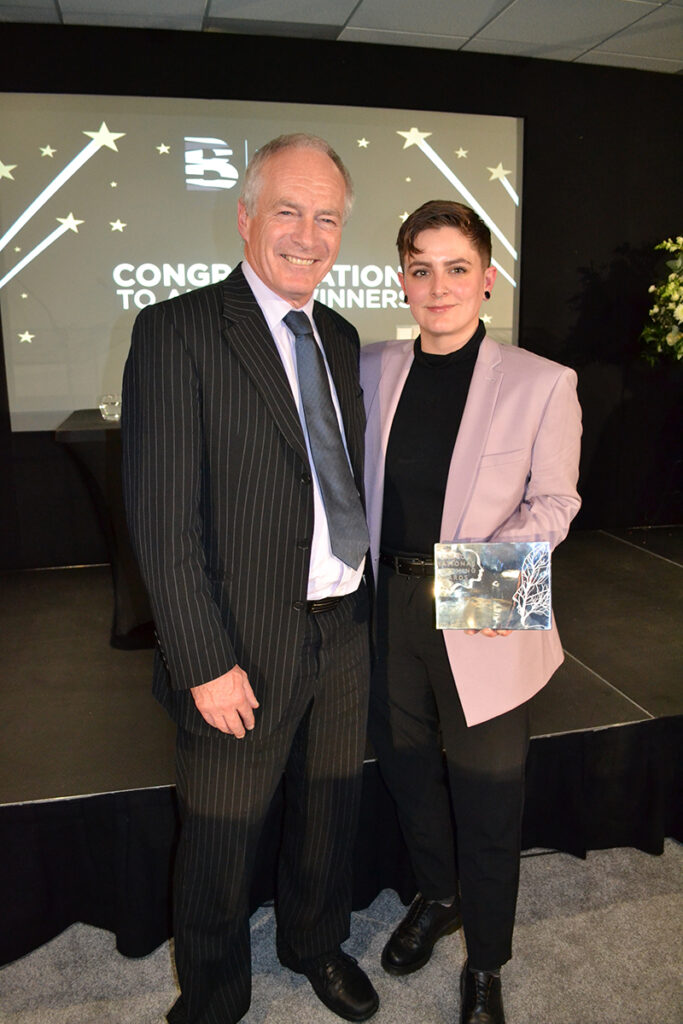 Super-skater
Lee-Vae enjoyed skateboarding as a kid, but it was only after becoming "super unwell" with endometriosis at 26 that it became a life passion. Lee-Vae has spent the years since then in and out of hospital on hormone therapy and undergoing regular surgeries that have triggered menopause.
"I decided that If I'm going to feel like crap anyway, I might as well do it while living life. I'm not going to let this illness dictate me and what my capabilities are."
Lee-Vae describes skateboarding as "a form of meditation".
"In that moment, nothing else matters. It's a creative process – researching and learning the trick, the resilience of doing that trick over and over again for months, and probably slamming 15 times. When you get it, the joy you feel is amazing."
Just around the corner from Lee-Vae's home in Corby is Europe's biggest urban sports venue, Adrenaline Alley, where Lee-Vae coaches young people every Tuesday evening. They now sit on its board of directors, and are setting up discount codes for Tresham students.
Touchingly, Lee-Vae's arts students recently surprised them with a gift – a skateboard, designed by them that announced them as lecturer of the year.
Seeing the video of students embracing Lee-Vae that day shows what a long way they have come from when, as a young "anarchist rebel", teaching was "the last thing" they thought they'd end up doing.
"Teachers would have laughed for sure at idea that I'd be a one of them."
Lee-Vae was one of the first in their family to go to university, explaining the family norm was "you get a job at 16 and you graft". But Lee-Vae's mum encouraged them to "be anything you want to be".
One of their teachers was an ex-football hooligan who "turned his life around". He inspired Lee-Vae to start working with young people who were "misunderstood, and just need to be shaped up a little bit".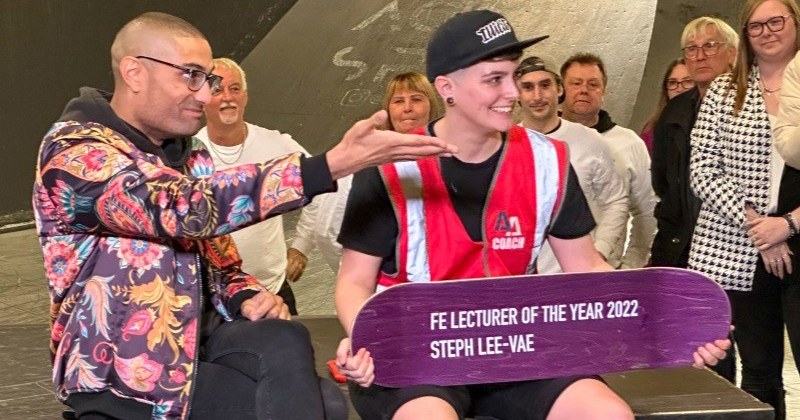 Above and beyond
It is clear Lee-Vae goes the extra mile for their students, spending most lunchbreaks chatting with them to make sure they are coping. They are ever-mindful of the long waiting list for NHS mental health services. "In the meantime, they go to the people they trust the most – the teaching team."
Lee-Vae points out that the college's own counsellor has about 350 students to work through. "You can't let one person deal with all that – you have to have that team approach."
Lee-Vae's also now regularly calls food banks to arrange provisions for those students "without food at home. We can't turn a blind eye to it."
The night before our interview, they were up until 2am researching new Adobe trends, with their "brain working overtime" on new learning opportunities.
They admit to sometimes feeling "overwhelmed" as their mind "does not switch off at night".
"It can be hard, because for those young people you're a show person, teacher, therapist and parent. With all these different hats, you're juggling to create the best experience for them."
Classroom debates
Lee-Vae's constant quest for ways to make classes "a little bit more exciting" involved setting up a YouTube channel during the pandemic of video tutorials and digital workshops. They also founded a monthly creative arts digital magazine showcasing students' work.
Lee-Vae, a digital pro, is not a big fan of social media, but talks to students about what they've seen on TikTok because "it's important to understand where they're coming from and what's relevant to them".
And they are not afraid to tackle difficult topics. One recent art session involved discussion of Andrew Tate and women's rights, protests in Iran and abortion laws in America.
Another group debated social media beauty standards, with some 18-year-olds "feeling they need to have lip fillers and Botox. I tell them they look lovely as they are. The thing that makes us beautiful is our unique flaws."
Lee-Vae believes when a teacher leaves "room for openness to talk, to express honest feelings in a safe environment where they're not judged, that can lead to understanding" on these issues.
For Lee-Vae, teaching is a "two-way dialogue" with the students being the educators too.
"Young people are so innovative, and they bring their life experiences and knowledge into the classroom. There's so much I've got to learn. When you stop growing, that's when you need to reflect and change things."