The government is going to evaluate its troubled National Colleges policy to identify what has gone wrong with the scheme and help avoid the same mistakes in the rollout of Institutes of Technology.
A tender from the Department for Education went live on Monday asking for a research company to take on the in-depth evaluation project.
The government has so far awarded around £80 million to establish four employer-led National Colleges across England – but as revealed by FE Week last month, they're plagued with inadequate financial health and low student numbers.
Identify lessons that can be learnt about how delivery could have been refined or improved
"National Colleges have now reached a pivotal milestone in their delivery timeline," the DfE's tender document states.
"Each of the four colleges have officially opened. There are currently around 1,064 students enrolled at the colleges, and this is projected to grow to ~21,000 by 2020/21.
"Expressions of interest are sought to conduct a process evaluation to explore the process of policy implementation and delivery of National College policy to date, and identify factors that have helped or hindered its effectiveness."
It continues: "As such, the process evaluation should identify any lessons for National Colleges and for potential wider application in the roll out of similar, specialist and employer-led Institutes of Technology (IoTs) from Spring 2019."
National Colleges were envisioned to deliver classroom-based and apprenticeship training at levels 4 to 6 with learners aged 19 and above.
The DfE believes they are "pivotal to expanding classroom-based higher technical education to meet the shortfall of higher technical skills in key sectors".
But many have come up against severe recruitment issues, highlighted most significantly at the National College for High Speed Rail which had just 93 students enrolled in its first year, despite receiving more than £55 million in capital funding.
The other National Colleges – creative and cultural, digital skills, and nuclear – have hit similar problems.
A fifth, the National College for Onshore Oil and Gas, was supposed to open in 2017/18, but has yet to get off the ground.
The DfE tender document says the department is in "regular contact" with the boards of the National Colleges who provide "regular updates on general progress and college finances".
However, this "does not provide an objective and coherent picture of the underlying factors, barriers and enablers that have been driving activities and processes across the programme as a whole".
It is for this reason the DfE wants to develop its "comprehensive evaluation strategy" for the troubled programme.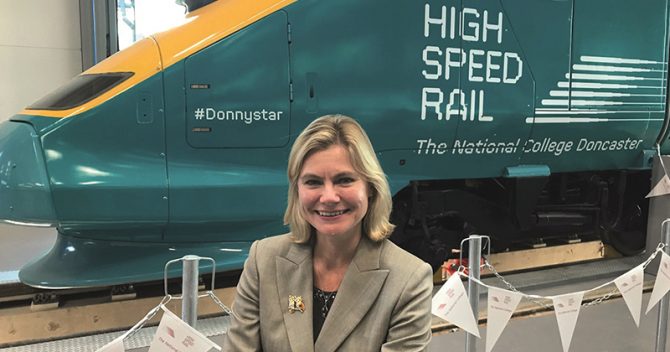 The research will "identify lessons that can be learnt about how delivery could have been refined or improved" to assist with the introduction of IoTs.
First proposed back in 2015, IoTs are intended to bring FE and HE providers together with employers to deliver technical skills training, with a particular focus on levels four and five.
According to application guidance from the DfE, they will offer "higher-level technical skills on a par with more academic routes" and will "achieve the same level of prestige as universities".
Between 10 and 15 of the institutes are expected to be created.
Sixteen providers have made it through to the final stage of the government's competition to open an IoT – but two of them, NCG and North Warwickshire and South Leicestershire College, are likely to be kicked off. NCG is rated grade three by Ofsted and NWSL is in FE Commissioner intervention.
The successful proposals are expected to be announced in March 2019, with the first one due to open in September 2019.
The DfE's evaluation report into National Colleges will, however, not be published until June 2019.
Concerns have already been raised about the introduction of IoTs.
Speaking at a House of Lords inquiry in early March, the FE Commissioner Richard Atkins said that the institutes are a "very good idea" but their "modest" £170 million funding pot means he's "not sure it will transform the system".
The closing date for the DfE's National Colleges tender is November 20.