The boss of Aspire Achieve Advance has contacted the apprenticeship giant's clients to "reassure" them that he's taking the business forward as "new management", even though he's held a top leadership role there for over two years.
Richard Irons (pictured), who joined the company known as 3aaa in mid-2016 as its chief operating officer, was made managing director when its co-founders Peter Marples and Di McEvoy-Robinson resigned following the launch of a second government investigation into the crisis-hit company.
He emailed "valued partners" of the business yesterday to "clarify the true status of our position".
"Myself as managing director along with the senior management team will be taking the business forward as 'New Management'," he wrote, even though there've been no new senior managers brought into the company for over a year.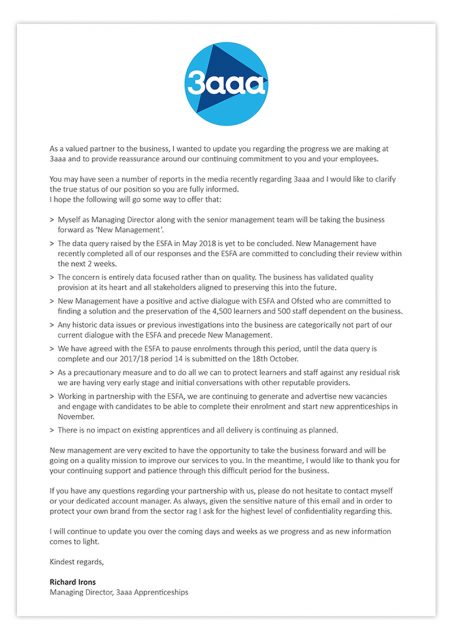 Mr Irons continued to claim that the current ESFA investigation into 3aaa concerns are "entirely data focused rather than on quality". This is despite the agency's probe being focussed on claims that achievement rates have been inflated, just as they were found to be doing in 2016.
"The business has validated quality provision at its heart and all stakeholders aligned to preserving this into the future," the new managing director added.
He continued to say that as a "precautionary measure and to do all we can to protect learners and staff against any residual risk" 3aaa is "having very early stage and initial conversations with other reputable providers".
This follows FE Week exclusively revealing last week that the company has put itself up for sale, with the deadline for final offers being tomorrow (October 10).
In the sales pitch to potential bidders, 3aaa is claiming that it was rated 'outstanding' in all fields judged by Ofsted in an inspection in May 2018. This is despite the inspectorate declaring the inspection "incomplete" following the launch of the ESFA's new investigation.
The apprenticeship giant, which was given over £31 million in government funding last year, is currently suspended from recruiting apprentices.
Mr Irons said in his email that by working in "partnership with the ESFA, we are continuing to generate and advertise new vacancies and engage with candidates to be able to complete their enrolment and start new apprenticeships in November".
FE Week revealed in September, just after the temporary ban was put in place, that 3aaa seniors were "instructed" to tell other staff to not date any paperwork for "planned enrolments".
Mr Irons expects the ESFA investigation to be concluded "within the next two weeks".
3aaa currently trains 4,500 learners and employs 500 staff.
————————————————————————————-
Update: An Ofsted spokesperson told FE Week: "We wish to make clear that we are not and have never been in dialogue with this provider about any solution relating to the future of their business.
"Any engagement we have with the provider has been limited to queries about the possible timing of their inspection, which we clearly would not reveal."