The proportion of 18-year-olds not in education, employment or training (NEET) has shot up to its highest level since 2009, new figures have revealed.
Department for Education statistics published today show that 15.9 per cent of people aged 18 were classed as economically inactive by the end of 2022 – an increase of 6.1 percentage points compared to 2021. In 2009, 16.5 per cent of 18-year-olds were NEET.
This rise drove the overall 16 to 18 NEET rate up by 1.3 percentage points to 8.4 per cent, the highest rate since 2012, despite the proportion of 16 to 17-year-old NEETs falling by 1.1 percentage points to 4.6 per cent over the same period.
Stephen Evans, chief executive of Learning and Work Institute, said: "The latest data show NEET rates a little higher than pre-pandemic, particularly driven by a worrying rise among 18-year-olds.
"That points to the need for individualised support for all young people, and to grow the number of apprenticeships available to young people which are low by international standards."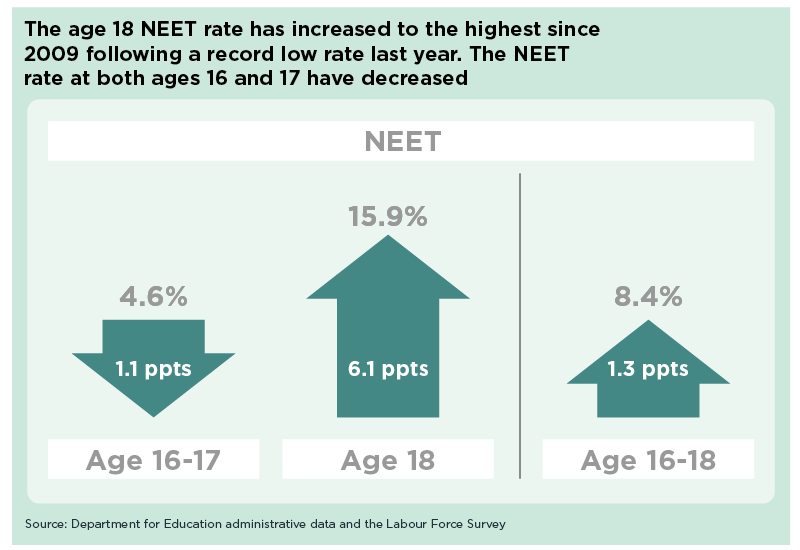 Two factors affect the proportion of young NEET people: the proportion not in any education and training (NET), and the employment rate for young people who are NET, estimated from the Labour Force Survey.
Statisticians at the DfE said the increase in age 18 NEETs comes after a record low in 2021 driven by a high proportion in employment.
Commentary published alongside the data said: "The large annual increase in NEET at age 18 follows an unusually low NEET rate in 2021. The 2021 NEET decrease was driven by a high proportion of 18-year-olds estimated to be in employment (not in education and training) at 22.2 per cent. In 2022 the proportion in employment was 18.5 per cent, comparable to other recent rates.
"The trend since 2016 shows an increasing proportion NEET at age 18 driven largely by decreases in participation."
The overall 16 to 18 NEET rate fluctuated between 8 and 10 per cent up to 2012 and then fell each year to a series low of 5.8 per cent in 2016.
Over recent years the 16 to 18 NEET rate has slowly increased with a large jump of 1.3 percentage points in the latest year to 8.4 per cent.
Bill Jones, executive principal at Leeds City College, said the figures were concerning.
"Given projections for 200,000 additional 16-18 students by 2030, there's a real risk this number may spiral in the coming years," he said.
"Re-engagement programmes, such as those on offer at Leeds City College, are needed to support otherwise NEET young people, who often need mental health support, careers advice and pastoral guidance to re-enter or remain in education. This is particularly crucial in areas such as Leeds, where there have historically been far higher levels of NEET than the national average."
A DfE spokesperson said it was good news to see the rise in the proportion participating in education and apprenticeships for the 16 and 17 age group.
"To support more young people to progress we are continuing to work with employers to create more apprenticeships, roll out more transformative T Levels, and promote all the exciting education and training opportunities through our 'Get the Jump' campaign," they said.
"We're also investing in a range support programmes for young people, including Youth Hubs, Supported Internships and the DWP Youth Offer, ensuring that young people aged 16 to 24 receive personalised work coach support."