Organisations and individuals who go above and beyond to promote equity, diversity and inclusion (EDI) in technical education and in the workplace have been honoured at the fourth WorldSkills UK EDI heroes awards.
Winners included an audit analyst apprentice who, in her spare time, busts apprenticeship myths in local schools and developed a three-week financial literacy course for members of her community from deprived backgrounds.
Aiman Naseer, now a level 7 degree apprentice in internal audit management at Lloyds Banking Group, works with young people from a range of cultures to promote apprenticeships.
She was described as "exceptional" by her nominators, who said: "Her passion for apprenticeships and supporting financial literacy to less affluent areas of UK has now seen the programme she trailblazed being rolled out nationally which is a massive personal achievement."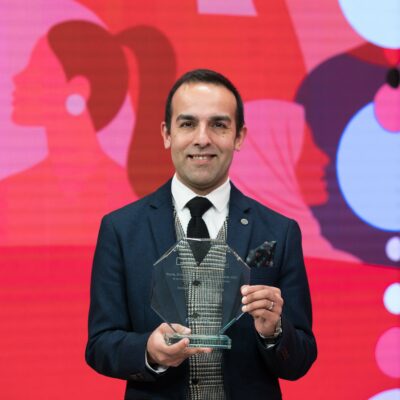 This year's prize for inclusive skills development was awarded to Nav Ahmed, a principal lecturer at Arden University's Institute of Foundation Studies. Using data on student demographics, Ahmed, a former FE business lecturer, his work to redesign and tailor the curriculum and student experience impressed the judges. 
Ahmed identified that students on blended learning programmes tended to be older and from ethnic minority backgrounds and found that students on distance learning courses were more likely to have a disability.
His achievements include rewriting modules with more inclusive learning materials and assessment methods which have improved progression rates and student satisfaction.
"One of the things I was conscious of when I was studying, was that diversity would be seen as barrier, rather than seeing it as a strength and for me that is something I want to pass onto my students in order to be a positive role model. What has inspired me to do what I do in my job, is to ensure every student has the best opportunity to achieve the best that they can" Ahmed said.
WorldSkills UK's EDI heroes winners were revealed today in a virtual ceremony in partnership with Skills and Education Group. The ceremony was hosted by journalist and broadcaster Marverine Cole.
Neil Bentley-Gockmann, chief executive of WorldSkills UK, said the number and quality of nominations showed "the importance the sector is placing on addressing inclusion and diversity."
"We have been so inspired by the people and stories behind the nominations and are pleased that we can celebrate those who are leading the way in the technical education sector" he said.
Joanne Manship, head of digital, creative and performing arts at Oldham College was named skills competition diversity champion for increasing numbers of under-represented students taking part in skills competitions.
Manship's work has delivered results in competition performance as well as participation.
In November 2022, the college won a gold medal for foundation health & social care in the WorldSkills UK national finals.
And London South East Colleges' programme of grant-funding student and staff led EDI projects has won them this year's initiative of the year award.
The college group has committed to a ten year programme of investment which has so far awarded £78,000 for a range of projects that impact positively on EDI within the college and in the community. The programme is evidence-led in terms of what gets funded, but also in measuring each project's outcomes.
Projects funded through the scheme so far include mentoring programmes for young people from ethnic minorities and SEND students, LGBTQ+ education events and a programme to empower ethnic minority students through curriculum activities.
Full list of winners below (click to enlarge):