---
Team UK has made a good start on the road to medal success, after completing the first day of the four-day WorldSkills 2019 competition in Kazan.
Speaking to FE Week, hairdresser Phoebe McLavy said the day went "really, really well".
"I am really pleased with the tests I have done, so I am feeling very confident, very excited and ready for tomorrow".
FE Week first interviewed Phoebe at her training salon, Reds Hair Company in Gloucestershire, amidst an 85-day preparation course for the tournament, where she is competing against over 30 others.
The course also involved taking part in competitions in Thailand and Canada, and practising various cuts, including a wet shave and bridal hair.
Today, she had to do a men's cut and dye the hair on a mannequin, as well as cut and colour female hair in a 'fashionable style'.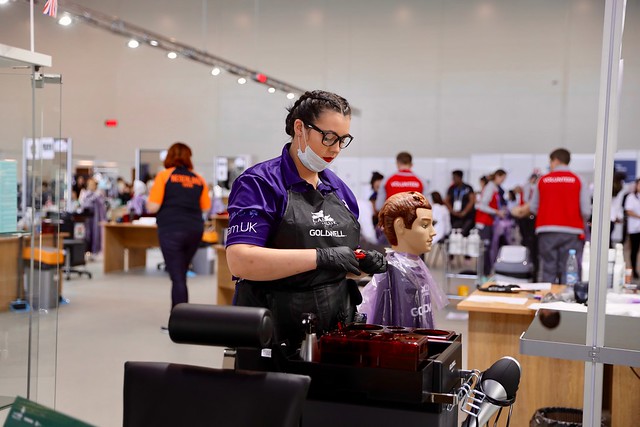 "I had not practised the styles much, but a little bit of each style, so I just incorporated them into the plan," Phoebe said.
Watching Phoebe today was her tutor from Coleg Sir Gar, Adrienne Chick, who had spoken to Phoebe the night before and described her as being in "good spirits". 
"She has worked hard for this and I think Phoebe is someone who takes things in her stride, one day at a time."
Adrienne added that: "As long as she enjoys it and does her best, that's all that matters."
Team UK's cabinet maker Owen Aldous has been competing against around 30 others under the watchful eyes of his bosses George Callow and Luke Griffiths, former WorldSkills competitors.
Ex-cabinet making hopefuls Luke, who competed at WorldSkills 2009 in Calgary, and George, who won gold at WorldSkills 2013 in Leipzig, said their employee had "matured very quickly" after joining WorldSkills UK, and it was a "great experience for him".
Owen, who like the two is from Chichester College, said: "It was really nice for them to be here, as we had a good chat about techniques."
Besides that, Owen believes the day went "quite well," and was only let down by a couple of mistakes.
He has been tasked with making a side table with two drawers, and today he cut a groove in the wrong place so it will be showing; and he cut something too short, so he will have to make it longer.
But, he said he was still confident going into the second day: "It should be OK by the end and it's too late to get annoyed by it."
FE Week is proud to be the official media partner for WorldSkills UK and Team UK. FE Week will bring you all the latest developments in the lead up to WorldSkills 2019 and will be onsite in Kazan to bring rolling coverage of Team UK's progress.
To find out more about the what, when and why of WorldSkills, read our handy guide.
Pictured: Owen Aldous