An exodus of college leaders has rocked the FE sector over the past two months. Meanwhile, regulations that will allow colleges to go bust for the first time will come into effect in just two and a half months' time. FE Week asks: is there a connection?
Garry Phillips' resignation from City College Plymouth on Tuesday follows that of other high-profile leaders, including Dame Asha Khemka, former principal of West Nottinghamshire College, and Joe Docherty, ex-boss of college mega-group NCG.
In total eight leaders of some of the nation's biggest colleges have stepped aside in the space of 50 days.
Between them the eight colleges had a combined income of £439 million in 2016/17, according to Education and Skills Funding Agency figures.
That gives an average income of £59 million – more than twice the sector average of £22.2 million – with average learner and staff numbers also above average at 16,000 and 950 respectively.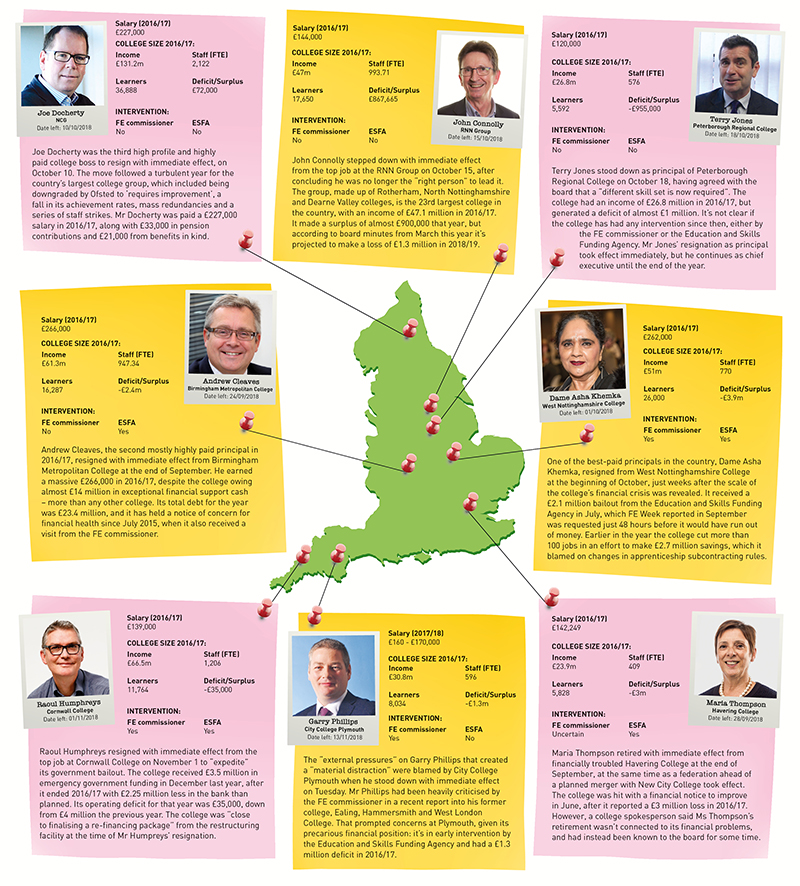 The spate of departures comes ahead of the introduction of new rules that will mean colleges will be allowed to go bust for the first time.
These had been set to take effect this year, but a spokesperson for the Department for Education has now confirmed that "due to parliamentary scheduling, the new insolvency regime will now come into force on 31 January 2019".
Half of the leaders to have left were in charge of colleges in active intervention for financial health while warning signs suggested the remaining four may have been heading that way – indicating that their departures are part of a crackdown on poor leadership ahead of the regime's introduction.
Speaking in parliament last month, the skills minister Anne Milton stressed the importance of "outstanding leadership" to the "financial resilience of the FE sector".
"We want every college to have great leaders, both principals and governing bodies," she said during a debate in support of the draft further-education bodies (insolvency) regulations 2018 – part of the insolvency regime – on October 31.
"Leaders that manage their colleges effectively will be key to preventing financial distress," Ms Milton said.
The DfE has previously made it clear that once the insolvency regime comes into effect, the exceptional financial-support tap will be switched off.
This is cash, available as a grant or loan, for colleges that are "encountering financial, or cashflow, difficulties that put the continuation of provision at risk".
Another form of financial support for struggling colleges, the restructuring facility, closed for applications last month.
This was originally intended to fund changes resulting from the area reviews of post-16 education and training, which ended in March 2017, but has been increasingly used to prop up failing colleges – although both the DfE and Ms Milton have repeatedly denied this.
Hull College reportedly received an eye-watering £54 million earlier this year, after reporting a deficit of close to £13 million in one year.
And Lambeth College is dependent on the £29 million it requested from the facility to keep it afloat until its merger with London South Bank University goes ahead.
In an expert piece in this week's paper, Julian Gravatt, the Association of Colleges' deputy chief executive, said the "restructuring deals have mainly been used to pay down debt and to replace bank loans with ones from government".
"This is about clearing up messes. Big ones," he said.
"People in top jobs in every sort of organisation make mistakes. In the college-restructuring cases, it's the successors who have had to sort things out."
Both Ms Milton and the FE commissioner, Richard Atkins [pictured above], have said they expect the number of colleges that actually go bust will be very small.
"Of course I don't expect large numbers of colleges to become insolvent," Ms Milton wrote in her monthly FE Week column last week.
"I know that some colleges do face challenges and it is vital that their boards are able to take decisive action and provide effective leadership to help improve matters."
Appealing to college boards directly, she added: "If you think you're heading into financial difficulties, I'd encourage you to tell us early and we can talk about what kind of support might be available."
Mr Atkins has previously told FE Week he expected that he and his team would be called in to try to find a solution for a college in danger of going insolvent.
A DfE spokesperson said it would be publishing guidance for governors ahead of the insolvency regime taking effect.
"The Education and Skills Funding Agency and the FE commissioner will continue to play a role in supporting colleges with their financial health and resilience," he said.