A quarter of apprenticeship providers that have received early-monitoring visits from Ofsted so far have been rated as making 'insufficient progress'.
The inspectorate has published 90 of its new early-monitoring visit reports since they began in March this year, and 22 of these have been found to be 'insufficient' in at least one category.
Of the 20,298 apprentices in providers assessed under the new visits, 4,914 (24 per cent) are receiving training from providers that have been found to be 'insufficient' in one or more category.
In August, the Education and Skills Funding Agency confirmed that any new apprenticeship provider which Ofsted deemed to be making 'insufficient' progress would be barred from taking on new apprentices, either directly or through subcontracting arrangements.
The ban will continue until the provider receives a full inspection, which should take place within a year, and has been awarded at least a grade three for its apprenticeship provision.
The ESFA can overrule this guidance only if it identifies an "exceptional extenuating circumstance".
Providers are rated on whether they are meeting the requirements of apprenticeship provision, and the quality of their training and safeguarding, with some also graded on their adult-education provision. There are three possible results: insufficient progress, reasonable progress or significant progress.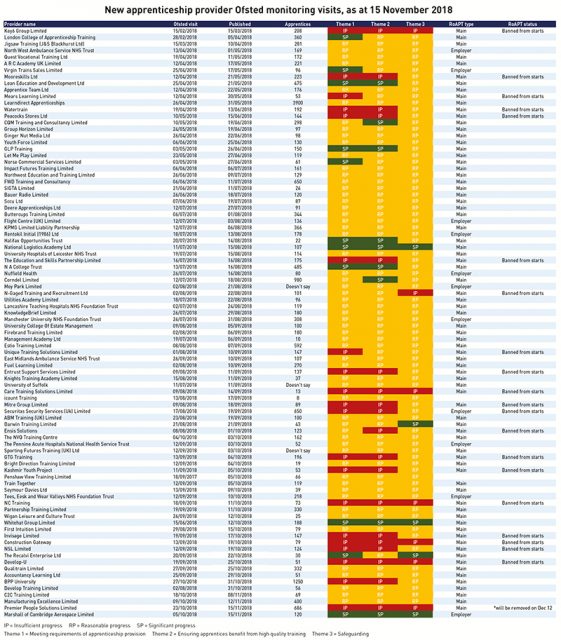 Fourteen of the 90 reports published so far have included at least one 'significant' rating, accounting for 3,415 learners (16 per cent). Just three providers have received the highest possible grade of 'significant progress' in every category – the National Logistics Academy, WhiteHat Group and Marshall of Cambridge Aerospace – accounting for only 415 learners.
 In comparison, six have received the lowest possible grade, accounting for 1,110 learners. Premier People Solutions, Develop-U, Construction Gateway, NC Training, Care Training Solutions and Key6 Group have all been rated as making 'insufficient progress' in every category.
 So far, the ESFA has held true to its word and enforced a ban on all 20 providers which received at least one 'insufficient' rating in reports published up until October 25.
Two providers have been rated 'insufficient' since October 25, BPP University and Premier People Solutions.
Skills minister Anne Milton exclusively revealed to FE Week that the ESFA had decided to terminate its levy contract with Premier after the damning inspection report revealed unsafe recruitment practices for teachers who subsequently trained apprentices in government departments.
This means Premier will be removed from the register of apprenticeship providers in December.
However, the fate of BPP University, part of the global BPP Professional Education Group, is still unclear.
Even if BPP University is banned, the BPP group appears on RoATP another three times – as BPP Holdings, BPP Professional Education and BPP Actuarial Education – and none of these companies would be affected by a ban.
Any ban from Ofsted would also not include its level six and seven apprenticeship provision, which falls under the remit of the Office for Students. A spokesperson for OfS said it was "aware of the issue" and working with Ofsted and the Department for Education to address it.
Ofsted has received £5.4 million in government funding to carry out its early-monitoring visits of all new apprenticeship providers, which are thought to number as many as 1,200.
Learner numbers were not available for three providers: Moy Park, University of Suffolk and Sporting Futures Training (UK).