UCAS has officially added apprenticeship vacancies to its website so that students can consider them as an option alongside degrees.
Anyone using the universities and colleges admission service's "hub" from this week will for the first time see relevant apprenticeships listed along with traditional higher education courses.
Government ministers and officials said the "revolutionary" move is a "massive step forward" as it helps to give apprenticeships the same prestige as traditional university degrees.
Students creating a UCAS account are now asked if they are interested in apprenticeships as well as undergraduate university courses (which are automatically advertised).
Searches for a type of course – engineering, for example – on the UCAS hub will return suggestions of available apprenticeships, including the employer, training provider, level, qualifications needed for the course, closing date and salary.
Learners can then click on a link that directs them to the government's find an apprenticeship website, which already advertises apprenticeship vacancies, where they can apply for the apprenticeship.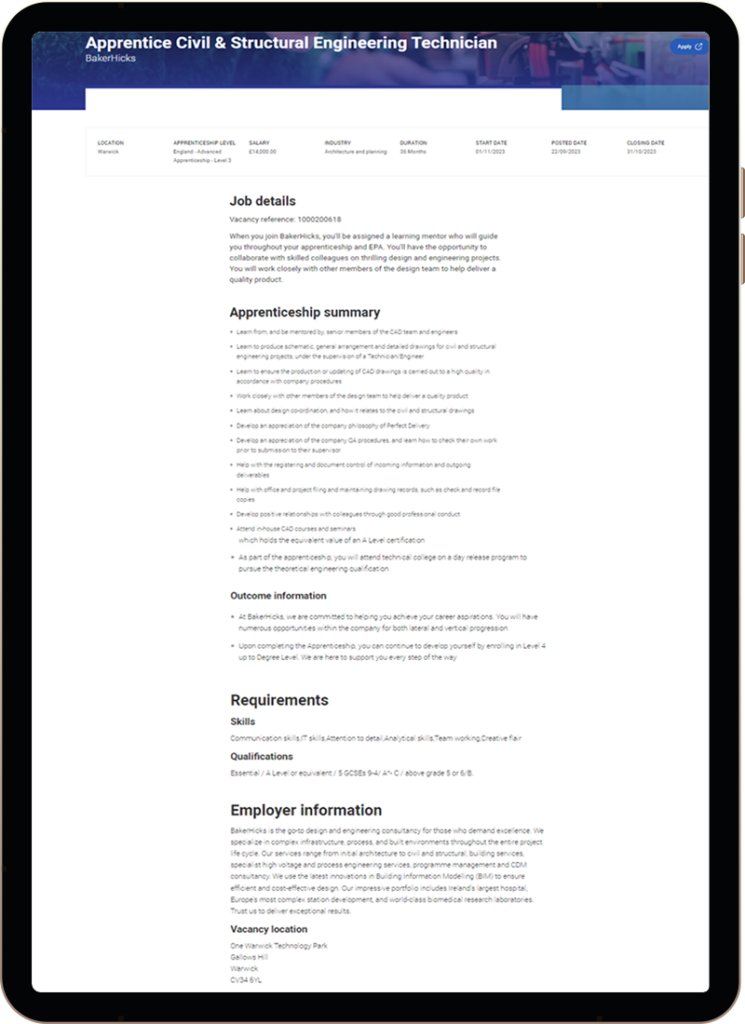 Apprenticeship vacancies will be updated in real time on UCAS' website. Students will be able to apply to apprenticeships directly via the UCAS site from autumn 2024.
Prospective students need to pay £27.50 for university applications, but the admissions service told FE Week that fee will not apply to apprenticeship applications.
According to UCAS, around half a million students who register through the admissions service say they would consider an apprenticeship, but many have complained they don't know where to find vacancies.
Jennifer Coupland, chief executive of the Institute for Apprenticeships and Technical Education, said the new service was a "massive step forward for apprenticeships".
"We know that interest has never been higher and giving them equal billing, to conventional degrees, on the UCAS hub will be a game changer for encouraging many more young people to apply and reap the benefits of earning and learning," she added.
Sander Kristel, interim chief executive of UCAS, said that the new apprenticeships offer will "revolutionise the way applicants discover and decide between their options".
"By enabling the visibility of both pathways, students will be able to explore all their options to make the best decision for their future career aspirations. Likewise, employers will be able to tap into a new future talent pipeline to meet their business needs and fill critical skills shortages," he added.
Skills minister Robert Halfon called the change "fantastic" and said putting apprenticeships on the same footing as university degrees is one of his "top priorities" as minister.
"I hope that this service will increase the uptake of apprenticeships. By doing this UCAS is representing universities, colleges, apprenticeships and skills and helping more people up the ladder of opportunity."