Thirteen organisations, including a Welsh college and the furniture retail giant DFS, have been unexpectedly added to the register of apprenticeship training providers.
The third and most recent window of opportunity to get on to RoATP closed at the end of October, with results published in January, and it has not officially reopened since.
These newcomers have nevertheless appeared over the past week, bringing the total number of organisations on the register to 2,588.
Their sudden appearance is understood to be a result of successful appeals after places were denied at first.
Among the additions to RoATP, which is for providers which want to run apprenticeships in England, was Coleg Gwent in Wales. Its business development director Stephen Owen said the college is looking to move its apprenticeship offer to England.
We are delighted that DFS has been accepted onto RoATP
"We can confirm that we have been successful in our application to develop apprenticeship programmes in England," he said.
"We are looking forward to working with businesses in England to develop their workforce through our apprenticeship offer."
Of the new additions, 11 including Coleg Gwent are classed as "main" providers, while one is an "employer-provider". They now all have direct access to ESFA funding and are in scope for Ofsted inspection.
The Chartered Institute of Marketing is another of the newcomers that falls into the main category.
DFS Trading Limited is the sole employer-provider – otherwise known as the retail company DFS Furniture. It can now train its staff directly in apprenticeships.
A spokesperson said it had been working with training providers on apprenticeship schemes in service repair, retail and manufacturing for the last three years, and the "natural step forward" was to "bring all of this in house".
"We look forward to expanding these programmes and launching new ones in other areas of the business," she added.
The final organisation of the 13 is Generation (UK) Limited, which is classed as a "supporting" provider.
Providers in this category cannot access funding directly. They can only subcontract from one of the main providers up to the value of £500,000 per year, and cannot be directly inspected by Ofsted.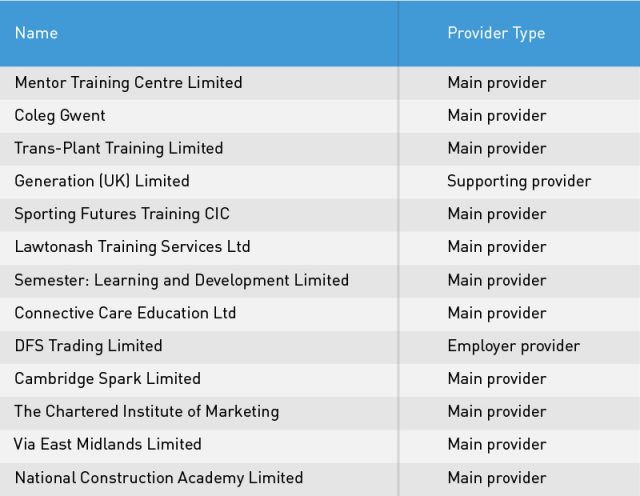 Meanwhile, two firms, London Skills and Development Network Ltd and NLT Training, have been removed from RoATP, after they were rated 'inadequate' for apprenticeships by Ofsted in December.
The agency began reviewing the approvals process after the third window closed, and has confirmed the review is ongoing.
A representative claimed officials are still considering the first year of RoATP's operation, and that further information would be provided in "due course".
The ESFA would not say when the register would reopen. Providers not yet on the register are still able to subcontract provision from a main provider, up to the value of £100,000 a year.
The Department for Education indicated that the 13 newcomers were added because previous decisions not to include them on the list had been successfully "reviewed".
As FE Week reported at the end of January, the number of apprenticeship providers now in scope for Ofsted inspection has more than doubled since last year.
Funding allocations for 2016/17 suggest that before the introduction of RoAPT last March, there were 837 providers in scope for inspection. That year Ofsted inspected 189 providers on their apprenticeships.
Now however, a total of 2,197 apprenticeship providers are in scope for visits from the education watchdog.
In an interview with FE Week last March, Ofsted's chief inspector Amanda Spielman admitted that both she and Paul Joyce, the inspectorate's head of FE and skills, were "worried" about the possibility that they'd eventually have more than 2,000 providers to visit.
In January she told the education select committee that the watchdog had the "acknowledgement" from the ESFA that the "more work we had the greater resource we would need".