A third of wave two T Level students quit their course during their studies, results data suggests.
T Level results were released to 3,448 students today, a third lower than the 5,210 T Level students the government reported started the two-year course in 2021.
The figures follow a damning review of T Levels by Ofsted, published last month, which warned that "many" students left before the end of their programme.
A Department for Education spokesperson said it was "quite normal" for students to switch courses but officials "will work with providers and other partners to understand more about the reasons for students dropping out and what can be done to improve retention".
The 33 per cent drop-out rate compares badly with other level 3 qualifications. For A-levels, the retention rate stands at 95 per cent, so 5 per cent drop out. And for other vocational and technical qualifications, like tech levels and applied general qualifications, the drop-out rate is 9 per cent and 8 per cent respectively.
Early 2023 data reveals 90.5 per cent, 3119 students, of those picking up their results achieved at least a pass in their T Level and 69.2 per cent achieved a merit or above.
This means those students successfully achieved each individual element that makes up a T Level. To pass, a student needs to score at least a grade E in the core component, a pass or above in their occupational specialism and met the industry placement requirements.
Students that attempted but don't achieve all three component requirements count as a partial achievement. This year, 316 students, 9.2 per cent, only partially achieved their T Level.
This is the second year that T Level results have been awarded, but the first where students' results are based entirely on formal assessments. The first cohort of T Level students, awarded their grades this time last year, were based partially on teacher-assessed grades.
Overall this year, 22.2 per cent of students achieved the top distinction and distinction* grades. Nearly half, 47.1 per cent, achieved a merit and 21.2 per cent scored a pass.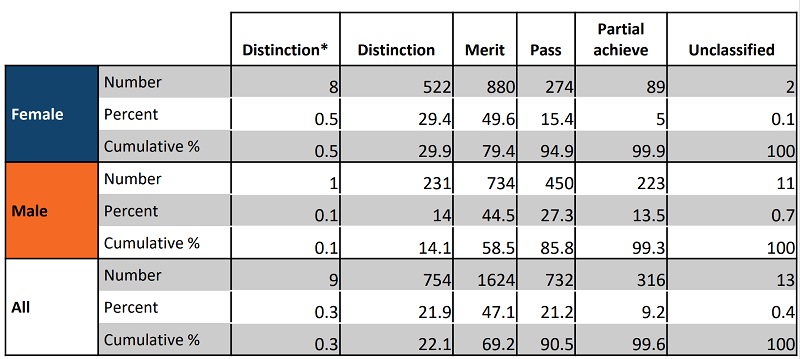 Breakdowns of results by subject and component were not part of the initial data release but will be released by the Department for Education separately.
According to UCAS, 1,220 T Level students got a higher education place this year.
Added to last year's achievers, there are now 4,071 young people with T Levels on their CVs.
Today's results are the first for seven new T Levels that were introduced in 2021. Among them are T Levels in health, healthcare science and science. Those students found themselves at the centre of a "serious" incident last year when exams regulator Ofqual deemed their first-year assessment results invalid.
Other T Levels being awarded for the first time today include digital support services, onsite construction and building services engineering for construction.