Just 16.4 per cent of students resitting GCSE maths in England passed with at least a grade 4 this year – down 4.8 percentage points on pre-pandemic levels.
Pass rates for English resits meanwhile hit 25.9 per cent, down by a similar level of 4.4 percentage points on the year before Covid-19 hit.
This is the second year that exams have returned since 2019 when the pandemic prompted a temporary switch to teacher-assessed grades.
Entries to maths and English GCSEs for post-16 students this year rose by 19,000 and 13,000 respectively compared to 2022, as they continue to recover to pre-pandemic levels which led to a big drop in entries.
The Joint Council for Qualifications said that results for students aged 17 and over are "more variable" compared to results for school-aged pupils, but this is "not surprising" because it "reflects a more changeable cohort".
For maths, the proportion of the 154,023 post-16 students achieving a grade 4 – equivalent to a C in the old system – in 2023 is 16.4 per cent. The pass rate for 2022 was 20.1 per cent, and in 2019 it was 21.2 per cent.
There was no major difference in the GCSE maths resit pass rate by gender: it was 16.4 per cent for females and 16.3 per cent for males.
In English, the proportion of the 117,155 post-16 students achieving a grade 4 in 2023 is 25.9 per cent. The pass rate for 2022 was 28.4 per cent, and in 2019 it was 30.3 per cent.
The gender gap in pass rates was more noticeable in English: 31.3 per cent of female resit students achieved a pass while 22.1 per cent of males did the same.
Catherine Sezen, director of education policy at the Association of Colleges, said: "English and maths resits present a complex picture.
"A larger resit cohort this year means that although overall percentage achievement has fallen, the number of students achieving a GCSE in English and maths post 16 has increased on 2022; colleges should be proud that 55,000 students have achieved a grade 4+ in English or maths as a result of post-16 study in summer 2023."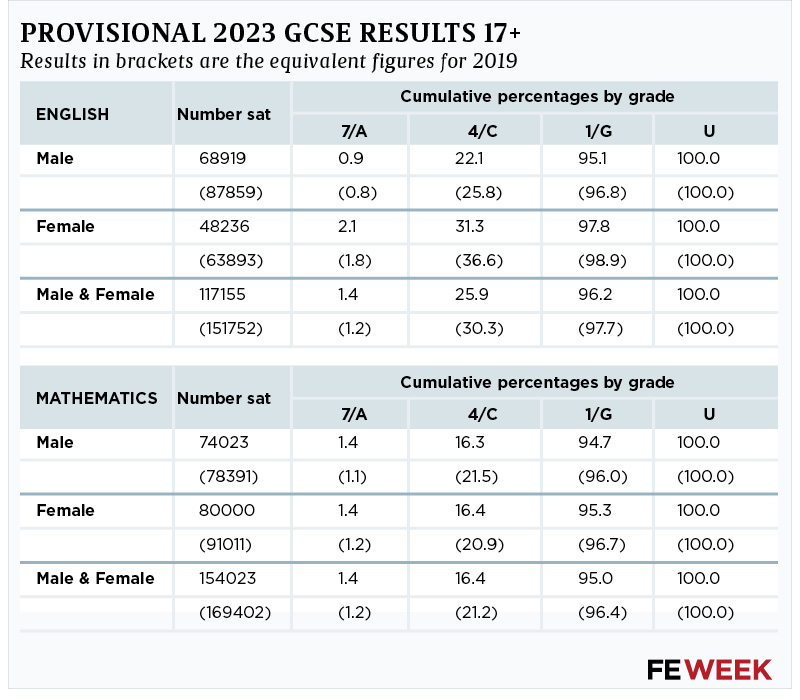 More resits will put pressure on 'stretched' post-16
Education experts have warned more young people will have to resit English and Maths in post-16 education next year, because of the overall fall in GCSE grading.
FE Week analysis estimates that 38,000 more students will have to continue studying English compared to last year after failing to achieve a 4 or above. This is a 28.6 per cent rise – above the 3.3 per cent rise in entries both subjects.
Nearly 22,000 students will have to continue maths compared to 2022 – a 14.9 per cent rise.
Professor Becky Francis, chief executive of the Education Endowment Foundation, said the post-16 sector is "stretched" and "as things stand, many are unlikely to achieve a pass even through resits.
"This has serious implications for individual students' life chances. It is likely that those from socio-economically disadvantaged backgrounds will be most affected, so the attainment gap must be carefully monitored, and support targeted towards pupils in greatest need of it."
Sezen added: "The growth in the year 11 cohort, combined with a fall in 4+ achievement mean that we estimate there will be considerable additional demand for post-16 English and maths resits at a time when colleges are facing staff recruitment challenges."
But Ofqual chief regulator Jo Saxton told FE Week that college principals will be "delighted" with more resit students.
She said: "From conversations that I have with leaders in FE, lots of them found it really difficult in the pandemic years where they didn't get the intake that they would normally get. So certainly, my experience on the ground is that principals are delighted to have more students. I don't think that that's something that they see as a problem."
'Dispiriting cycle of resits must end'
Introduced in 2014, the government's resits policy forces students who have not achieved a pass in English and/or maths GCSE by age 16 to continue to work towards achieving these qualificationsas a condition of their places being funded.
Students who achieve a grade 3 have to retake their GCSE, while students with a grade 2 or below can either take a functional skills level 2 or resit their GCSE.
Today's results have reignited calls for this controversial policy to be reconsidered.
Sarah Hannafin, head of policy at the National Association of Head Teachers, said: "Students who need to continue their learning in maths and English post-16 should not be forced into repeated resits which can lead them to feel disillusioned and disengaged.
"They should be able to take the qualification which they and their school or college deem most appropriate, be that a GCSE, or a functional skills or other relevant qualification – enabling them to move forward with their education, training or employment."