The government has paused starts on 18 of the 78 apprenticeships that have no approved end-point assessment organisation.
Banners have been placed on the Institute for Apprenticeships and Technical Education's web page for each standard the new rule applies to, which are mostly unused apprenticeships including assistant puppet maker, historic environment advisor, and storyboard artist.
The apprenticeships quango claimed there are "no apprentices currently on programme" for those that are subject to the pause.
However, Department for Education data shows there were 10 starts on the 18-month specialist rescue operative standard in the first three quarters of 2022/23, and some on the 24-month knitted product manufacturing technician apprenticeship.
IfATE did not respond to requests for comment about what happened to those apprentices at the time of going to press.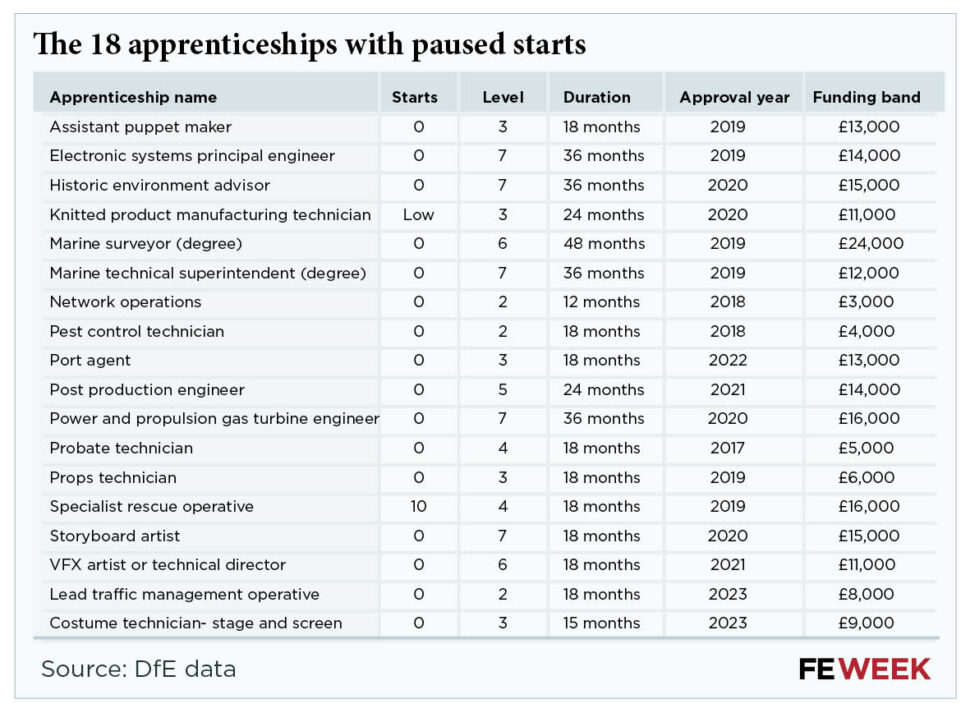 It is also not clear why the institute has not paused starts on all apprenticeships that do not have an EPAO in place yet.
FE Week analysis of DfE data shows there are 78 standards approved for delivery with no organisation in place to do their end-point assessment, several of which have apprentices on programme (see table below). Twenty eight of those 78 do, however, have an EPAO in place "in principle".
'Special dispensations' for affected apprenticeships
A previous FE Week investigation warned that scores apprenticeships were launched without an EPAO signed up to deliver their end-point assessment when standards – the replacement to old-style frameworks – got off the ground in 2014.
We exposed cases where apprentices had to wait more than a year for an organisation to test them and others who missed out on a pay rise because there was no EPA ready for them.
It led to the government announcing in 2019 that it would only fund starts on apprenticeship standards that do not have an approved EPAO if the training provider has an "in principle" commitment from one applying for approval.
The IfATE's "quality strategy", also published in 2019, states that employers should have access to at least one EPAO before apprentices start their programme.
IfATE told FE Week today that if there was ever such a situation now where an apprentice got to the end of their programme without an EPAO in place, it would work "at pace" to put alternative arrangements, such as the "special dispensations" offered during the Covid pandemic, in place.
A spokesperson said: "Where a temporary dispensation is required, our policy is to stay as close to the original EPA as possible, acknowledging that some changes may be necessary to support apprentices to complete. Arrangements would be discussed and agreed with employers to make sure the EPA still holds their confidence as a measure of occupational competence."
IfATE suggested the trouble with attracting EPAOs to the apprenticeships in question reflects the situation with starts – there is no appetite for them.
A statement about today's announcement on the institute's website said: "IfATE and DfE are moving to a position where apprentices should only start on an apprenticeship where an EPAO is confirmed.
"It follows our commitment to improving the quality of end-point assessments and securing the best experiences and outcomes for apprentices.
"This will require starts to be paused on a limited number of apprenticeships with no EPAO in place, and no apprentices currently on the programmes.
"It means apprentices will not be able to begin on them until an EPAO is found."
(Click to enlarge image below)