Another highly profitable training provider has suddenly gone bust in mysterious circumstances, leaving hundreds of learners on the hook for thousands of pounds of student debt.
John Frank Training, a London-based provider with a satellite office in Preston, went into liquidation on November 30, leaving no assets, despite recording a profit of £1.3 million in the first half of 2016.
The Skills Funding Agency is now investigating the circumstances of the firm's sudden collapse – but its former learners are struggling to claw back their loans cash.
These students took out loans to pay for their training, but never actually saw the money, as loans money gets paid directly to the provider. In this case it was JFT, which went bust with a loans black hole of nearly half a million pounds.
The SFA is currently refusing to write off their debts, even though they won't get the training through JFT.
The provider, run by its owner John Frank, used the government's advanced learner loan scheme to deliver and subcontract courses in areas such as IT and health and fitness, and had been allocated £10 million in loans facilities over the last two years.
Of this, £6.4 million was paid for around 2,200 learners to complete their training with the provider.
However, up to another £464,000 of SFA funding is thought to be effectively missing, which FE Week understands should have covered another 500 learners who are yet to complete their training – and may not now get the chance.
One of the learners who has been left out of pocket approached FE Week alleging the government had been "negligent and incompetent" in the aftermath of JFT's demise.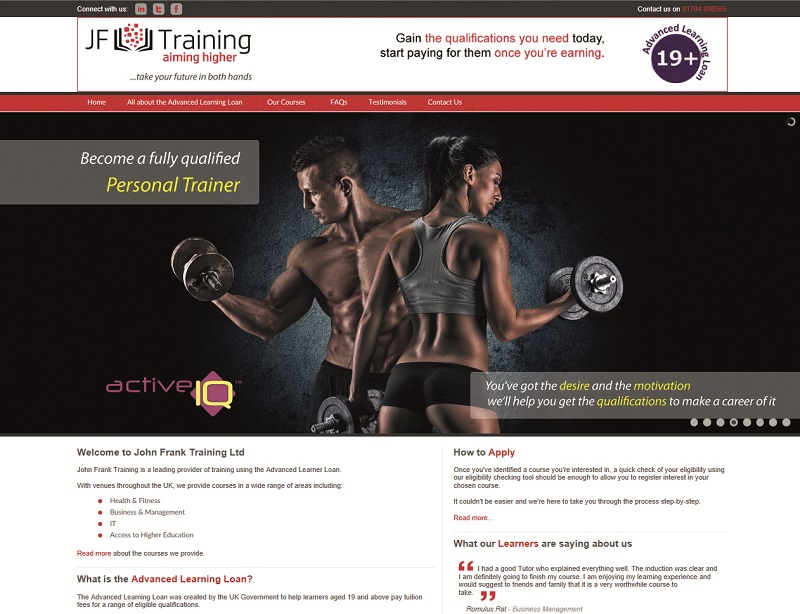 "I've emailed the SFA three times and got no response and the loan company haven't been helpful," she said. "They finally emailed me on December 22 to say transfer your loan to a new provider. I've tried to do this but you can't transfer if you have already started a programme."
She added that the responsibility lies with the SFA, and asked "surely I should be refunded or transferred? It isn't my fault he closed down overnight".
The learner claimed that up to 500 students had been left in a similar position: expected to pay back loans for courses they can't now complete.
FE Week was told that the affected students will not be able to cancel the loans, but if they are able to transfer to another provider, their training would be paid for.
It is understood that accounts presented to the provider's meeting of creditors showed that JFT made a profit of £1.3 million between January and August last year, a period of good business. Just a few months later, in November, the company was wound up.
This is the second loan provider to wind up leaving large numbers of students out of pocket in recent months. In September, FE Week reported on the demise of a complex web of training providers owned by Paul Alekna, who left creditors looking to recover more than £3 million of assets.
A spokesperson for the SFA, which is among JFT's creditors, owed around £42,000, said it was "looking into" the issues with JFT.
"Our priority is to help ensure learners can continue with their courses with minimal disruption, and we are actively working to identify suitable alternative training providers or colleges with whom learners can complete their studies," she said.
"The Student Loans Company has already written to all affected advanced learner loans-funded learners. Any learner with questions or concerns should contact us at SFA advanced learner loans."
The Student Loans Company declined to comment on the matter, other than to say "it is the role of the SFA to regulate and authorise providers".
Lee Morris of Marshall Peters, the liquidator, said: "As liquidator, we have a duty to investigate issues with transactions and to identify whether there were antecedent transactions which can be clawed back into the estate for the benefit of creditors. I cannot tell you where that investigation is up to, because it could jeopardise future outcomes."
A number of other providers who used JFT as a subcontractor, as well as awarding organisations and other creditors, have confirmed to FE Week that they have launched internal investigations of their own into their dealings with the provider [see box outs].
JFT's former operations consultant, Craig Hughes, spoke to FE Week about the company's downfall and said he believed "over 500" learners were affected.
He said the set-up at JFT had been a "very closed-up shop", and alleged that John Frank dealt with all of the finances himself.
After JFT went bust, Mr Hughes said he wanted to distance himself from the company "as much as possible" because it was "an awful situation".
Mr Frank is understood to spend much of his time in the south of Spain, where it is believed he bought a house last summer.
FE Week has made repeated attempts to contact him without success.
However, a former employee said he had passed on our enquires and that Mr Frank had told him that he did not wish to comment.
The SFA has previously recognised they have a problem overseeing loans funded provision, particularly where much of it is subcontracted.
Since August, the SFA has banned new subcontracting contracts for advanced learner loans, with a complete ban coming into force from August 2017.
In addition, growth requests for advanced learner loans were paused in September last year, while in November the SFA introduced caps for how much loan money can be allocated to a provider.
For example if an approved loans facility is £500,000 or less, a maximum growth limit of £250,000 will apply.
ALL ABOUT JOHN FRANK TRAINING AND THE MAN IN CHARGE
As well as being a sole director of JFT, John Frank was also appointed a director of Anydriver School of Motoring Limited on July 23, 2012, though that company is also now dissolved.
JFT was founded in December 2011 and had a registered office in Preston, according to Companies House.
It was a major provider of training, with an SFA advanced learner loan facility – some of which was subcontracted – of £4,329,224 in 2015/16 and £5,000,790 in 2016/17.
According to the SFA register JFT were also a subcontractor for apprenticeships and traineeships across four providers, with contracts totalling over £700,000.
Clive Morris, from the firm Marshall Peters, was appointed as the company liquidator for voluntary winding up last November.
FE Week understands that John Frank is currently living in Liverpool with his family, but that he is often to be found at his property in Marbella, Spain.
LEAD PROVIDERS
JFT was a named subcontractor for four lead providers, according to the latest Skills Funding Agency list of declared subcontractors, from July 2016.
The largest contract was for £260,000 with Softmist Limited, a training procurement consultancy specialising in government-funded work-based training, which trades under the name Skillspoint. It was acquired by national outsourcing organisation Staffline Group in 2014.
In a statement, the director of Softmist told FE Week: "We have launched an internal investigation on this matter."
Summerhouse Equestrian and Training Centre LLP had a £216,000 contract, and confirmed to FE Week that JFT was their subcontractor for apprenticeship and traineeship provision, but not advanced learner loans.
Peter Thompson, its development and operations director, said: "Our first priority is always to protect the learners.
"Summerhouse has worked with the affected learners, their employers and two other training organisations to, where possible, transfer the programmes to another provider to ensure learners are not disadvantaged."
Ixion Holdings Limited, a not-for-profit group of companies that is a subsidiary of Anglia Ruskin University, had a contract worth £144,441 with JFT, and gave it an award for 'outstanding subcontractor' in 2015.
Chief operating officer (skills, employment and enterprise) Jacqueline Oughton told FE Week: "John Frank did not have a contract in 2016/17 with Ixion Holdings." She declined to comment on past contracts.
Rochdale Training Association, a company which provides lifelong learning, development and business support services, had a contract with JFT worth £121,000 last July.
But a spokesperson said this week it only had four students with JFT at the time of liquidation.
Chief executive Jill Nagy declined to comment because "we have such little dealing".

CREDITORS
At its liquidation JFT owed £373,064 to 41 creditors, according to a statement of company affairs uploaded to Companies House last December.
This ranged from £200 owed to City and Guilds, to £67,830 to Ruby Elite Training, which specialises in personal training qualifications.
The creditors also included government bodies, with a sum of £42,888 owed to the Skills Funding Agency, £2,500 to HM Revenue & Customs in VAT, and £10,000 for PAYE.
A training provider named 360 GSP, which is located in Wembley, London, and which specialises in information technology, is owed £40,460 and a spokesperson told FE Week about its experience, saying: "Sadly, this is correct and John Frank Training left many learners in a position without a learning provider.
"We have continued to provide training to the John Frank learners to allow them to complete their courses, as we felt that it was not right to leave the learners high and dry."
The spokesperson said JFT sudden end came as "a shock", but 360 GSP has been working with the SFA to provide "alternative arrangements" for learners, and it hopes to "finalise this shortly".
"We did not sub-contract with John Frank Training, we were a delivery partner responsible for providing training to the learners and we too were negatively affected by John Frank Training going into liquidation," they said.
A spokesperson for the liquidators confirmed that it is investigating whether any transactions took place before JFT folded, which could give cause for cash for the creditors to be "clawed back".
AWARDING ORGANISATIONS
A number of awarding organisations were also listed on JFT's website.
A spokesperson for NCFE said: "JFT is a centre that was approved under our normal approval process to deliver several of our qualifications.
"It did not register any learners on any of the NCFE qualifications it was approved to deliver.
"We are aware of the allegations that have been made against this centre.
"In such circumstances, where there may be an impact on learners, we follow our routine investigations procedure.
"We have now invoked this procedure and are taking all the appropriate action."
Pearson, which is also a creditor of JFT to the tune of £4,304, told FE Week that it was looking into the dissolved company.
"Pearson monitors the quality of all the centres we work with through a rigorous and published process," said its spokesperson.
"We are currently looking into concerns about this centre so cannot comment further on this case."
He added that Pearson would "do all we can to support learners in finding a suitable alternative centre to complete their qualifications".
Active IQ told FE Week: "We have assisted separate training providers in supporting some affected learners who have managed to complete their studies elsewhere.
"To date we have had no response from repeated attempts at communicating directly with John Frank Training Ltd and approval was withdrawn from this centre at the end of November 2016 as a result of lack of response."
A spokesperson for the YMCA said: "We approved them as a centre a few years back but they've never registered a single learner with us and we removed them from our provider list last November. We're now in the process of updating our website."