Two years on, the sector's 'centres for excellence' in special educational needs will be joined by mini-hubs. Jess Staufenberg looks at how the model is working so far
Almost two years ago, the government announced that three "Centres for Excellence" in special educational needs and disabilities would be spreading best practice and expertise around the further education sector.  
This week, the three colleges representing each centre officially start their third year. So what have they achieved so far? FE Week can reveal what they've been up to, with what resources – and how a drop in funding has come at the same time as a planned expansion of the model. 
In June 2019, Derby College in the East Midlands, Weston College in the south-west and City College Norwich in the east of England won contracts to become the centres for excellence.
They were to get a slice of £1.2 million every year via the Education and Training Foundation, as part of the ETF's wider "SEND workforce development" programme. 
The need for sharing expertise was real then and continues to be now. There are 200,000 students in general FE colleges with a learning difficulty or disability, or about one in five students. Of those, only around 65,000 have Education, Health and Care Plans.
This means that mainstream colleges don't get extra funding for most students, and finding that support from somewhere else is crucial.   
"We noticed we couldn't always get leaders to engage with SEND provision because they had so many other pressing priorities," says Teresa Carroll, head of inclusion at the ETF.
"So we really wanted to address that with the centres. The majority of learners also haven't got plans, so it was about using that resource really well."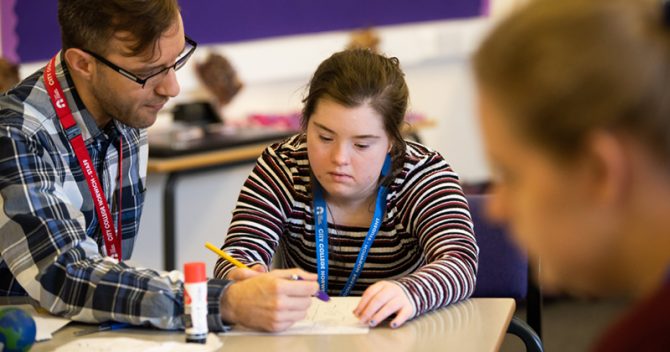 'Community, curriculum, people'
City College Norwich got the focus of "community", which largely means engaging employers. Derby College got "curriculum", with a focus on inclusive learning pathways, and Weston College got "people", with a focus on staff development.  
Each centre has a "strategic leadership" focus on supporting CEOs and senior leaders, as well as a "community of practice" focus on webinars, resources and support for practitioners.
In the first year, the centres were supposed to reach 45 leaders and 360 practitioners, but the ETF says an additional 400 people were reached.
In the second year, the centres were asked to reach 90 leaders and 360 practitioners, and this time an additional 2,500 people were engaged with, says the ETF. The targets are even higher for 2021-22.
In its first year, Weston College worked with 30 leaders on putting SEND at the heart of college strategy through one-to-one conversations with their own CEO.
"I will sit down with the leader, and ask what's on your shopping list? Then we will jigsaw together what's needed," says chief executive Paul Phillips.
In 2013, his college was recognised for its 'outstanding' SEND provision by Ofsted, and in particular for the "independent, enriched" lives his learners led as a result of the college's approach. Phillips has also visited 19 prisons in the past two years to help with SEND provision.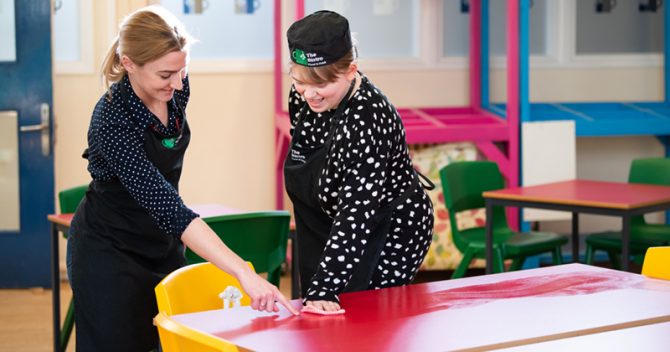 Meanwhile, 1,000 participants joined the college's "community of practice" conferences in the first year, focused on staff development. Participants are also invited to a "day in the life of Weston College" to look at its autism residential training facility and sensory base.
"People want to see it in practice," explains Phillips. Sam Mayhew, head of inclusion at the college, says: "You're giving both practical and operational ways for practitioners to work, and then supporting leaders about the strategic direction too."  
Meanwhile at Derby College, director of inclusion Sarah Le-Good and her principal, Mandie Stravino, have booked in senior leaders from other colleges for weekly sessions. Follow-up sessions with Le-Good are then offered half-termly or monthly.
For six colleges in need of significantly more support, the team has run "full two-day reviews" to help identify issues and a comprehensive strategy forward.
Overall, 60 leaders have been supported. Training has also been offered in topics such as "compassionate agitation", which Le-Good describes as learning how to "ask compassionate, difficult questions" around the SEND provision on offer in a college. 
City College Norwich has similarly engaged with leaders through one-to-one sessions with principal Corrienne Peasgood. They have been particularly interested in the college's employability focus, she says.
Paula Ottaway heads up the college's MINT Centre, which "is like an employment agency, where each young person is allocated a job coach. They've built up relationships with hundreds of employers over the years."
The results speak for themselves: during lockdown, the college managed to get 40 young people with SEND into employment. Nationally, only six per cent people with a learning disability are in work.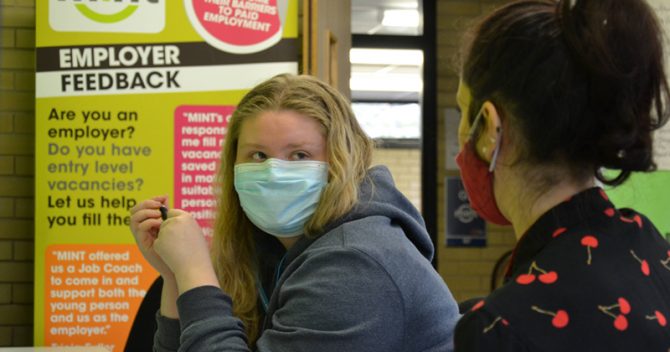 'Employability spokes'
It is this employability focus that the DfE now wants replicated, FE Week can reveal.  
As the pandemic has laid waste to job opportunities for young people – particularly those with SEND – the ETF is tendering for six new providers to come on board, as mini-hubs for best practice around engaging with employers. The ETF are calling these providers "spokes" to the three centres. 
"We want those spokes in the regions where the centres aren't," says Carroll. The smaller amount of cash reflects the narrower focus: "This is a very particular piece of work around engaging employers." 
The invitation to tender goes out on May 21 and there will be £30,000 up for grabs to each provider, who will need to be Ofsted grade 2 or above and working in the north-west, north-east, Yorkshire and the Humber, West Midlands, London or the south-east.
Each will need a strong track record of securing employment for SEND learners and, alongside an employer, must deliver at least three joint activities to 150 participants. They will also be expected to run face-to-face activities in the region, online activities nationally, and hit all targets by March next year.  
'Drop in funding'
But even as it expands the model and raises targets, the DfE is not providing more money to the ETF for 2021-22. Instead the money has dropped, FE Week can reveal.  
Whereas £1.2 million was provided in 2019-20 and 2020-21, this financial year the funding is about £1.18 million, says Carroll.  
And that money does not all go to the centres: "over 80 per cent" goes directly to the three colleges each year, with the rest going on the ETF's SEND workforce development, says Carroll. FE Week has roughly calculated that, if split evenly, this should amount to £320,000 per centre per year.  
The ETF says this is a "reasonable calculation", but refused to say exactly how much each centre receives yearly. The amounts will have "slightly differed between the centres, depending on their programmes of work", they add. 
The remainder of the cash goes to the ETF's other SEND workforce activities, such as delivering courses and developing new resources, and also on an external evaluator of the programme, RINA, whose services cost around £16,000.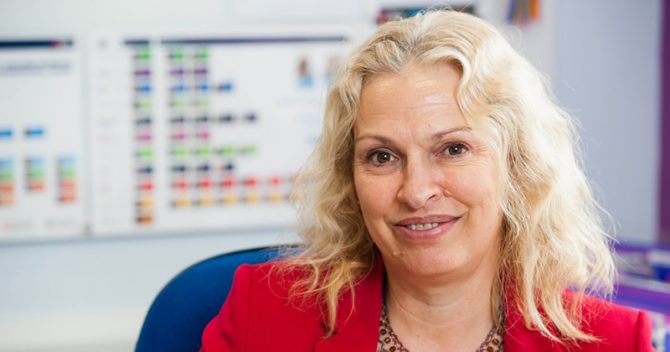 The centres for excellence have noticed the funding drop. Phillips says the funding is "not so good this year" and the college has done "a lot of supplementing" from its other funding pots.
Peasgood says the funding "went up a bit, then down a bit" while Le-Good says, "The targets are higher this year, and we are having to do it with significantly less income". Phillips adds that "the funding isn't proportional to the targets".  
Targets have risen steeply: for this coming year, 200 senior leaders and 3,000 practitioners must be reached. Le-Good explains that last year her target was to engage with 150 practitioners, but her college engaged 1,000, so that is this year's target.
In a way it shows colleges are already managing some of the higher targets. But on less money it's a tougher ask. It means that Derby College, for instance, will no longer be able to offer its two-day full review.  
The other question is, are these the right targets? The number of staff engaged surely isn't the end goal: why not better learner outcomes, or at least better Ofsted comments?
"We don't really want to have hard targets, but we do want to see changes," says Carroll. "We want to see more and more providers being recognised for their inclusive practice."   
Yet the centres are clear the real challenge lies in knitting-up all services – not just theirs.
"It's about transition in and transition out," says Peasgood. "How does this link to schools, and then adult services and employment? You can improve the middle bit, but if the transition isn't improved, then we're a bit of an island."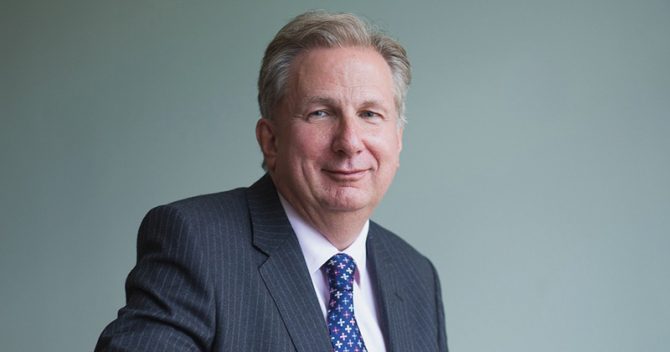 It's a valid comment. All three colleges sit in local authorities that have been blasted under "local area SEND inspections" by Ofsted and the Care Quality Commission.
Phrases like "no coordinated response", "long waiting times for diagnosis", "poor access to services" and "lack of confidence among parents" make the reports for North Somerset Council, Derby City Council and Norfolk County Council damning reading. 
All eyes are on the government's long-delayed SEND review, expected in June. Huge system issues with SEND provision clearly continue to rage on, largely unresolved.  
If the government wants a system-led solution, Clare Howard, chief executive at Natspec, has a suggestion. Her organisation, which represents the 115 specialist FE providers for learners with SEND, would like to set up centres for excellence out of its membership network too.
"We want to run an equivalent to these centres for more complex needs, to provide the kind of training that is not happening locally. Mainstream colleges, schools and other providers are lacking this kind of expert support".   
The SEND centres have done much to support and upskill leaders and lecturers. Adequate funding, more expert partners, and a less embattled wider context would now allow them to really fly.