Thousands of apprentices on a new level 5 management programme have already dropped out of the course, official figures have revealed.
The operations or departmental manager standard had a retention rate of just 53.5 per cent last year for 4,250 "leavers".
That means 1,980 apprentices – 47 per cent – who were due to finish between August 2019 and July 2020 did not complete their course.
The management standard has been one of the top 10 most popular apprenticeships at all levels and sectors in England for the past two and a half years, with 5,542 starts in the first six months of 2020/21 alone.
In 2019/20, it secured 10,052 starts, making it the fifth most popular apprenticeship that year; and in 2018/19, it saw 10,466 starts, and placed seventh.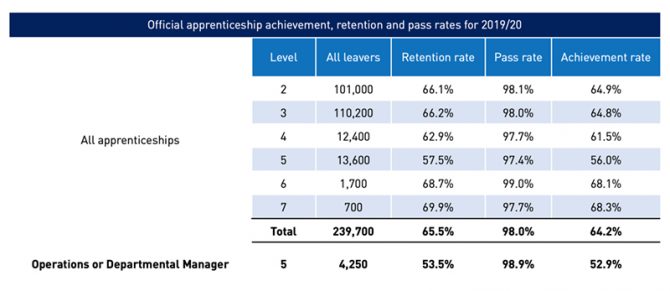 The maximum funding band for the course was cut from £9,000 to £7,000 for starts from March 4, 2019.
The Department for Education does not publish funding values, but it is likely that around £10 million was spent on these nearly 2,000 apprentices who did not finish the course.
The achievement rate on the standard that year was also only 52.9 per cent.
Retention rates on all level 5 apprenticeships overall have been dropping year after year: in 2017/18, the level recorded a 64.8 per cent rate; then in 2018/19, the rate was 61.1; and in 2019/20, it was 57.5 per cent.
Government repeatedly warned about management apprenticeships
The findings come just days after skills minister Gillian Keegan told delegates at FE Week's Annual Apprenticeship Conference she had ordered an investigation into the "astonishing" drop-out rate for apprenticeship standards.
Official government data published last month showed that just 60.2 per cent of apprentices training on new-style standards stayed on their programme until the end in 2019/20, compared to 48.3 per cent the year before.
The retention rate on the old-style frameworks has stayed consistent at 69 per cent.
The DfE has made a policy not to share provider-level data for last year, publicly, or even with Ofsted, citing as its reason the disruption caused by Covid-19 to the apprenticeship delivery.
FE Week has long warned that management apprenticeships would come to dominate the sector following the introduction of the levy and other reforms since 2017.
Even before the reforms, this newspaper published an investigation into "The unstoppable rise of management apprenticeships" in 2016, after it became the third most popular apprenticeship subject.
Since then, a number of prominent sector figures have expressed their own concerns about the rise in management training as apprenticeships.
Ofsted chief inspector Amanda Spielman warned in 2018 graduate schemes were "in essence being rebadged as apprenticeships".
In 2019, the National Audit Office reported levy-payers "are replacing their professional development programmes – for example, graduate training schemes in accountancy or advanced courses in management – with apprenticeships".
The move to publicly funding management courses has been defended by Institute for Apprenticeships and Technical Education chief executive Jennifer Coupland, who said in January 2020 that the practice was "perfectly legitimate".