Pearson is in danger of having its contract with the Skills Funding Agency (SFA) terminated after Ofsted slammed its apprenticeship provision.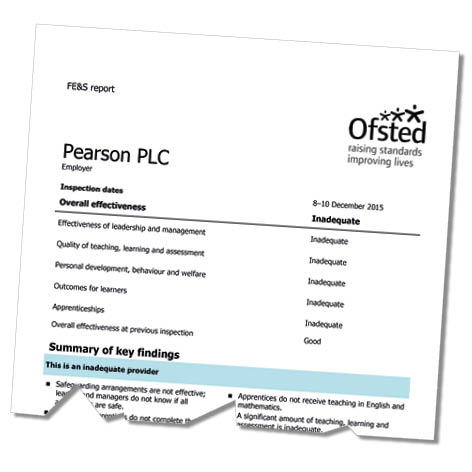 The global education business, which provides apprenticeships for around 80 members of staff through its subcontractor Pearson TQ, has dropped two grades to be ranked "inadequate" across the board by the education watchdog.
In their damning report, published Wednesday (January 27), the inspection team said they had "found no key strengths".
"Senior leaders have allowed the quality of the provision to decline significantly since the last inspection," the report said.
"Too many apprentices drop out of learning or do not make sufficient progress to complete their programmes within the agreed timescale," it said, with the result that "too many apprentices do not complete their programmes successfully".
A Pearson spokesperson said the subcontractor, Pearson TQ, had started implementing an action plan after taking over the service in summer 2015.
"We take this report very seriously and are making further improvements in our programme so that our apprentices receive the highest possible standard of learning and support.
"We are disappointed with this report and will be challenging some of the comments, which we feel do not accurately reflect the improvements that have already been made since Pearson TQ took over management of the service."
The SFA said: "We are currently considering the recently published Ofsted report in line with our approach to intervention."