More than 120 people attended the official launch of a new Centre for Post-14 Education and Work by the UCL Institute of Education.
The event at the Institute in London, on Wednesday, featured a speech by Andy Wilson, principal of Westminster Kingsway College, who told guests: "There are so many issues for FE at the moment where the politicians are saying that FE is a problem, but we know here tonight that we are the solution."
He told FE Week later that night: "I really hope the centre helps to prove what I said about the benefits that FE brings to so many people."
Other special guests included Neil Carmichael MP (pictured), chair of the education select committee, Martin Doel, chief executive of the Association of Colleges, and Ayub Khan, interim chief executive at the Further Education Trust for Leadership (Fetl).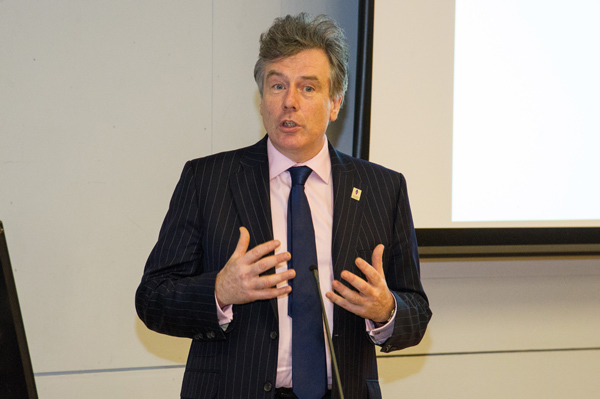 Paul Grainger, co-director of the centre, told FE Week: "I'm absolutely delighted with the support we've been shown tonight.
"There are at least 120 people here who have come from all over the country, with many staying overnight in hotels. It shows commitment to what we are trying to achieve."
Jo Shah, a member of the Centre, said: "It was great to see so much support for what we are doing. Hopefully the centre will make a real difference."
The centre will undertake research in a number of areas, including technical and vocational education and training, and adult skills, community and lifelong learning.
Mr Grainger said in October that it would "look at the relationship of all education to work, including vocational, academic and baccalaureate qualifications,
and adult education, to promote a more inclusive curriculum post-14 and in lifetime learning".