The chair of a group of influential MPs has slammed the government's progress on apprenticeship reform, saying he doesn't see a "hope in hell" of the target for 3m new apprenticeships by 2020 being achieved.
Speaking from the stage at FE Week's Annual Apprenticeship Conference 2016, Iain Wright (pictured), chair of the Business, Innovation and Skills Committee, said he had moved from feeling concerned about the situation, to being alarmed by the government's slow progress after George Osborne failed to finesse the details in his budget.
"I don't think we've got a hope in hell of achieving that 3m target," he said.
"I really worry about this and think we are getting to the stage where we really need to question the minister [Nick Boles]," he said.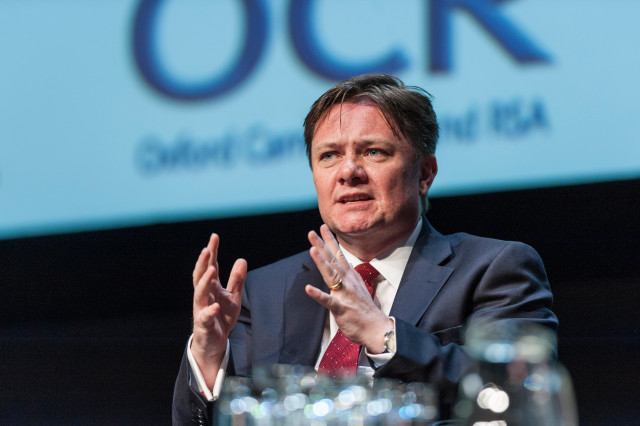 Mr Wright's speech was applauded by the audience at the Birmingham International Convention Centre as he told host Emily Maitlis of his concerns, raising the apprenticeship levy as a key area where the government's plans lacked clarity.
"I'm particularly worried that 98% of employers who are going to pay the levy — how are they going access skills funding?
"I have heard that it was all going to get sorted in the budget … the word apprenticeships didn't come from [George Osborne's] lips."
He also criticised the government's plans to make further announcements on the levy later in the year.
"Further work will be outlined in April and further details in June. They are making this up as they go along! They have announced the policy and now are frantically thinking: 'How on earth are we going to do this?'" he said.
Mr Wright said he thought the levy could end up being delayed from its planned start date in April next year.
"We want him to achieve the 3m, we want to see an improved skills workforce, but given these huge delays and the massive uncertainties that he hasn't been able to answer — are you going to delay delivery until April 2018 in order to make sure that this isn't botched, that it is put in correctly?" he asked.
Mr Wright echoed earlier comments made by Shadow Skills Minister Gordon Marsden, who said that "the devil is in the detail" when it comes to the developments in apprenticeship policy.
"There's absolutely no detail, frighteningly so close to the implementation date," he added.
"The government really needs to think what it means. To pause, reflect, and get this right."