A consultation has been launched on the government's new level 3 qualifications offer, its skills bootcamps programme and how it can "meet critical skills needs".
The consultation on the offers, all run through the £2.5 billion National Skills Fund, was originally meant to begin in the spring but was pushed back.
The Department for Education has invited providers, awarding bodies, employers, local authorities, regulators, representative bodies and the public to take part before the September 17 cut-off.
"The responses from this consultation will help shape the provision which is currently funded through National Skills Fund investment," the consultation document explains.
FE Week has pulled out the important information from the document's three sections: free level 3 qualifications for adults, skills bootcamps, and meeting critical skills needs.
Free level 3 qualifications for adults
The DfE is eager for the entitlement for a first, full, free level 3 qualification for anyone aged over 24 to "be delivered in a way that works for them, helping adults overcome barriers to accessing learning".
This section focuses on such barriers, including financial ones, and asks respondents for their thoughts on how barriers can be overcome. Perhaps through flexible start dates, breaks in learning, or weekend and evening classes, it poses.
Officials are also looking for answers to how adults can access the level 3 entitlement without that level of learning.
"We recognise that for some adults accessing the free level 3 qualifications may prove challenging as they may lack some of the prior learning or experience needed to engage in learning at level 3," the consultation document reads.
How employers can "benefit from this offer and the skills it provides" is also explored in this section.
Skills bootcamps
The new short courses in digital and technical skills are being rolled out to every region of England, following pilots across the nation last year.
Ahead of the wider introduction of bootcamps, the DfE is asking providers what they find most valuable about the courses.
It is also questioning what challenges providers face delivering them and how the courses could be changed, including by asking them for their thoughts the current 16-week maximum period for bootcamps.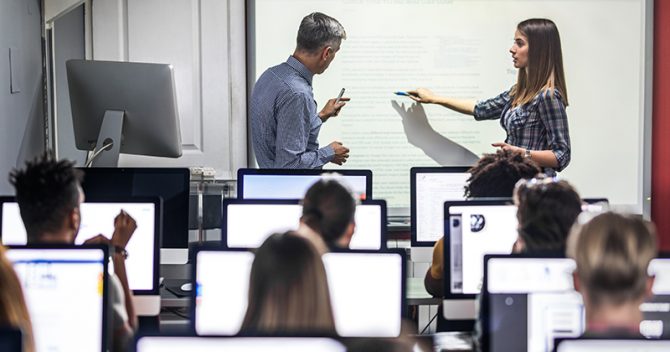 "Some further education colleges and other providers have said to us that they have held back from delivering skills bootcamps because – while they have been delivered on a smaller scale – skills bootcamps have been funded through a separate procurement process," the consultation reads.
While employers are already being asked to pay 30 per cent of course cost for training their own employees, the consultation is also seeking views on non-financial contributions employers could make.
This may include giving up space for training, providing equipment, or allowing their workers time to learn.
Additionally, "to ensure that adults can easily move onto other training or learning after completing a skills bootcamp" the consultation wants answers on how the courses can fit into progression routes.
Respondents are asked what further learning bootcamp participants should progress onto, ranging from no further learning to an apprenticeship or other further training or learning opportunities.
Meeting critical skills needs
The consultation highlights a "growing employer demand for higher technical skills which is not being met," in industries such as manufacturing and construction, on top of a shortage of STEM skills.
To meet this problem, the DfE is asking respondents for skills gaps below degree level they think will not be met now or in five years' time.
One possible solution the government is seeking views on is shorter courses lasting under 12 months in areas of emerging technologies or industries in a period of transition.
The consultation asks if there are particular sectors or occupations which short courses may help, or if short courses might help adults overcome barriers to learning.
Employers and providers are also asked if they have funded or delivered short courses.