Plans to integrate professional qualifications with apprenticeship end-point assessments could shrink the assessment organisation market and create monopolies for industry bodies, experts have warned.
The Institute for Apprenticeships and Technical Education (IfATE) launched a consultation last month on proposals to make mandatory professional qualifications and end point assessments (EPAs) work better together.
The aim is to curb the number of learners leaving their apprenticeship having secured their industry qualification but before completing their EPA, a tendency that is contributing to the 50 per cent drop-out rate in apprenticeships.
IfATE has proposed measures to include at least one part of a professional industry qualification with the EPA, having found evidence that learners were walking away from apprenticeships after securing the necessary qualification to work in the industry.
The institute reckons around 40 per cent of apprenticeships mandate at least one qualification.
Many have backed the principle of the planned changes, but some have warned of problems. One end-point assessment organisation forecast that it could shrink the market.
Jake Tween, director of apprenticeships at DSW Consulting, which has been one of two EPAOs for the insurance practitioner standard – one of those trialled with the new arrangements in 2022 – said: "There is a risk of creating monopolies. If you have qualification bodies that are EPAOs, they will become the de facto EPAOs."
At least two sources have told FE Week that some degree of "bundling" was happening in the industry, whereby EPAOs that are also industry bodies offer discounts on membership or similar benefits, which should be costed separately.
One said it has caused fears within the industry that some EPAOs will pull out, potentially leaving gaps in key sectors.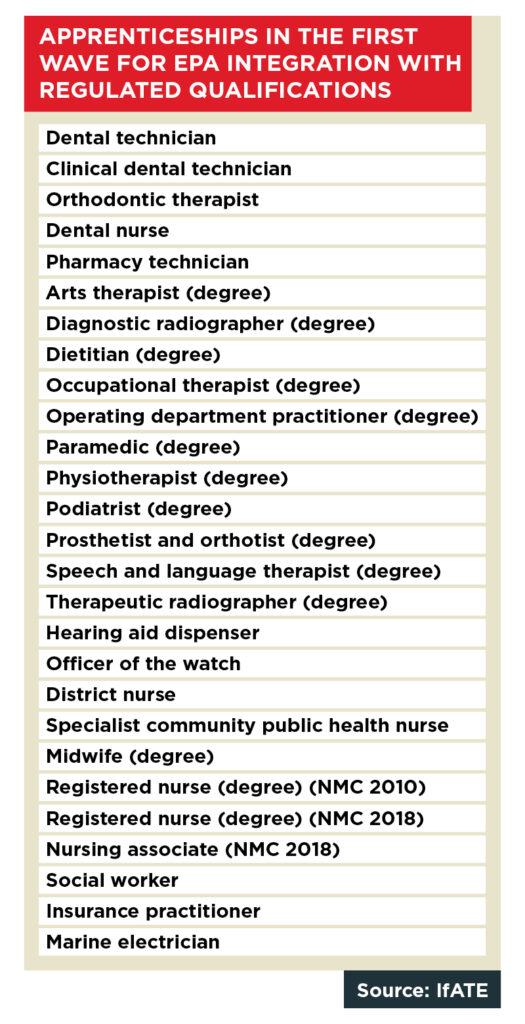 Elsewhere, Tween said communication needed to be improved so the EPAOs, training providers and employers were all aware of the rationale for which elements of the professional qualifications were included in the EPA.
He said it needed "the goodwill of the parties involved to agree how it should work" on the insurance practitioner standard last year.
In addition, he said that at least one large provider was no longer offering that standard because of the complexity of the arrangements.
Tween said "a far more elegant solution" was to leave the timings of assessments as they are but withhold certification of the professional qualification until after the EPA has been completed.
Simon Ashworth, director of policy at the Association of Employment and Learning Providers, said integrating the assessment and awarding of professional qualifications into EPAs was "a welcome step" where practical.
"Currently some apprentices and employers game the system. They get their professional qualification and leave before taking their EPA.
"That's not good for providers, EPAOs or the apprenticeship brand," he said.
But he also warned that wider concerns needed careful consideration. "Specifically the impact on availability of EPAs as not all EPAOs are awarding organisations, potentially further blurring the cost of professional memberships, end-point assessments and now on-programme qualifications, and clearly the need for providers to undertake more activity post-gateway which is not currently recognised or funded," he added.
IfATE is currently seeking the views of the industry, with its consultation closing on February 17.
Under the proposals, employer trailblazer bodies will need to submit a rationale and supporting evidence to demonstrate that a standard needs a professional qualification.
Sam Callear, IfATE deputy director for policy and new concepts, said qualifications and EPAs "haven't always worked together as well as they could".
He added: "We think we can improve the balance and relationship between the study and assessment needed to achieve these specific qualifications and the study and assessment that is needed as part of the apprenticeship."
IfATE said consultation responses would be analysed and any changes published in the spring, but stressed it will work with trailblazers to assess the best time to apply any changes if it goes ahead with the plans.
Graham Hasting-Evans, chief executive of NOCN – another EPAO for the insurance practitioner standard which has already undergone the integration – said it was a positive step and had been carried out sensibly.
"An important step in the revision of the assessment plan has been the enforcement that qualification units must not be completed before gateway," he said. "This change and integration now more formally ties the apprentice to both the EPA and the qualification."
Emily Austin, chief executive of the Association of Apprentices, also welcomed the consultation: "Anything that can be done to simplify the process and reduce the burden on learners is a good thing and could have a significant, positive impact on completion rates."
She added that it must be agile, however, as "one size does not fit all". The process also needs to be easy for employers, providers and EPAOs to navigate.