Fuelled by an 18 per cent real terms pay cut, college teachers are leaving the profession at a faster rate than other public sector occupations, a new report has found.
Economic think-tank the Institute for Fiscal Studies has also laid bare the growing gap between what teachers in colleges are paid compared to teachers in schools.
The research investigated how college teacher pay has changed in the last decade and looks at the college sector's staff turnover rate compared to other public sectors.
This comes as FE unions issued their demand for an inflation-plus pay award for the next academic year.
Unlike school teachers, college teacher pay isn't set nationally. Instead, individual colleges are free to set their own pay for teachers.
College bosses are aided by an annual recommendation on pay rises from the Association of Colleges, but it is only a recommendation.
The IFS compared those AoC pay recommendations for college teachers with pay awards granted to school teachers. They found that while school teacher pay has fallen between 5 and 13 per cent in real terms, recommended pay of college teachers has declined by 18 per cent in the last decade.
The median salary for a school teacher is now around £41,500 and for college teachers it is £34,500.
Adjusted to today's prices, school teachers were earning £48,000 in 2010 and college teachers £42,500. This proves that while teacher pay in the round has declined significantly, teachers in colleges have borne the brunt, with a 19 per cent fall in real earnings compared to 14 per cent for their school counterparts.
The gap between teacher pay in schools and colleges is well documented and has been one of the AoC's core arguments for increased funding for FE in recent years.
However that 18 per cent headline figure could mask a larger fall in college teacher pay. Using freedom of information data obtained by UCU, researchers found that in the three academic years between 2018/19 and 2020/21, a majority of colleges made pay awards at or below the AoC's recommendation.
UCU general secretary, Jo Grady, said the report highlights college leaders' "refusal" to "properly uplift pay".
She said: "The staffing crisis in our colleges is real and has been driven by over a decade of austerity which has held down pay and cut college resources.
"The sad reality, though, is that the pay cut faced by college teachers is higher than the 18 per cent cited by the IFS, with most colleges refusing to implement pay recommendations made by the employer body. In this scenario, staff are denied binding national bargaining agreements and failed by local college employers who refuse to properly uplift pay or address shocking workloads."
Meanwhile school teaching unions have been successful in securing an offer of a £1,000 one-off payment for school teachers this year and a 4.3 per cent pay rise for most school teachers in 2023/24.
Teacher turnover
College teachers are much more likely to leave the profession than other public sector occupations, the IFS found.
According to the report, 16 per cent of college teachers leave the profession each year. That figure is 10 per cent for school teachers, between 10 and 11 per cent in most NHS occupations and 7 to 8 per cent in the civil service.
Worryingly, the report finds that it's the more experienced college teachers that are most likely to leave.
The IFS reports that around a quarter of college teachers leave after one year and almost half leave after three years. In schools, 15 per cent leave after one year and around 25 per cent leave after three years.
After ten years, less than a quarter of college teachers remain in teaching, compared with over 60 per cent of school teachers.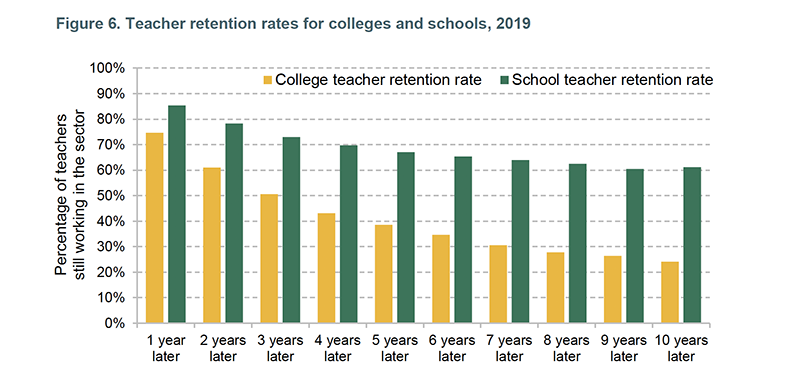 This was one of the most concerning findings according to one of the report authors.
Imran Tahir, IFS research economist and an author of the report, told FE Week: "I think this was actually one of the most shocking things we found in this research, the fact that college teachers don't stay around for long in their in their profession. Anecdotally, we'd heard that it's very difficult for college leaders to retain their staff. But I think just the level of turnover in the workforce has been what I personally have found it shocking."
Anne Murdoch, senior adviser in college leadership at the Association of School and College Leaders, said: "It is simply not sustainable to have nearly half of all teachers leaving after three years. The fact that just one quarter remain in the profession after 10 years should also be a source of great concern. Colleges need to be able to retain and develop staff with a wide range of specialist and technical skills."
The future is 'gloomy'
The report highlights that between 2010/11 and 2019/20, public spending per 16-19 year old fell by 14 per cent and spending on classroom-based adult education has halved.
Despite this, college and union leaders have to date been unsuccessful in lobbying for extra funding to close the teacher pay gap and make college teaching competitive not only with schools, but with industry. 
According to David Hughes, chief executive of the Association of Colleges, the exodus of college teachers is already causing course closures.
"This staffing crisis in colleges, means that courses are having to be withdrawn or restricted. The irony of this is profound, because fewer courses means the skills shortages in the labour market will get worse, making it even more likely that college lecturers will leave their teaching roles. The impact will be fewer trained builders, health workers and technicians and a brake on the UK's economy." Hughes said.
Pay negotiations between unions and the AoC for the 2023/24 academic year are set to begin on April 19. The National Joint Forum, made up of unions UCU, NEU, GMB and Unite, have set out their demands for a pay increase worth 15.4 per cent, which is January's inflation (RPI) figure plus two per cent.
Last year's AoC pay recommendation was for a 2.5 per cent pay rise with a £500 or £750 non-consolidated cost of living bonus.
Cost pressures on further education providers, like colleges, were ignored in the recent spring budget, so any pay awards for 2023/24 will need to be found from already stretched budgets.
Without extra support, "the immediate future for the college workforce appears gloomy" the report concludes.