Following the first national Colleges Week last October, the Association of Colleges has held a further week of activities to raise awareness of funding cuts and cost increases in the sector.
This smaller-scale campaign was boosted most visibly on Twitter, with many principles and senior leaders using the social media platform to share their passion for the sector, and students revealing the impact college education has had on their lives.
AoC chief executive David Hughes said: "The financial viability of colleges is as hard as it has ever been. This is despite the fact they are embedded within their local community and work with employers to provide solutions to people of all ages.
"If we want to achieve success, locally, regionally and nationally, we must ensure they are properly supported."
The Department for Education told FE Week that neither skills minister Anne Milton nor education secretary Damian Hinds had plans to visit any college this week as part of the campaign, but shadow education secretary Angela Rayner took part in the initiative by visiting Sheffield College.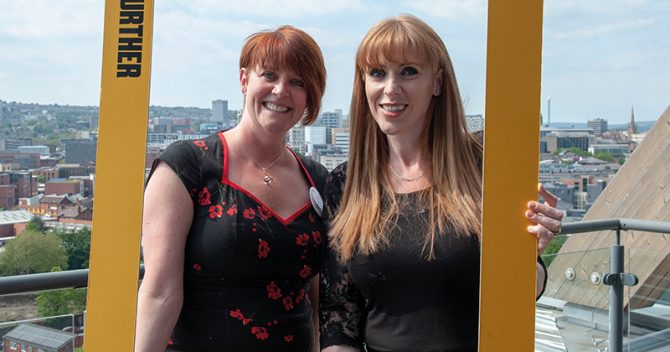 She warned that "years of cuts have created a crisis in further education", meaning that "support for students has been slashed, teaching hours are falling, staff are thousands of pounds worse off, and providers are being pushed ever closer to the brink".
A number of other events took place across the country, with deputy Mayor of London for skills Jules Pipe visiting Southwark College on Tuesday.
He toured the campus with principal Annette Cast and AoC director Mary Vine-Morris, stopping by creative arts classes and looking in on rehearsals for a Shakespeare performance.
Pipe said: "I've really enjoyed meeting staff and students today. I work on some key priorities for the Mayor, including ensuring that we have a skills system that addresses the needs of London residents. Meeting young people who are passionate about their chosen subjects and really have a sense of direction and what they can achieve is so inspiring."
Meanwhile, the Nelson and Colne College, Accrington and Rossendale College and Lancashire Adult Learning held a "Governor, Learner and Apprentice Speed-Networking Event", at which governors asked students a range of questions about life at the three colleges and whether they feel that college is preparing them for their futures.
Jesse Tuzara, a level 3 ICT student, said: "I found the networking event really useful. The governors were very friendly and approachable and they were genuinely interested and eager to know more about the students. The event also gave me a chance to express to them the skills I have developed at college, my next step and what I want to do in the future."
Also this week, 11 students at Kirklees College were invited to tour the Houses of Parliament and listen to one of the debates taking place.
Local MPs for Kirklees Tracy Brabin, Paula Sherriff, Barry Sheerman and Thelma Walker were in attendance as students quizzed them on fair funding for FE, lowering of the voting age to 16 and Brexit.
Principal Marie Gilluley said: "We were extremely lucky to be given the invitation to join our local MPs in parliament during Love Our Colleges Week. This campaign is extremely beneficial and we fully support the work that is going on by the AoC to highlight the importance of better investment in colleges."
The Love Our Colleges campaign is a partnership between the AoC, National Union of Students, Association of College and School Leaders, University and Colleges Union, Unison, GMB, TUC and National Education Union.
It is calling on the chancellor to increase the 16-to-19 funding base rate from £4,000 to £5,000 in the upcoming spending review.