Eastleigh is one of over 30 colleges that could lose millions as part of plans to end out-of-area providers subcontracting in London, FE Week can reveal.
The Greater London Authority proposal, approved by Mayor of London Sadiq Khan, will come into effect from 2021-22 – the third year of devolution of the adult education budget.
Currently, the GLA provides around £14 million of AEB grant funding to providers located further than what is considered to be a "reasonable travel-to-learn distances for London learners".
The GLA will be able to redirect funding to those providers delivering directly to London learners
Officials say the majority of this funding is subcontracted to training providers based in London who are then charged a "substantial" management fee.
"By restricting the number of out-of-London providers it grants to, the GLA will be able to redirect funding, including subcontracting management fees, to those providers delivering directly to London learners with the local knowledge and understanding to ensure it meets the needs of the local community most effectively," the GLA said.
It comes after the authority introduced the first-ever cap on management fees in subcontracting deals. From August 2019, providers with direct AEB contracts with the GLA are expected to limit the management charge to a maximum of 20 per cent of the funding.
Mark Dawe, the chief executive of the Association of Employment and Learning Providers, said his organisation "strongly supports" a reduction in top slicing and "more direct delivery is also desirable".
However, he warned this shouldn't "necessarily preclude national providers from winning contracts if they have a demonstrable presence in the area and show good knowledge of it".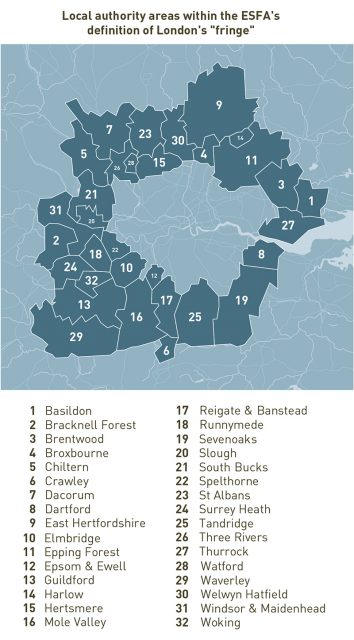 Mary Vine-Morris, the area director for London at the Association of Colleges, said the GLA's proposed policy is an "inevitable consequence of adult education budget devolution".
News of the move comes in the same week that Education and Skills Funding Agency boss Eileen Milner sent a sector-wide letter cracking down on poor subcontracting practice.
It was sent amid high-profile subcontracting scandals, the latest of which involves Brooklands College. FE Week has also previously exposed examples where management fees have risen to as much as 40 per cent.
Mirroring the GLA, Milner's letter said the government is considering placing "limits on the permitted geographical distance between a directly-funded institution and the location where subcontracted provision is delivered".
To determine which providers are within reasonable travel-to-learn distances for London learners, the GLA has adopted the ESFA's definition of London's "fringe" (see map).
For those providers based outside the fringe – typically more than 30 miles away from central London – the authority said it has notified and invited them to make a business case for why their funding should continue based on the type of provision they offer and the groups of learners they support.
FE Week analysis shows there are 33 colleges based more than 30 miles away from central London which are currently grant funded with the GLA to deliver AEB in the capital.
One of the largest college groups in the country, NCG, has its headquarters based nearly 250 miles away in Newcastle and currently holds a GLA contract worth £10.4 million.
However, two colleges in its group – Lewisham and Southwark – are located in London. A spokesperson for NCG said they have been notified that "we are recognised as a London provider".
Eastleigh College, which is based 65 miles away from central London, has a contract with the GLA totalling £3.4 million.
It has a history of high-level subcontracting, as highlighted in the latest subcontracting figures published by the government, which are for the 2016-17 academic year.
The college subcontracted to 58 providers in that year and charged a 22 per cent top-slice on average.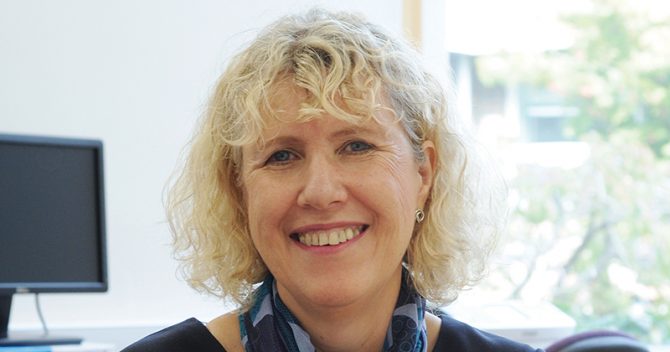 Principal Jan Edrich said Eastleigh is now "concerned about the future of the priority area provision (Functional Skills in English, maths and IT) that we have provided Londoners for many years".
"We are working closely with the GLA to understand how we can support them to achieve their objectives over the next few years," she added.
Elsewhere, Strode College has a contract with the GLA worth £379,000 this year, and is based 115 miles away from central London. It currently subcontracts all of this funding out to a provider in the capital called Yeti, which is charged a 20 per management fee.
A spokesperson said the college "agrees that the training provider should be based within 30 miles of central London, employing London quality training staff delivering to London residents".
However, the training providers the college has "partnered with, have clearly stated they prefer to focus on delivering outstanding training to their learners and rely on Strode College to efficiently manage compliance and quality for a value for money management fee".
The spokesperson added they will not be making a business case to the GLA to continue this relationship.
Derby College, based 112 miles away from central London, has a GLA contract worth £672,000 for this year. A spokesperson said the college is in "early discussions" with the authority on the impact of its grant funding plan.
East Sussex Colleges Group is based more than 50 miles away from central London and has a current GLA contract worth £383,000.
Its executive director for strategic partnerships and engagement, Dan Shelley, said the college "respects devolution decisions and will continue to work with the GLA to deliver provision that meets their identified priorities".
"To that end ESCG is seeking more information on the business case process so we can continue to deliver our programmes to disadvantaged adults in the capital," he added.
Gateshead College, based nearly 250 miles away from central London, has a contract with the GLA worth £560,000.
Its deputy principal, Chris Toon, said all of this funding is delivered directly by the college's own staff who are based at a site near the capital.
"The programmes were not subcontracted to any other organisation and given our extensive experience of directly delivering national skills programmes, we will continue to tender for work where we feel it is appropriate and in line with our expertise," he added.
A decision on those providers in scope for continued grant funding will be made by the GLA "before the end of 2019".
The move will free up a chunk of AEB funding, and the GLA has said it will consult on how best to use this as part of its next Skills for Londoners framework consultation, which will launch in February.
Options could include running a separate AEB procurement exercise or funding uplifts for certain learners and qualifications.