An "inspirational" refugee student from Salford City College has been crowned 'BTEC student of the year' at a prestigious national awards ceremony hosted by Pearson this afternoon.
The stunning Royal Horticultural Halls in London was the setting for the seventh National BTEC Awards, where 22 students, teachers and employers were singled out for excellence, from almost 1,000 applications.
The BBC television presenter and journalist, Steph McGovern, hosted the ceremony and unveiled Maryam Taher (pictured above centre) as the overall winner of the BTEC Student of the Year award.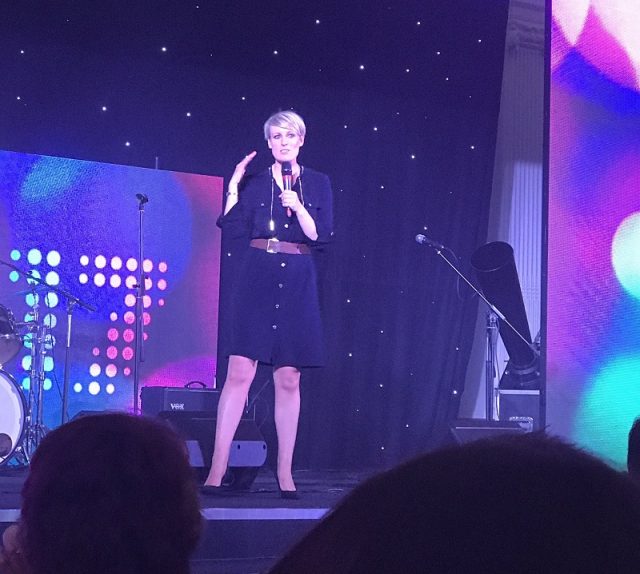 Maryam – who is originally from Iraq – studies a level three applied science extended diploma course at Salford City College, and was also named 'BTEC science student of the year' at today's event for exemplifying the "spirit of inspiration and dedication", according to judges.
Her "devotion" to biomedical science took her from her home in war torn Libya in 2011, speaking not a word of English, to Salford, where she learned both a new language and achieved six A* and A grade GCSEs.
From there, she went on to Salford City College and in addition to her studies in December 2015, Maryam was named 'Heart of Salford young volunteer of the year' for her work in raising awareness of health issues among non-English speaking communities in her local area.
The panel said that after overcoming many "economic and personal hardships", Maryam won a scholarship to study biomedical science at the University of York. On graduation, she plans to specialise in haematology, studying, diagnosing and monitoring different blood disorders.
The 21 other awards were presented by education and business leaders, including Peter Jones from BBC TV's 'Dragon's Den', who presented the award to the 'business and enterprise student of the year', Tiffany Boldand.
Meanwhile FE commissioner Richard Atkins presented the award of 'college of the year' to Bishop Burton College.
The college, based in Hull, is a specialist land-based and sports college with "impressive" student destination data. For the last academic year, 97 per cent of students went into employment or a higher level of study within six months of completing their course.
Pearson judges said Bishop Burton actively promotes BTEC as a pathway to parents and students, and that progression from one BTEC level to another is also heavily promoted through events such as the college's annual progression week.
Its links with local businesses are "superb" and every single BTEC course includes a period of work placement with an industry-relevant organisation, judges added.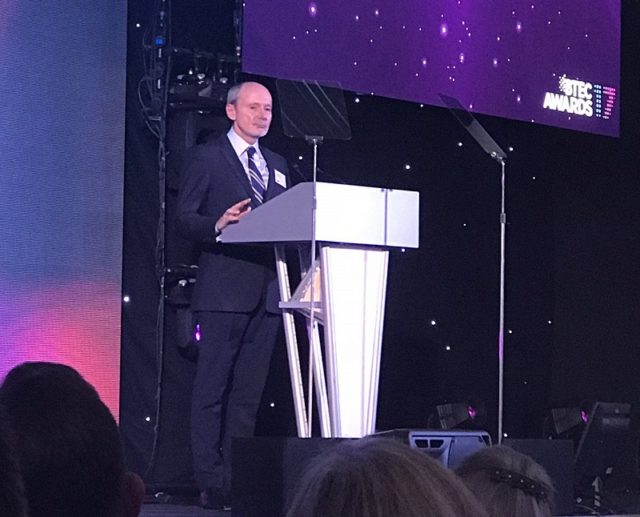 Rod Bristow, the president of Pearson in the UK, said: "BTEC provides a proven pathway, not just to a job, but to a career – whether that be directly, or via university. BTEC combines knowing with doing, practical with academic. It is the most highly regarded career-focused qualification in the world.
"The fantastic winners being celebrating at today's ceremony exemplify the dedicated students across the country who have been helped to make progress in their lives and careers through BTEC and I am delighted to congratulate them on their well-earned success."
Ms McGovern said it was an "honour" to host this year's National BTEC Awards.
"I know from personal experience how BTEC, with its mix of academic and practical learning, helps all kinds of young people to engage with the subjects that they feel passionate about in a way that works for them.
"I salute all of today's winners and entrants for the dedication and talent they have shown and wish them and all BTEC students, every success in the future."
Main image: From left: BTEC awards host Steph McGovern, overall winner Maryam Taher, and last year's overall winner Owen Woods
See table below for all of today's winners