The major recent reforms to the UK's apprenticeship system are still at a very early stage, so the talk by Keith Smith, one of the country's top skills civil servants, to the Association of Employment Learning Providers' annual conference was eagerly anticipated to say the least.
And while the director of funding and programmes at the Education and Skills Funding Agency might not have been able to answer the single burning question of the conference – what is happening with the adult education budget tender – he did give updates on many other issues, including new providers, non-compliant delivery models and the ESFA's mystery shop.
Checks and balances for new, untested providers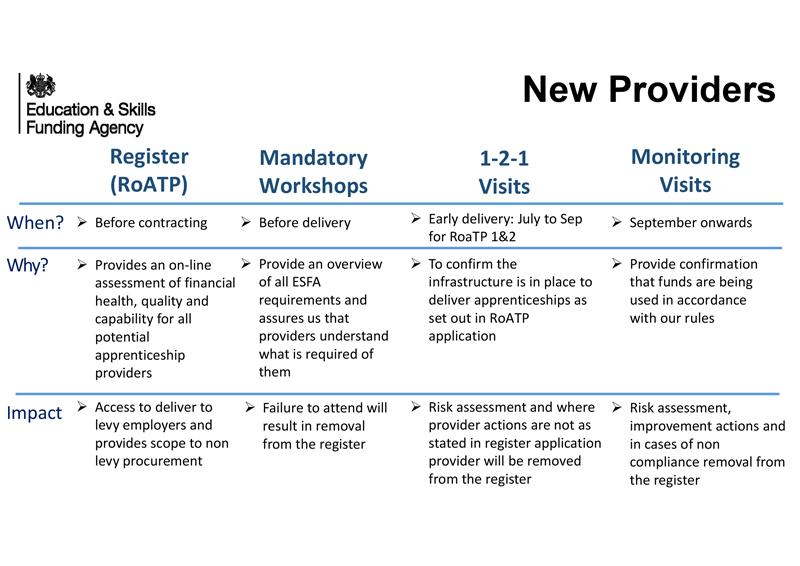 Simply getting on the apprenticeship register is not "the end of the story" for untested providers, Mr Smith said, as he outlined the steps the Education and Skills Funding Agency was taking to ensure they were up to scratch.
More than 2,200 providers are now on the register, which represents "a big increase from what we had before", he said.
He acknowledged that "often people are concerned" about such large number of untested providers – and stressed that getting onto the register was merely "the first hurdle".
All new providers must now attend mandatory training, and the penalty for non-attendance is removal from the register.
"So it's not 'come along if you fancy it'. If you don't come, you're no longer there in that delivery space," he said.
The next stage was a one-to-one visit to new providers.
"I hear lots of stories about people being worried about some of these new providers working out of their shed in their back garden or out of the living room of a property," he said.
These visits were designed to "look at these organisations and to test the things that they told us when they applied to the register – do they have all the things in place to back that up?"
Any that didn't would be removed from the register – and promptly.
"There won't be a big long process. It'll be very clearly understood what our requirements are," he stressed.
The final stage in the process would start in September, and involves risk-profiling all the new providers.
Any that are deemed to be "medium- to high-risk providers" will receive an audit visit, he added, "and then we can see how they're performing".
"These are important steps for us to make sure we support you going through the process of delivering a good-quality experience but importantly to show that the process isn't being compromised."
Consequences for non-compliant delivery models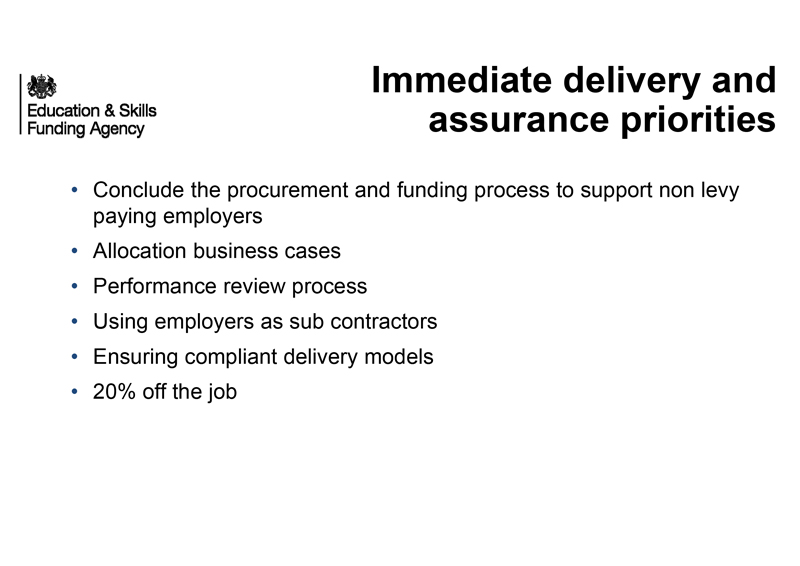 Providers using delivery models that are "contrary to the spirit" of the apprenticeship reforms – such as using employers as subcontractors "to recoup costs" – will face consequences, Mr Smith warned.
The ESFA is "starting to get increasingly concerned about some of the delivery models that we're hearing about," he admitted.
"What we don't want to see is any provider trying to make an interpretation of what we're trying to do in the wrong way, which just means that model becomes noncompliant."
Where a delivery model is non-compliant, he warned, "we will intervene – and ultimately that's going to mean that providers are removed not just from the register but potentially there'll be some wider consequences for them as well".
Using employers as subcontractors "seems to be a bit of a theme at the moment", he said.
"Some providers want to get employers involved, making them subcontractors, getting them below the £100,000 radar and trying to get money back to the employer for stuff they do already," he said.
"That's just contrary to everything we're trying to achieve here."
Mr Dawe asked him to clarify what was and wasn't permitted – as the funding rules do allow providers to subcontract to employers.
"You're absolutely right, we want employers to have a place in the system where they can be engaged and they can be supported in delivery, that's what we want," he replied.
"What we don't want to see is specifically where employers are being brought into the system, in essence to recoup costs that they would generally incur themselves anyway.
"It's really important – my plea to all of you in the room – if you've got questions or uncertainties about a particular model you're trying to get off the ground, please come and speak to us about that," he urged.
The ESFA's controversial mystery shopper ruse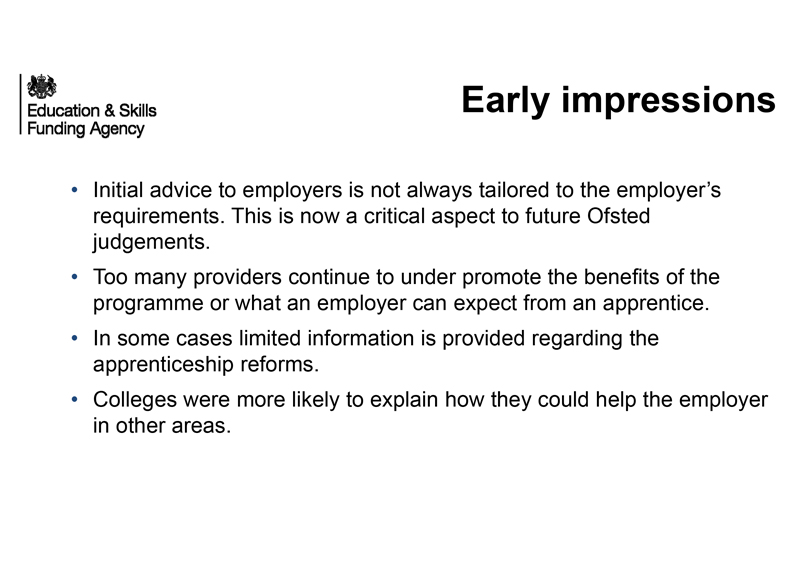 The revelation that the Education and Skills Funding Agency had been "mystery shopping" apprenticeship providers has left some feeling "a bit hurt" – but Mr Smith insisted the agency wasn't doing it to catch them out.
He admitted that staff at the agency had phoned a number of providers posing as employers, to check "how well we think the service reforms are coming through".
"We think this is really important to test how the reforms are going down and to understand what is happening in the marketplace," he explained.
Among the "very, very early impressions" emerging from the research – one which was likely to have riled providers – was the finding that "colleges are a little bit better at talking to employers about other needs and other requirements".
He claimed that this was "in some ways understandable because some of those have other budgets other than apprenticeships".
Other "key messages" included the finding providers were not doing "enough tailoring of the advice that's being given to employers", and not focusing on employers' needs "strongly enough".
Providers were also not doing "enough general promotion of apprenticeships and what employers can expect", which Mr Smith said was important "to get employers wanting to invest in more apprenticeship activity".
When Mark Dawe challenged him on the mystery shop, he explained that it was "not about trying to pull providers up for not doing the right things".
"I talked about some of the things that you can reflect on, but I'm not saying to you 'those are things that everybody's got to do better' because it's bad," he said.
"We're doing it to see if the users of our services are getting access to the right information," he said.
"We really do care that we're doing enough to support you."