An 18-year-old learner with dwarfism at the centre of a row over whether a college discriminated against him has said he wouldn't accept a place even if it was offered to him.
Louis Makepeace, who has achondroplasia and is just 3ft 10 inches tall, hit the headlines at the weekend after claiming he was turned down for a place on a hospitality and catering course at Heart of Worcestershire College because of his height.
He said the college had branded him a "health and safety risk" – claims that have led to TV appearances, stories in the national press and even a job offer from Gordon Ramsay.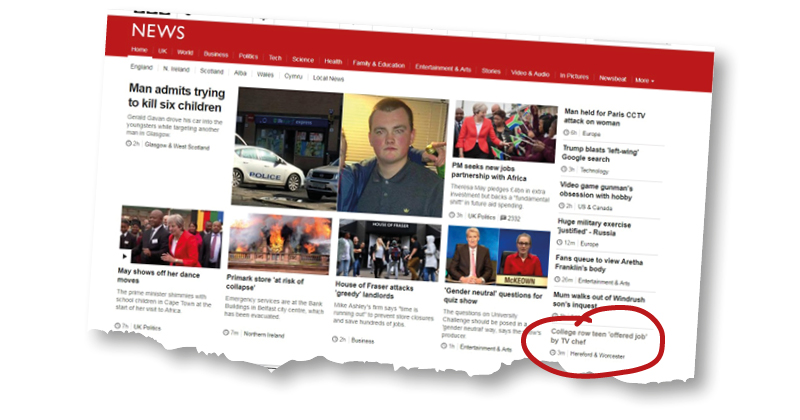 Speaking exclusively to FE Week, Louis said he'd been treated "appallingly" by the college and he would "absolutely not" accept a place if it was offered to him.
"I think it's outrageous the way they've treated me, making me wait so long just to get an answer if I could be in their kitchen or not. It's just disgraceful," he said.
The college has denied Louis' claims.
The saga started on August 16, when Louis said he went for a one-on-one interview with the course leader, following his application to the level one introduction to professional cookery course at HoW College.
"The first thing he told me in the interview room was that I'd never get any future employment if I wanted to be a chef. There was no point me going to the college and learning the trade," Louis alleged.
He said he asked about having a kitchen adapted to his needs, but was told "it would be far too much work to put in" and "it would disrupt the other students".
"I said, well, can't I just use a stool in the meantime? And he said I'd be a health and safety risk to have a stool in the kitchen," Louis told FE Week.
The interview left Louis "heartbroken".
The first thing he told me in the interview room was that I'd never get any future employment if I wanted to be a chef
"I'd never been discriminated against like that before – I didn't even think that that was acceptable.
"This is my education they're ruining. I want to be a chef, and they're stopping me from getting a chance a train," Louis told FE Week.
He said he'd been told by the course leader that he had a conditional offer of a place, subject to a health and safety check.
But he claimed he never heard back from the college – and that when his mum chased it up a few days later she was told by that course leader that Louis should look for another course.
Both Louis and his mum said that was the last contact they've had with the college.
The apparent rejection prompted the pair to go the newspapers, with his story featuring on the BBC, Daily Mail, The Sun and the Daily Star, and on ITV's This Morning show on Wednesday (August 29).
Celebrity chef Gordon Ramsay even got in on the action, with a tweet that said he would "offer him an apprenticeship any day".
Louis said he's been in talks with the TV star's agent about starting an apprenticeship with him, but hadn't yet made up his mind – in part, because he's also in talks about doing an apprenticeship at a Michelin-starred London restaurant called Pied-a-Terre.
"I'm not too sure yet, because I'm overwhelmed by the amount of support I've been given," Louis said.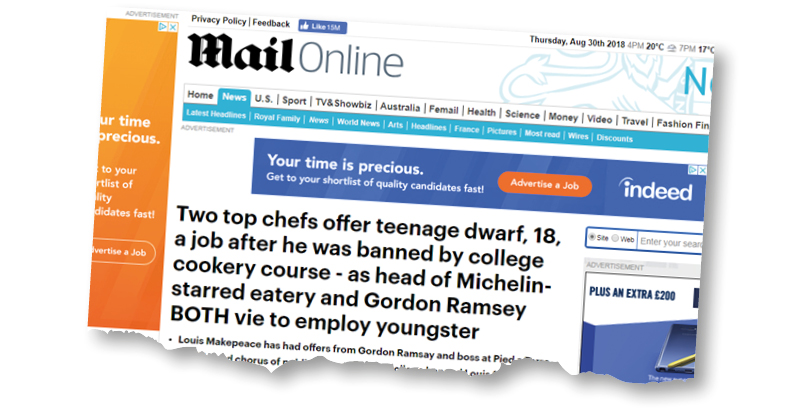 The college has refuted Louis' version of events, however.
After initially declining to comment, it released a statement on Monday denying that Louis had ever been told he didn't have a place.
It said it was carrying out a review to ensure that "all the appropriate adjustments to the kitchens that Louis needs to allow him to safely and successfully commence his course" were in place before he could be accepted onto the course.
To date, the college hasn't yet offered Louis a place, and has said it hoped to make a decision by the end of the week.
It also denied that the alleged comments were made by the course leader.
The college had attempted to make contact with Louis' mum, but had been unable to speak to her and she had not responded to messages asking her to make contact, a spokesperson said.
"To date the college has not received a complaint from either Louis or Mrs Makepeace about the interview process."
Following the recent coverage surrounding Louis Makepeace and his place on our Hospitality and Catering course, we would like to release the below statement. pic.twitter.com/l3AAxn3gcV

— HOW College (@HOW_College) August 28, 2018