Anne Milton has posted a job advert looking for an apprentice to work in her parliamentary office which excludes candidates with a GCSE grade 4, even though it is considered a pass.
The advert for a level three business and administration apprentice was published two days ago by the skills minister and states that applicants must have achieved "GCSE A-C (9-5) or equivalent in maths English and IT".
Her request for a grade 5 or above comes despite a grade 4 also being equivalent to a C and therefore a pass under the government's new GCSE grading system – which has frequently been slammed for its confusion by parents, employers and experts.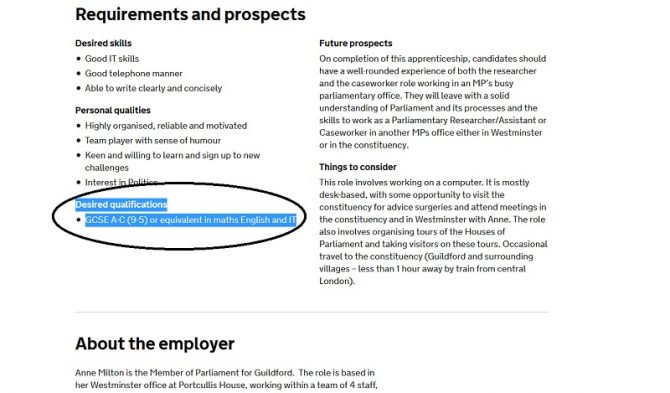 It appears that the skills minister's office is just as baffled by the system, as it was only after FE Week got in touch with the Department for Education and training provider who will offer the apprenticeship to point out the issue that they realised it was wrong.
The training manager said the advert will now be amended and the DfE added: "Minister Milton's parliamentary office are looking into how this error occurred."
Tom Sherrington, an education consultant and former headteacher, said the situation will leave Ms Milton "red-faced" and "absolutely proves that even the government doesn't understand its grading system".
"They've confused the government's idea of a 'good' pass which is a threshold for school accountability with the meaning of the qualification," he told FE Week.
"A pass is a C and a 4 is absolutely equivalent.
"If they put C is a 5 then they simply don't understand their system.
"It leaves the minister red-faced, particularly because she is responsible for a department which is responsible for communicating this system to the general public."
The new grading system was introduced by the Department for Education for all GCSEs for the first time this year.
A grade 9 and 8 is equivalent to an A*, 7 is an A, 6 is a B, and 5 and 4 are considered a C (see image below).
The government has tried to push the idea that a 5 is a "strong" pass while a 4 is a "standard" pass.
However, they've come up against resistance to this. Ofqual, for example, wrote to schools about the changes in March last year but left details of the new "standard" and "strong" passes off its aide-memoire.
After being shown Ms Milton's job advert, NUS vice president for FE Emily Chapman said: "We welcome the Department for Education amending their job specification, however the fact it needed to be raised as an issue in the first place is a further indication that the new system of grading adds confusion.
"It seems like a step in the right direction that the government wants to take on its own apprentices, but they must ensure that their application processes are adhering to their own grading boundaries and not rush through new systems that haven't been fully thought through."
The successful candidate in Ms Milton's job hunt will study at Westminster Kingsway College.
Duties include assisting her parliamentary assistant and caseworker with constituency correspondence and research, data entry and data management, and diary management.
It will also include organising constituent visits and tours of parliament, general administrative tasks and handling telephone calls, and drafting letters and emails to constituents on a range of policy issues.
They will be paid £213 per week. The advert closes September 16.
Interested candidates can view the application here.
The government's new GCSE grading system explained: