Hull College chief executive Michelle Swithenbank probably has the toughest job in FE right now. The former nurse has been charged with taking a college which has received the largest ever government bailout to any FE institution out of intensive care and back on the road to recovery.
It's a task that would challenge the most experienced of college leaders – but Ms Swithenbank is in her first chief executive role, and she's already in the middle of a huge fight with angry unions. How does she plan to turn things around? Jude Burke headed to Hull to find out.
Michelle Swithenbank greets me warmly at reception, asks about my journey and offers me a cup of tea, which she makes herself.
The venue for our meeting is the college's main campus, at Queen's Gardens in the centre of Hull.
It's a rather grey, dated-looking place, dominated by an eight-storey tower block: a faded grey and blue brutalist monument that has seen better days.
Inside it's little different. Plain white walls and scuffed wooden floors add to the institutional, characterless feel.
But as we walk through the college, Ms Swithenbank tells me of her plans to change all that, to make it more "learner friendly" – more "open, more attractive, more colourful".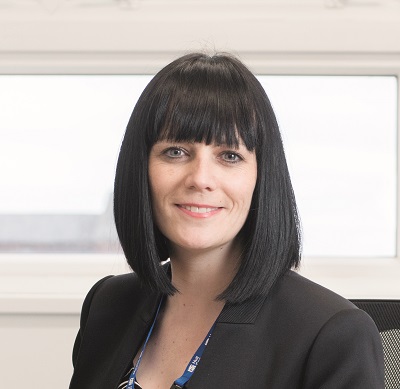 The senior leadership team's spacious offices, tucked away on a second floor corridor, will be converted into social areas for the learners, and management will move into the "heart of the college" so they are "more accessible and more visible".
It's all part of her "open, honest, approachable" style of leadership, which will prioritise "communication and transparency", and through which she aims to drive culture change and reverse the college's fortunes.
She has a difficult job ahead of her, though some would say it's closer to impossible.
The scale of the college's debts is, in the words of Richard Atkins, the FE commissioner, "eye-watering".
It received a massive £54-million payment from the government's restructuring facility – though this has never been confirmed by the college or the government, due to a confidentiality agreement – while its recently published (and long delayed) 2015/16 accounts revealed a £12.8 million deficit.
The 2016/17 accounts are still being audited, and are due out at the end of August.
In order to balance the books, the college says it has to cut the equivalent of 231 full-time staff members, a decision that has caused no end of rancour.
Mr Atkins himself described it as "one of the largest financial – and in human terms, staffing – crises that I've known".
While acknowledging the scale of the task, Ms Swithenbank remains upbeat: "It is a big job. It's a five-year recovery plan. Nobody in this organisation feels that from September everything is going to be wonderful. We're working towards that, but it's all going to take time."
I like to see the potential in things," she says. "That's what's exciting for me, the fact that I can come in, with a team, and make things better.
At the heart of this recovery plan is the funding the college has received. As I've been told before, and as Ms Swithenbank reminds me during the interview, "the terms of the grant restrict me from talking about that".
This is frustrating, as without being able to talk about the figures, we're only getting half the picture.
Nonetheless, she professes herself "optimistic for the future", and doesn't hesitate when I ask her if she's confident she'll be able to turn things around.
"Absolutely," she says.
At just 37, this is her first chief executive role, although she has had a number of leadership positions, most recently as interim vice-principal at Grimsby Institute.
Her appointment was one of a number of changes to the senior leadership team following Mr Atkins' intervention at the college. She was initially recruited as the deputy chief executive in January 2017, at a time when the college was "still unravelling", as she describes it.
Just six weeks later she found herself in charge, following the departure of previous leader Gary Warke – a promotion that appears not to have fazed her. 
"I like to see the potential in things," she says. "That's what's exciting for me, the fact that I can come in, with a team, and make things better."
She returns repeatedly to the idea of culture change: "Culture eats strategy for breakfast. If you don't change the culture, it doesn't matter what strategies and process you've got in place, you've got to have that buy-in from your staff."
Getting that staff buy-in while cutting the workforce by almost 250 can't have been easy.
Hull's staff costs, at around 78 per cent of the college's income, were deemed "unaffordable" by Mr Atkins in his first visit to the college in November 2016, and reducing them to 65 per cent – the sector benchmark – is essential to the college's survival.
The cuts are being made "across the board", rather than in specific areas.
"We've looked at every part of the organisation, the whole organisation has been restructured for it to be able to function sustainably and with stability for the future," she says.
So why did it have to be done so quickly? Her answer is honest and direct: to avoid going bust. With the imminent introduction of the FE insolvency regime, "we had to become a solvent college by the end of this academic year".
She understands the reaction from University and College Union members, who went on strike over the cuts and even returned a vote of no confidence in her leadership.
"They were risking losing their jobs at the time. Anyone is going to do as much as they can to stop the process and save their job," she says.
If you don't change the culture, it doesn't matter what strategies and process you've got in place, you've got to have that buy-in from your staff.
Thanks to "productive" negotiations with the UCU and other staff, the cuts will now all be made through redeployment, voluntary redundancy or resignation.
She insists staff morale has improved.
"They've gone through a very difficult time, but they really want to see this organisation be fabulous again, and for a leader that's fantastic as I've got what I need to work with," she says.
Apart from the wholesale restructuring of the organisation, her focus so far has been on getting a handle on the college's finances, developing the recovery plan and reforming systems and processes.
She uses the learner journey to illustrate her approach.
After getting "every team that's involved in that journey" to map out the existing processes – of which, it transpired, there were many – they were asked to design how they wanted those processes to be.
"That was done with the staff directly involved in those processes, because there's no point in a senior team going 'this is what we're going to do, because it's not them running it'," she says.
As a result of these exercises, "we'll have a new structure, new systems, new processes that will be able to deliver the service we need to be able to deliver".
The college's road to recovery is about more than just leadership – it's also about governance, and "having the right balance of both, and making sure those are working well".
The governing board now meets each month, rather than quarterly, a move she says has been a "real turning-point for us".
The board "all collectively take responsibility for the recovery of the college", and are "aware very early on and can help intervene, support and challenge".
They will also soon have access to live data, via a dashboard on the college's new systems.
"You can't get more transparent and open than that," she says.
Ms Swithenbank shrewdly describes the journey she's been on over the past year as "character building".
She's committed to ensuring everyone with a stake in the college's recovery – the Education and Skills Funding Agency, the FE commissioner, the local enterprise partnerships, the local authorities, the MPs, the unions, the learners, the staff – are kept abreast of where things are.
Applications for September from 16- to 18-year-olds are slightly up on last year – an achievement given everything the college has been through. Ms Swithenbank says this is a "reflection of the staff's dedication, all the professionalism they've shown throughout all of this".
At the end of the five-year recovery period, she has an ambitious vision for a "buoyant and vibrant" college, "where learners and students are loving coming to, where staff feel they can really do their job effectively and well – the flagship in the sector, all being well". 
It's a long way from here to there, and she admits there will be some "bumpy roads" along the way. Only time will tell if they will all make it through in one piece.
---
Hull College – How did it get here?
November 2016 – Richard Atkins is called into the college, following a request for exceptional financial support after its bank withdraws support
January 2017 – His report is published, detailing a cumulative deficit of "around £10 million over the past four years". Michelle Swithenbank is appointed deputy chief executive as part of sweeping changes to the college's leadership
March 2017 – The previous chief executive Gary Warke resigns and Swithenbank is promoted, on an interim basis until June 2017, when she is made permanent
February 2018 – The college receives cash from the government's restructuring facility to fund its five-year recovery plan. This is reported to be worth £54 million.
March 2018 – Proposals to shed over 200 staff are published, provoking anger from staff and unions who call a series of strikes
June 2018 – The college's 2015/16 accounts are finally published, revealing a massive £12.8 million deficit over the year
June 2018 – Seven days of strikes are called off, after unions and management reach an agreement which means no jobs will be lost through compulsory redundancies
---
What the FE commissioner said
In an exclusive FE Week interview, Atkins described Hull as "one of the largest financial and, in human terms, staffing crises that I've known".
"The rate at which money poured out, the financial controls and the lack of this carefully costed curriculum plan, and the speed at which income dropped and staff numbers didn't, was eye-watering," he said.
He attributed this to "poor governance and leadership, the lack of a carefully costed curriculum plan, staffing levels that were out of line significantly with income, and a failure to be concentrating on running a college that could remain sustainable".
The terms of the restructuring facility grant to the college remain shrouded in secrecy, as it's subject to a confidentiality agreement.
This means neither the college nor the government is able to confirm the amount awarded, nor what it's being spent on.
However, according to Mr Atkins, a "significant amount" of the cash has gone to repay emergency financial support given to the college to "keep it going" – without which it would have been "completely insolvent, unsustainable".
FE Week asked the Department for Education how much it had dished out, but it does "not comment on the amount of individual college payments".
Despite the "shocking" numbers involved, Mr Atkins believes the college can get better.
"I do believe that they're doing the things that have to be done," he said. "I want to get right behind the college in September and help with its recruitment and ensure that the college can have a sustainable future."