The head of the government's careers quango has bemoaned how independent providers have not been given enough access to schools to talk up technical education.
Speaking at the Association of Employment and Learning Providers national conference today, Oli de Botton (pictured, right) committed the Careers and Enterprise Company to this year making sure more students know all the options available to them beyond A-levels.
"It is true historically that there hasn't been enough access for ITPs or enough information about apprenticeships and technical routes for young people," the CEC's chief executive, appointed last October, told delegates.
He promised the company, set up in 2014, would be working "very, very hard this year" to ensure students know all their options as this is important to the government's levelling up agenda.
"What is very clear is when you do give access to different providers and all the options, young people are more likely to take them," he added.
His remarks came in response to a question on research by UCAS, released late last month, which revealed one-third of students are not told about apprenticeships.
This is despite secondary schools and colleges in England being legally required to allow other training providers access to their learners to inform them of technical qualifications or apprenticeships.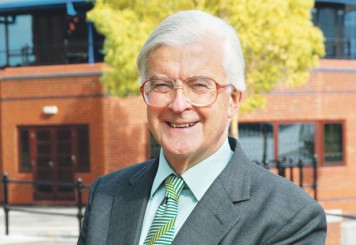 This is what is known as the Baker Clause – named after its author, former education secretary Lord Kenneth Baker – which became law in 2018, and meant schools and colleges also had to publish statements online outlining how they will comply.
In a report on its research, UCAS stated an ambition to "act as a 'digital Baker Clause', providing comprehensive information, advice, and content tools to help students make informed and aspirational choices about the full range of post-secondary options in a single location".
The Department for Education and its agencies have made several small-scale attempts to enforce compliance with the clause: then-academies minister Lord Agnew fired off letters to headteachers last year, warning them to comply with the legislation.
It followed letters to five academy trusts about non-compliance that were sent out by the DfE in 2019.
In May 2020, Ofsted judged a secondary school to be 'inadequate' for "not currently meeting its statutory responsibility to ensure that providers of technical qualifications and apprenticeships visit the school to inform pupils about these options". FE Week understood this was the first case of a school being pulled up by the inspectorate for failing the Baker Clause.
But the CEC's own data, published in November, showed just 47 per cent of the more than 2,000 schools in the quango's careers hubs fully met a target for a "meaningful encounter with providers of the full range of learning opportunities" for staff and students. For those schools not in the hub network, 13 per cent met the target.
In its landmark Skills for Jobs white paper, which formed the basis for the Skills and Post-16 Education Bill currently going through Parliament, the DfE pledged "tougher formal action against non-compliance" with the Baker Clause.
This, the paper published in January said, will be based on a new minimum requirement "about who is to be given access to which pupils and when". Government-funded careers support for schools will also be made conditional on Baker Clause compliance.
de Botton, himself a former headteacher, did also say today the Careers and Enterprise Company had heard from the schools and colleges that "they are providing more and more access to ITPs, more and more compliance with the Baker Clause".
In response to de Botton's comments, a DfE spokesperson said: "It is vital young people are informed about the wide range of options for them to reach their future careers goals."
A consultation on proposals to "strengthen" the Baker Clause will be conducted in the summer they added, and more details "will be released in due course".