The UK is the only country where more than half of people feel university did not prepare them for their career, new research by Pearson has found.
A total of 51 per cent of 1,001 UK respondents aged 16 to 70 said as much for Pearson's first ever Global Learner Survey, while only 45 per cent of respondents from Italy, Spain, Germany, France believed the same.
The figure was even lower in the US, where 45 per cent said university failed to prepare them for their working life, and in Brazil and China where 33 per cent felt this.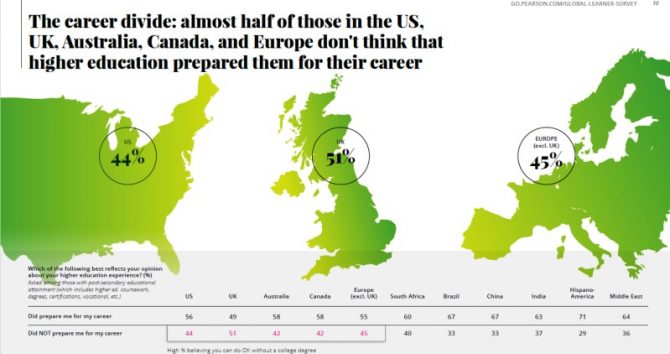 In the UK, 73 per cent believed a degree gives students an advantage in getting a job – the lowest of any surveyed area – compared to 77 per cent in UAE, Saudi Arabia, Turkey, and Egypt; and 66 per cent in the UK think a vocational qualification is more likely to result in a good job with career prospects than a university degree is.
More people in the UK and Australia (57 per cent) said "you can do ok in life today without a university degree" than any of the other countries surveyed.
Pearson's findings will raise concerns about the value people in the UK are getting from higher education, with the education publisher's head of innovation communications Laura Howe saying: "There are a number of indicators that people are supportive of higher education, but they're looking for additional options to what universities are providing now."
The importance people are placing on lifelong learning is also reflected in the survey, with 74 per cent of UK respondents agreeing colleges and universities should offer better options for working adults, while 55 per cent agree the world is shifting to a model where people participate in education over a lifetime.
An even greater percentage, 86, believe people need to keep learning or retraining throughout their career to stay-up-to-date.
Pearson's head of UK schools Sharon Hague said one of the "strong messages" from this report "is there is going to be a really growing need for upskilling, retraining, and short courses".
Laura Howe added: "Working adults really want universities to be part of the lifelong education solution", and said the report was a "massive opportunity" for providers to expand their offering.
Although Chancellor Sajid Javid announced a £400 million boost for learners aged 16 to 19 in his spending review, there was nothing for adult education.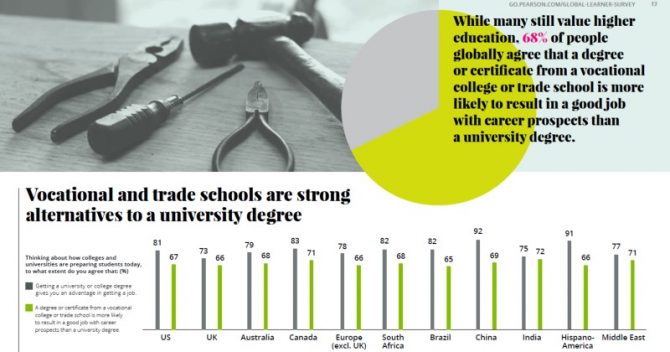 And after education secretary Gavin Williamson wrote in FE Week he was "determined to put FE centre stage", adult education expert Sue Pember told him to realise: "FE is not all about 16 to 19, but also covers adult learning and all levels of educational ability".
The scale of the challenge in providing lifelong learning to the UK has been raised by education select committee chair Robert Halfon, who called for an adult community and learning centre in every town at the launch of his committee's inquiry into lifelong learning.
The Labour Party's own commission on the subject found "deep-seated" challenges, including a fall in real-terms funding of nearly a half since 2009-10 for adult education and apprenticeships.
Addressing the desire for retraining, the Augar review of post-18 education and funding called on the government to introduce a lifelong learning loan allowance at levels 4, 5 and 6 for adults without a degree.
Nicola Dandridge , chief executive of the Office for Students, the regulator for higher education in England, said: "There are clear personal and societal benefits to higher education. The skills and knowledge learned in our universities, colleges and other higher education providers set people up for life.
"We know – for example – that on average graduates earn significantly more over the course of their careers than non-graduates. And there are many wider benefits to higher education which continues to offer enormous benefits to our economy and wider society.
"Higher education has never solely been about future career prospects, but higher education providers should be mindful of students' concerns around how their course can more effectively prepare them for the world of work."