How do you improve a college with a demoralised staff, a financial notice, a bad Ofsted and a haemorrhaging learner roll? Jess Staufenberg speaks to those with the huge task of college turnaround
Everyone can name the scandals in further education. Leaders who perhaps once gained recognition, but later had to step down as their college's governance, finance or quality of education let down learners and staff alike, often with career-limiting consequences.
Failure is an important story to tell. It's an attempt to learn from honest mistakes, complacency, incompetence or egotism and, by sharing, prevent its repetition.
But the failure story can be a relatively simple one. The most straightforward involve blatant bad practice and a failure of governance controls, such as a principal spending £40,000 on a corporate credit card (as at West Nottinghamshire College until 2018). Failure can be complex too, of course, involving funding changes and administrative oversights over many years.
But even more complex than failure, and often treated as less compelling, is the story of putting a college back together again. How exactly does that next Ofsted become a grade 1 or 2; FE Commissioner intervention lifted; financial notices to improve closed?
Now FE Week has looked at colleges which improved their Ofsted grades over the past three years and achieved closed financial notices in the past two. We also asked sector experts where the turnaround stories are. Here are lessons from the front line of college improvement – with the caveat that every college always has more to do.
'Be place-based'
When Dame Asha Khemka resigned in 2018 after overusing a corporate credit card at West Nottinghamshire College, interim principal Martin Sim had to make tough decisions to deal with the college's £22.5 million debt. A company owned by the college, BKSB, was sold off and 220 people were made redundant in 2018-19. By the time new principal Andrew Cropley arrived in May 2019, "people were at breaking point".
Staff needed to feel clear on the college's purpose again, Cropley says, and his team also needed to streamline its "busy business model". It had become the country's largest college provider of apprenticeships and subcontracted 80 per cent of its adult education budget provision.
"Our local communities needed a college properly focused on them again," says Cropley. "Before, the local community was a lower priority than it is now."
Since the end of 2017-18, the college has slashed its subcontractors from 44 to just nine, and now only subcontracts 38 per cent of its AEB provision ("and that's dropping," says Cropley).
Finance director Jon Fearon explains: "It's just too easy to be distracted, when you've got this big England-wide business. The only priority we've got now is the local area."
To that end, the college entered a new partnership with Nottingham Trent University whereby the university will offer nursing qualifications at the college from this month. Learners living in Mansfield will no longer have to travel to Derby, Sheffield or Lincoln to become a nurse, but can train locally.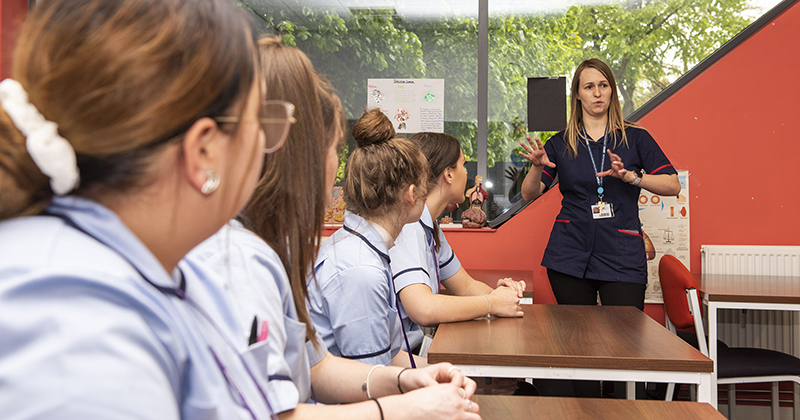 Cropley also became chair of the Making Mansfield Place Board, which brings stakeholders together, while vice principal Louise Knott joined the equivalent in Ashfield. Concerns around the impact of automation on jobs locally prompted the college to fund a new 'automation and robotics centre of excellence' in the existing engineering centre, and to offer a new pathway focused on robotics in the engineering BTEC from this month.
Its financial notice to improve, first issued by the government in July 2018, was lifted in June after 33 months. It's longer than the average 18 months it took colleges to close notices across 2020 and 2021, but Cropley says his team chose to keep investing instead of trying to pay off the debt all at once.
"We've invested, even when we've had debt," says Cropley. "It's so easy in financial crises to get mired in the here and now, but people need a future to believe in."
A focus on being place-based has also driven Wes Johnson, principal at Lancaster & Morecambe College since April 2017. The college got a grade 3 Ofsted report the year before, and Johnson had to contend with a second grade 3 report in March 2018, almost one year into his tenure.
But two years later in March 2020, Ofsted returned a grade 2, praising leaders' "clear vision for the college" and how they had "reshaped many elements of the curriculum offer" to be more work-focused.
Johnson's first move was to create a director of employer engagement and apprenticeships role, to get feedback about the college's offer. He learned, for instance, that construction firms didn't need learners with the level 1 bricklaying qualification as much as a multi-skills construction worker qualification, so the college altered the course accordingly.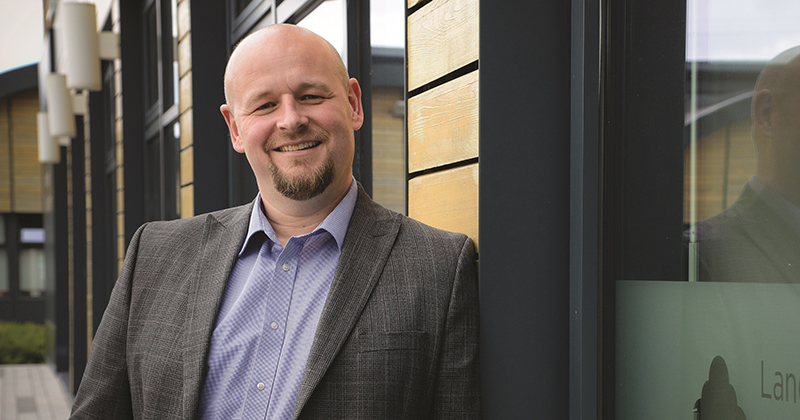 Similarly, career possibilities at nearby Heysham Nuclear Power Station led the college to adjust its level 3 engineering qualification in 2020 "so it's overlaid with a nuclear specialism", says Johnson. "It's about recognising that the specific skills needed locally aren't necessarily going to be delivered by an off-the-shelf qualification."
The college has also won an award from the Association of Colleges for setting up the 'Morecambe Bay curriculum'. In response to a big ecology project, Eden Project North, planned in the area from January 2022, the college designed a cross-sector curriculum with primary and secondary schools around climate change, sustainability and eco-citizenship. It links to the college's new "Eden traineeship", which aims to help learners gain entry to "those green collar jobs emerging on our doorstep".
It's important to have a "place-based curriculum", says Johnson. "The days of just putting out a nice prospectus in glorious isolation are over."
'Smoother, clearer processes'
Not to be underestimated in improving colleges is the power of clear, easy-to-use processes, according to leaders.
A failure to properly record safeguarding information was behind UTC Portsmouth's grade 4 in February 2020 (in which 'leadership' got a grade 4 and all other categories were given a grade 2). James Doherty, formerly the vice principal, stepped up as principal the same month. By June this year, Ofsted gave the UTC a grade 1 in all categories.
The first thing Doherty did was consult others on safeguarding, he says.
"In March 2020 I spoke to a lot of FE colleges and secondary schools, and by April we'd adopted the new system. It was important to use new software as well, because there had been a loss of faith among staff in the old one."
Like Johnson, he created a new post to ensure clear responsibility, appointing a safeguarding lead assistant principal. Not satisfied with the grade 2s in other categories, he and his team also designed a clearer process for employers, termed 'Project Pipeline'.
"Before we didn't have a model, but this shows employers exactly how to engage with students." There are three 'levels' of engagement: executive partner, primary partner or associate partner. At the top level, employers set students an industry-related project and deliver face-to-face sessions and employability workshops.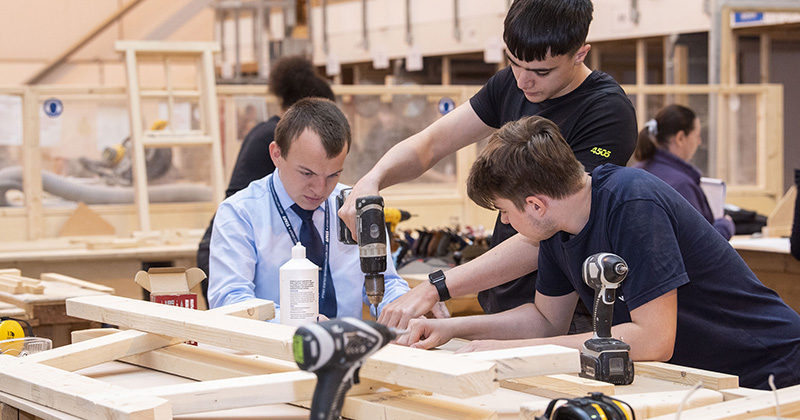 The caveat to introducing smoother digital processes is not to lose the "small college feel" in which everyone still shares information face-to-face, warns Doherty. "The balance for me is how to keep that. We have an atrium where all staff each lunch together, and that really helps."
Tighter digital processes were also introduced by Nichola Newton, principal at Warrington & Vale Royal College in Cheshire. She and her team were facing a hefty challenge: the college formed in 2017 from a merger of Warrington Collegiate, with a grade 3, and Mid Cheshire College, with a grade 4. An FE Commissioner report from 2019 warns of a "total reliance on the ability of the college to dispose of sites within a given timescale" to ensure financial stability. This in turn prompted unfavourable BBC coverage of selling off a campus.
However, by 2019 the college got a grade 2, and its financial notice to improve closed in March this year.
Newton was particularly trying to drive up attainment, which had been criticised by inspectors. First, the college moved to easier-to-use data dashboards.
Rebecca Welch, assistant principal for quality, says: "The implementation of the dashboards was a huge culture change. In the past, you'd have to remember to go and look at a report and it was often too late. Now it's the first thing we look at in the morning and we can do something straightaway."
Newton also appointed 'directors', which she says was the "biggest change" towards improving outcomes.
"Before we had curriculum managers, but now we have directors who are focused on cohorts and improving outcomes in those cohorts." If the dashboard flags a particular issue, a director will be "deployed" to take a closer look, compare them to other cohorts, and report directly back to the senior leadership team, she says.
The college says it is now ranked in the top 10 nationally for pass rates.
'Values and positivity'
Underpinning all these approaches is inspiring staff again, say leaders. They each consulted with staff to decide the values and purpose of their institutions, some of which, like Lancaster & Morecambe College, have been around for 200 years.
For staff, feeling listened to seems key. Michael Rhodes, tutor in creative media production at West Nottinghamshire College, said Cropley has introduced an "open door" culture in the college. "I'm not just saying this because he's going to read this, but he's a very positive character. He's the kind of principal who will wander around the college and talk to the students, and knows all the members of staff's names, which is really important to me."
Welch, assistant principal at Warrington & Vale Royal College, says: "There was a big difference pre- and post-Nichola. It's about visibility. She has an open door policy, and she always wanted to take on feedback."
These are just a few of many stories of college improvement across England. The story of improvement is, even more than that of failure, complex and often slow.
"You can only improve at the speed which people can take," concludes Johnson. "The most challenging bit about improvement is getting the balance right between driving performance improvement, and keeping the staff with you."
Advice from the experts:
"A culture of joint accountability"
Sam Parrett, chief executive, London & South East Education Group, and a national leader of further education
"The single most important thing a leader has got to do is engender a new culture of shared accountability. Leaders have got to set a real tone around behaviour, expectations, communication and trust. It's about creating a sense of order and priorities.

"It's also important to find the good things and celebrate them. In most colleges labelled as failing you always find beacons of good practice – the challenge is often that practice is inconsistent and there aren't mechanisms for sharing and celebrating good practice – this is the key to turnaround in many colleges.

"What stands out in our sector are the colleges where the existing staff and leaders who have been in a college where performance has dipped have then turned it around. The psychological and performance changes that you see in colleges that have been on this journey, owned the problem and delivered significant improvement are the most impressive.
"Know the FE inspection handbook"
Kate Hill, Ofsted HMI and specialist advisor in policy, training and quality
"The one thing we look at more than anything else is the quality of the education and training. I think for all those that have made the improvements they need to, they've been really clear about using the criteria in our handbook to do that – they have a copy of the Further education and skills inspection handbook. You know when you speak to them whether they're fluent with the handbook or not, because of the language they use.
"The most important thing is that they're getting the curriculum right, and it's acting in the best interests of learners. It's not just the same offer, year after year. It's very important they're responsive to increased interest or more opportunities in an area. And are there clear progression routes between courses too?
"Finally, it doesn't come down to every single last lecturer. What we're looking for is a strategic vision coming from the top with strong leadership and management, which has developed a positive and thriving culture not just for students, but for staff too."