The government's £50 million rollout of the skills bootcamps policy has come under fire for only funding sectors heavily dominated by men.
Prime Minister Boris Johnson announced the extension of the bootcamp pilot as part of a "refreshed Industrial Strategy" at the launch of the Lifetime Skills Guarantee, last September.
Paid for from the new National Skills Fund, this month the DfE launched two tenders for level 3-plus "bootcamp" courses.
The courses will run for up to 16 weeks and will be free to unemployed people, or where employed, their employer would pay a 30 per cent cash contribution.
An FE Week investigation into the tenders found the DfE is seeking a very narrow range of digital, engineering and construction related courses mostly studied by men.
When asked whether an equalities impact assessment for the bootcamps policy had been undertaken, the DfE appeared to not know, saying they would "respond through the Freedom of Information Act process".
The "digital skills bootcamps" tender, known as lot 1, is seeking bids for courses in IT subjects such as "Cloud Computing, Data Engineering and Software Development".
Analysis by FE Week of FE enrolment data for last year found less than 20 percent of level 3 IT courses were studied by women. In the case of the Award in Cloud Services qualification, for example, just 42 (8 per cent) out of 507 enrolments were female.
The "technical and cross-digital skills bootcamps" tender, known as lot 2, is seeking bids for courses in subjects such as "electrotechnical, welding, engineering, construction and electronics".
FE Week analysis found on one electrotechnical qualification last year women represented just 83 (1.6 percent) of 5,098 enrolments.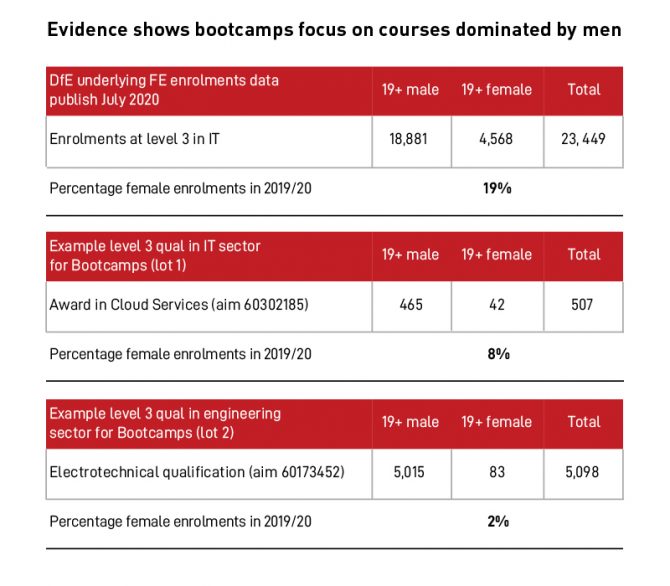 The DfE bootcamps "service requirement" tender document says there are "seven key performance indicators" in a spreadsheet which "potential suppliers must complete" and "which will apply to each lot and will be included in contract terms."
The document then goes on to lists what appear to be 11 indicators, including: "Gender diversity must be encouraged, we will be aiming for a minimum of 50 per cent female learners."
David Hughes, chief executive of the Association of Colleges said: "FE Week analysis shows that it is very unlikely that the bootcamps will achieve participation of at least 50 per cent women.
"The sectors and skills chosen are clearly in high demand in the labour market and yet we know they are male dominated.
"We would encourage the DfE to recognise that and work with us in the sector to achieve greater equality of access and outcome on these bootcamps and in choosing future sectors and disciplines."
He added: "It's worrying that this flagship programme might not cater for the thousands of people losing their jobs in sectors like retail and hospitality because the distance to achieve in these disciplines might be far too big."
Susan Pember, former director at the DfE and leader of a membership body for adult education providers added her concern, saying: "I would hope that any successful bidder will have to detail in their bid the proactive measures they are going to take to encourage more women on to these programmes."
But FE Week found the DfE "tender response document" included no questions about how the applicant would attract more female learners to the courses they were hoping to run.
The 50 per cent female enrolment target now also appears to be watered down.
Following a question about how seriously the DfE was taking the 50 per cent target, they responded formally to all applicants on the tendering portal this week to say: "The policy aim is for 50/50 split, however we appreciate that will not always be possible. Suppliers will not be disadvantaged if they are unable to meet this target."
When challenged on the male dominated sectors, a DfE spokesperson said: "We are seeing a demand for digital and technical skills bootcamps across many sectors and industries, including healthcare, where there are high numbers of females and we already have bootcamps that are targeted at women and BAME participants."
FE Week is unaware of any government plans to fund bootcamps in the healthcare sector.
The DfE spokesperson continued: "We want everyone to benefit from this offer and share an ambition with employers to increase diversity. Our aim is for a 50/50 gender split and to encourage people from under-represented groups to take advantage of these fantastic opportunities.
"We expect this to be achievable by employers working with bootcamps providers to encourage a balanced take up. However, providers will not be disadvantaged if they are unable to meet this target, for example, where a bootcamp is aimed at a specific cohort where a 50/50 gender split would be unachievable."